University Systems Help Centre
FluidSurveys at UVic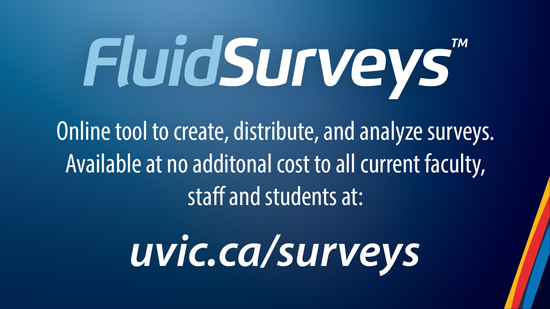 Thank you for participating in the FluidSurveys Pilot at the University of Victoria. We want to inform you that this service will be extended until February 1, 2018.  Any surveys being conducted or data collected through this service will remain accessible until February 1, 2018.
Currently UVic is engaged in a joint effort with the members of BCNET in order to license an alternative survey product with similar capabilities to FluidSurveys. We will keep you apprised of future developments. 
FluidSurveys provides several options for exporting your surveys and responses.
Terms of service
Please read and agree to current Terms of Service prior to using FluidSurveys.
The FluidSurveys Service is provided by SurveyMonkey Inc. and use of the FluidSurveys Service at the University of Victoria is subject to the Services Agreement, Terms of Service, and Privacy Policy of SurveyMonkey. These documents may change without notice from the University of Victoria or SurveyMonkey Inc.
Survey questions and responses will be stored only in Canada. SurveyMonkey (the FluidSurveys Service is provided by SurveyMonkey) employees and subcontractors will not access the Survey Data from outside Canada, except (a) when authorized by the Customer for the purpose of implementing, maintaining, repairing, troubleshooting or upgrading the customer's account or the Services ("Customer Support Services"), or (b) for data recovery purposes in the event of a system failure.
Notice: If you are using Internet Explorer, please refer to the first FAQ below for instructions to access FluidSurveys. 
Note: bookmark this landing page for future access to FluidSurveys, or http://uvic.ca/surveys.
FluidSurveys FAQ
To access FluidSurveys using Internet Explorer, add "uvic.fluidsurveys.com" to the Trusted Sites zone:
Open Internet Options from the Tools menu.
Select the Security tab.
Select the Trusted Sites zone and click the Sites button.
Enter uvic.fluidsurveys.com and click the Add button.
By default FluidSurveys has enabled Google Analytics tracking on surveys in order to better optimize resources necessary to support survey traffic. In order to turn off Google Analytics for you survey please follow this video and customize your survey specific Google Analytics settings. University of Victoria strongly recommends turning off Google Analytics on all your surveys.
FluidSurveys has multiple options for tracking respondents or making survey respondents anonymous. If you are using the built in emailing capability of the platform, remember to select appropriate options if you wish to anonymize your survey responses. This support page explains different options available.
FluidSurveys supports custom URL's as well as HTTPS protocol. Please select appropriate options to secure and anonymize your survey in the Deploy section of the survey administration page. This video demonstrates how to turn on SSL on your survey. The University of Victoria strongly recommends turning on SSL on all your surveys.
The FluidSurveys Service is available to all current faculty, staff, and students at University of Victoria. You can find out more about the Service by visiting University Systems catalogue page.
University of Victoria will evaluate success of the pilot and decision will be made whether to offer the service in the future. Current users will be notified in January 2018 with the outcome of the decision.
If service is discontinued you will lose access to your account and data. It is end-users responsibility to back up their data and/or migrate their content to a different FluidSurveys account.
If you are a current FluidSurveys user and would like to migrate your account to the University of Victoria license, you can contact FluidSurveys directly; their support staff will assist you in migrating your data and account information.  Note that you must login to UVic's FluidSurveys Service at least once prior to requesting the migration of your existing surveys and data from FluidSurveys.
If you are no longer a current student, faculty, or staff member at UVic, you will lose access to your FluidSurveys account and the survey data.  Please ensure that you backup the data prior to your departure from UVic.
All survey data is stored in Canada. Please read current Terms of Service to familiarize yourself with the service details.
If you wish to change your name and nickname information you may do so by selecting User Preferences option. Your email and password are set to default UVic NetlinkID username and password in order for FluidSurveys to seamlessly integrate with other UVic services. If you change your email address or password in the User Preferences area, they will default back to your UVic NetlinkID and password.