University Systems help centre
Transferring data between iPhones or iPads
Using iTunes, you can back up and restore iPhone data, successfully transferring contacts and files from your old iPhone to your new iPhone.
Got an Android? Visit Transferring data from an Android to an iPhone.
What will back up
iTunes will back up the following:
Contacts
App Store Application data, including purchases
Calendar accounts and events
Call history
Camera Roll (photos, screenshots, saved images, and videos)
Email accounts
Home screen arrangement
Keychain (i.e. stored passwords)
Map bookmarks
Messages (i.e. texts, SMS, MMS pictures and videos)
Microsoft Exchange account configurations
Network settings (saved wi-fi networks and VPN)
Notes
Safari bookmarks
For a complete list, visit the Apple Support: About iOS backups.
What will not back up
iTunes will not back up media files that are not already stored in iTunes:
Movies
Music
Podcasts
Apps
In order to transfer these types of files to your new device, you must have copies of the files in iTunes. If most of your media files are stored on your home computer, and you want those files to be transferred to your new device, you should perform the data transfer using your home computer.
Backing up your data
Connect your iPhone or iPad to a computer with the latest version of iTunes installed.
We do not recommend syncing your device to iCloud for security reasons.
Select your device in iTunes under Devices. If your device is protected with a passcode, iTunes will prompt you to enter your passcode.
Right click (or control+click) the device and select Back Up, ensuring that Back up to this computer is selected.
If you have purchased apps, right click (or control+click) and select Transfer Purchases. This will move your apps to the iTunes library.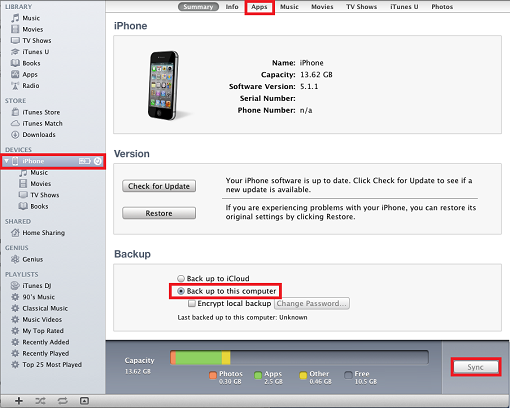 Restoring your data
Plug your new device into your computer and open iTunes.
If iTunes does not automatically prompt you, right click (or control+click) the device and select Restore from Backup.
If you backed up purchased apps, go to your device and click on the Apps tab. Choose the apps that you want on your new phone and click Sync.
Need assistance? Contact the Computer Help Desk.