University Systems help centre
Control a resource account: Outlook Web App
Opening a resource account
Note: Before you attempt to open a resource calendar in OWA please ensure that you have been granted full mailbox access to the account.
Using a web browser, navigate to https://mail.uvic.ca and access your Exchange account using your NetLink ID and password.
Once logged in, click on your name (top-right) to open the Open Other Mailbox dialog box. Enter the resource account name to open it.


If you are opening this account for the first time, you will be prompted with language and regional settings. Be sure to select English (Canada) before clicking OK.
Once the account is open you may begin processing both emails and calendar items. You may want to take some time to customize the behaviour of the resource account for calendaring.
Configuring Calendar Settings
Like your personal calendar, a resource calendar can be configured to only be available for scheduling during normal working hours. To configure your calendar work week and other calendar options, click on the Options tab located on the top right and from the pull down menu select See All Options.
Click Settings located on the left navigation bar and the select the Calendar icon.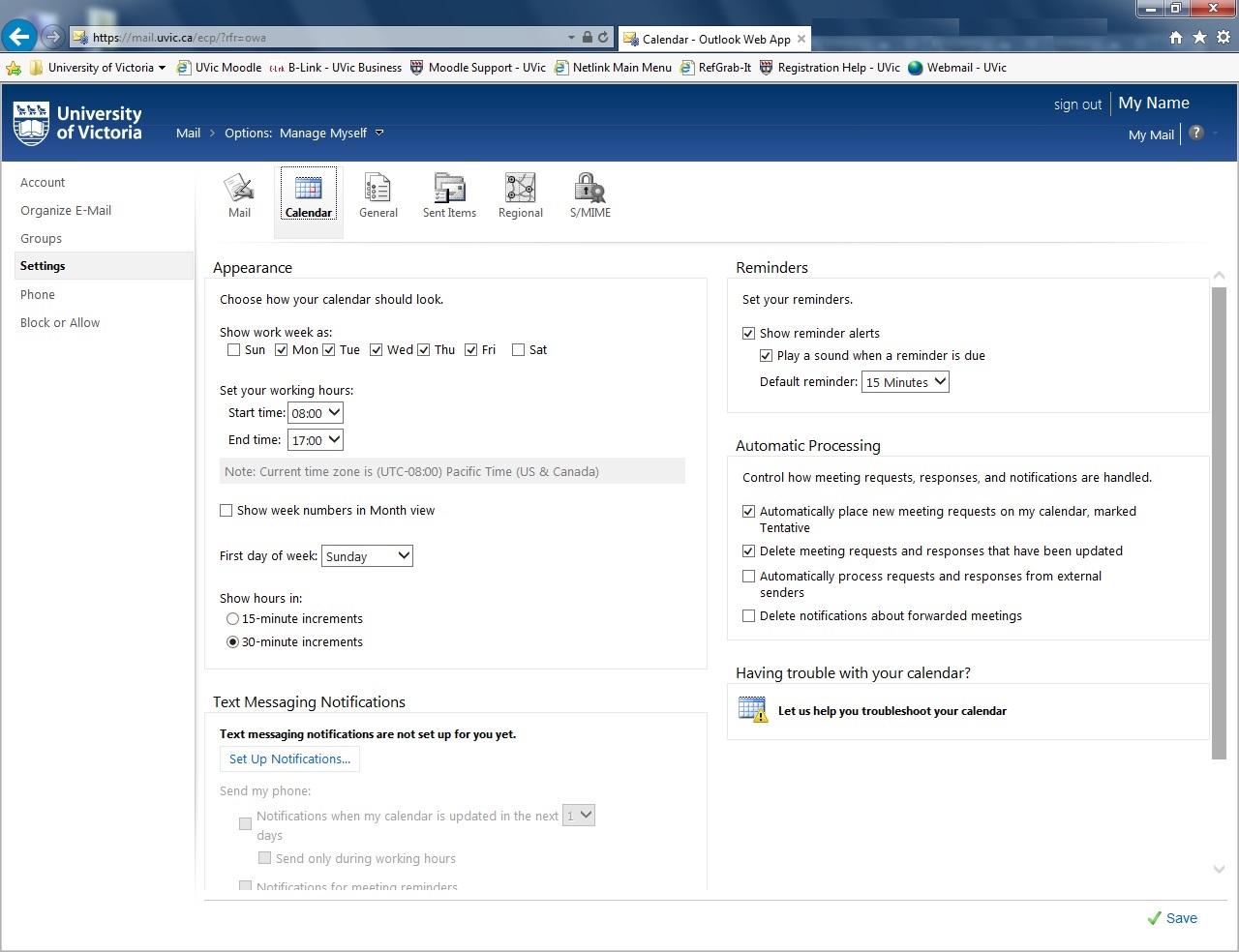 The options on this page will allow you to set your work week, as well as enable or disable reminders for this calendar.
After setting your calendar's availability, you should now proceed to configure the resource's settings, which determine how the calendar should handle responses when a meeting invitation or an update is received.
Configuring resource settings
To control the behaviour of a resource account that is used for meeting requests, you must be logged in to your email account using your NetLink ID. You will also need to have full mailbox access permissions on the resource account.
In the resource account, click on the Options link at the top-right corner of the page and from the pull down menu select See All Options.
On the left side of the page you'll find a navigation area. Click the link marked Settings.


There are three distinct areas for resource options with many configuration options, but these instructions focus on those for calendaring .
Scheduling options
This section allows you to automatically process meeting requests and cancellations. You can define the number of days ahead anyone can book this resource, limit meeting durations, allow the creation of recurring meetings, and permit conflicts to occur.
Scheduling permissions
This section allows you to specify who has permissions to book this resource. By default, all Exchange users are able to book any resource they can locate in the Global Address List. We recommend that you create a list of people who may book this resource automatically. This will prevent unauthorized users from booking your resource. Alternatively, you may request a manual approval process for booking the resource.
Note: To add users and groups, type the user or group name or email address.
Response message
You can choose to include a custom message with every response message that the resource will send. Response messages include Accepted and Declined messages.
Permissions on a resource account
Full mailbox access permissions to resource accounts can be requested through the Computer Help Desk. You may also share this resource's calendar and provide explicit permissions for it using the Sharing and Permissions tools available in Outlook.
You may also open the resource as a separate mailbox using Outlook. For more information on opening additional mailboxes, please see Managing your Exchange account.