University Systems help centre
Customize calendar views: Outlook 2010 and 2013
In this tutorial we will explore of some of the built-in calendar views and examine some strategies for customizing them. By default you already have quick access to some of the pre-set views in Outlook 2010 or 2013: Day, Week, Month, and Work Week. We will also explore other views such as Active Appointments, Side by Side, and Overlay.
Day
When you select Day view, Outlook displays the current date by default. It also shows regular business hours and non-working hours in different colours to help you quickly distinguish between them.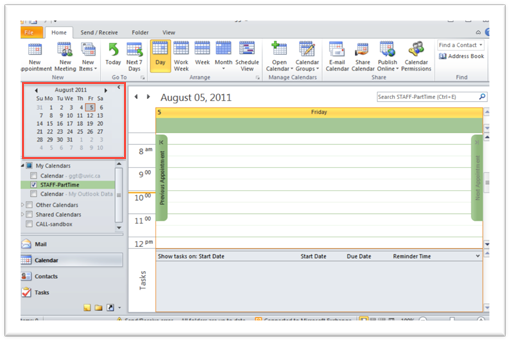 To view other dates, click on a date in the mini-calendar.
To scroll through other months, click on the arrows provided.
To schedule an appointment or a meeting from this view, double-click on the desired time. For more information on creating meetings please see Initiate a meeting request: Outlook 2010 and 2013.
If you're searching for a date far into the future you may find it simpler to use the Go To Date dialog box which can be accessed from the Go To menu (a small icon that makes the panel pop out), or by using the CTRL + G shortcut keys.


Week
The Week view displays information for the entire week. Saturday and Sunday are represented with a different background colour and, as with the Work Week view, information is truncated to fit the display area. You can navigate in Week view using the arrows provided or Go To Date feature (CTRL + G), just as you would in Day view.
Month
The Month view is the view that looks most like traditional calendars. This view enables you to view anything that is on your schedule for the entire month. You can navigate in Month view using the arrows provided or Go To Date feature (CTRL + G), just as you would in Day view.
Work Week
When you select Work Week view, the calendar displays information for Monday to Friday on one screen. This view is useful when planning a weekly schedule. You can navigate in Work Week view using the arrows provided or Go To Date feature (CTRL + G), just as you would in Day view.
By default, Work Week view is configured to be Monday to Friday, 8:00 a.m. to 5:00 p.m., but it can be set to display different days and hours if desired.
To make changes to the Work Week view, click on File and then select Options from the navigation bar on the left.




In the Outlook Options window, click on Calendar.




Within this panel, you can customize many aspects of your calendar. For example, you can change your work week to Monday through Thursday by selecting the check boxes beside your work days. Customize the calendar to suit your needs and click OK.


Active Appointments
The Active Appointments view shows your appointments, events, and meetings starting with today's date. This view separates your appointments and meetings by how often they occur.
Click on the View tab and select the Change View button. Then select Active from the menu.




To revert this back to a regular calendar view, you will need to repeat this process and select Calendar instead of Active.
Side by Side
The Side by Side view allows you to see several calendars on a single screen, which can be useful when scheduling. If you have access to someone else's calendar, you can view their calendar right next to yours.
Click to select the calendars you wish to view. Outlook allows you to select up to 32 calendars at one time. To view one calendar only, deselect all of the other calendars and select the one you wish you view.


Overlay
The Overlay view provides the ability to overlay several calendars on top of each other to help you visually locate free/busy time. You must have at least two calendars, either your own or calendars for others that you have been granted sharing or delegation permissions.
Select two or more calendars. This will open the Side by Side view.
Click on the arrow next to the calendar's name to move it on top of the calendar that is immediately to the left. Repeat for any other calendars you would like to overlay.




To remove calendars from overlay, click the arrows that now point to the right along the top of the viewed calendars.