University Systems help centre
Configure Exchange: Mac Mail in Mac OS X
Although University Systems has confirmed that Mac Mail works with Exchange, please be aware that Mac Mail is not a fully supported application. For a list of supported email clients, visit our key features of email clients page.
Before following these instructions, ensure you have a Microsoft Exchange email and calendaring account. Contact the Computer Help Desk if you are unsure.
If the create new account wizard does not launch automatically when Mail is started, go to the File menu and select Add account.
Enter your full name as you want it to appear, your UVic email address, and your NetLink ID password. Click Continue.

Set account type to Exchange and enter the following information:

Description: If you wish, you may enter a description of the account.
Incoming Mail Server: mail.uvic.ca.
Username: Your NetLink ID.
Password: Your NetLink ID password.
Outlook Web Access server: mail.uvic.ca.



Click on Continue (at this point, it will test authentication). After a few seconds, you will see the outgoing server screen.
Enter mail.uvic.ca as the outgoing mail server. Then check the Use only this server as well as Use Authentication checkboxes. Enter your NetLink ID as your Username and your NetLink password. Click Continue.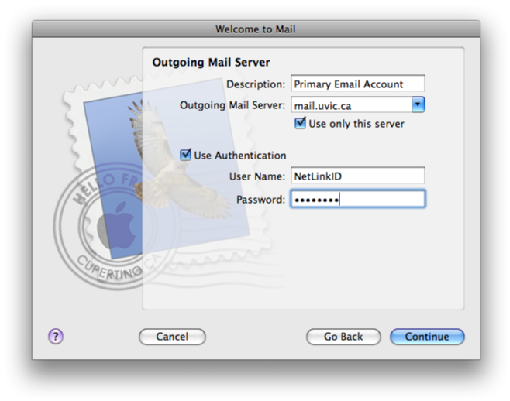 The view certificate window will open saying that it cannot verify the identity of mail.uvic.ca. Click Show Certificate and then check Always trust when connecting to mail.uvic.ca. Click Connect.
Enter your NetLink password and click OK.
The account summary screen will open. Click Create.
You may be presented with an option to import mailboxes. This would be to retrieve data from another email program on your local machine. If you don't need to import from another program, click Done.
It will take a few seconds to load each folder the first time. If you already have a large number of folders on Exchange it may take up to 15 minutes to load all of the mailboxes the first time.