University Systems help centre

Standard technology solutions
Technology Solutions Centre: Tablets
Faculty and staff interested in acquiring tablets are encouraged to contact the Technology Solutions Centre, where trained staff can assess requirements, recommend solutions, assist with acquiring computer equipment, and answer questions regarding tablet computers.
The Technology Solutions Centre currently suggests the Apple iPad with passcode encryption to ensure that data stored on the device remains secure in the event that the tablet is lost. We are actively investigating new options for a Windows 10 tablet. 
---
Apple iPad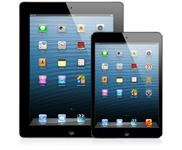 See the Apple Store for more information
Apple iOS operating system
Runs applications from the Apple App Store
Storage: 16GB - 128GB
Wi-fi and/or 3G data connectivity
Weight: 308g - 662g
Front and rear-facing cameras
Browsing the Internet
Reading documents
Processing email on the go
Dell Latitude 5290
8th gen Intel Core i5-8350U
8 GB LPDDR3 1866MHz memory
256 GB M.2 PCIe SSD
12.3" 3:2 WUXGA+ touch screen
1920 x 1280 resolution
1 x USB 3.0, 2 x USB-C, audio jack
Dual webcams with microphone
Fingerprint reader
Travel Keyboard and input pen
Tablet only 1.89 lbs (857 g), with keyboard 2.65 lbs (1.2 kg)
Office 2016 Professional Plus
3 year ProSupport warranty and Keep Your Drive
Running Windows applications on a tablet
Interacting with touch-enabled Windows 10 applications
Using the full version of Microsoft Office
Browsing the Internet
The lightest available full featured Windows 10 device
The following accessories are recommended to maximize compatibility with other technologies at UVic:
Dell USB-C to HDMI/VGA/Ethernet/USB3.0 adapter
External keyboard (included)
Input pen (included)
---
Frequently asked questions
These tablets have been selected to maximize compatibility with other technologies at UVic such as wireless Internet and classroom audiovisual.
These tablets can be encrypted to protect university data.
A VPN client is available for each of these tablet computing platforms to permit secure access to the UVic from anywhere on the Internet.
Not all Android-based tablets support the security and encryption technologies that are required to protect university data.  iPads require a passphrase and support encryption; these features are enabled when a UVic email account is added to the device.  Windows 10 Professional tablets with TPM support BitLocker whole disk encryption.
If you have questions about whether specific Android tablet models are suitable for on-campus use, please email tsc@uvic.ca.
The Technology Solutions Centre recommends purchasing a VGA adapter if you wish to use your tablet as a presentation device.  Most classrooms at UVic that are equipped with a projector use a VGA connector for input; our new digital classrooms support VGA and HDMI input.
The Technology Solutions Centre strongly recommends testing any tablet computer with the projector that you plan to use to ensure that it operates correctly. Please note, some tablet models may not have enough power to project in classrooms.  Contact Audiovisual Services to book a demo in your classroom.
This information may be available from the manufacturer's website.  If you wish to confirm whether a tablet has TPM and is compatible with BitLocker, please contact the
Technology Solutions Centre
.
Apple iPads are covered by Apple for one year.  AppleCare+ additional warranty coverage can be purchased from Apple.  To obtain warranty service, contact Apple.
Windows tablets are covered by the manufacturer's warranty.  Details of this coverage and the process to obtain warranty service are included with your tablet.
The Technology Solutions Centre is not certified to perform warranty service for non-standard tablet computers at this time.
---
Contact information
If you would like more information about the equipment listed above, please contact the Technology Solutions Centre:
Email: tsc@uvic.ca
Telephone: 250-853-3572
In person: Clearihue C143
Hours of operation: 9:00am - 4:00pm Monday through Friday