Contact information update
Between June 15 and September 30 the university will be implementing a contact information update process. Depending on when you have last updated your contact information, you will be prompted when Signing in to UVic to validate or provide an update of your contact information (see image below):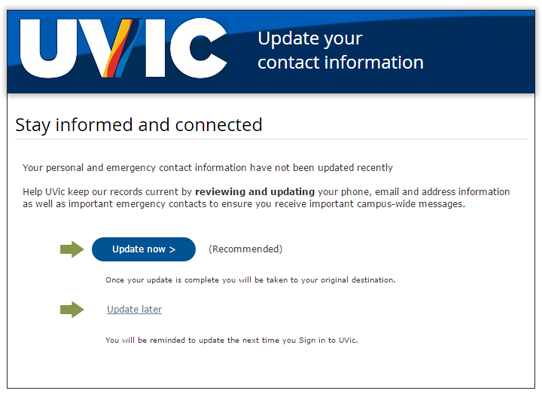 If you have any questions about this update process, please contact the Computer Help Desk at helpdesk@uvic.ca or 250-721-7687.
Frequently Asked Questions
Why do I need to update my contact information?
This prompt is intended to ensure that contact information is up-to-date.
When will I see the contact information reminder?
This prompt is given when Signing into UVic. Employees will be prompted once per year, and students will be prompted each term. When you see the prompt you can click on Update now or click on Update later. If you select Update later, you will be reminded again the next time you Sign in to UVic.
What does UVic do with this information?
The University of Victoria is committed to collecting personal information in accordance with Section 26 of the Freedom of Information and Protection of Privacy Act (FIPPA), the university's Protection of Privacy Policy GV0235 and the University Act. The university uses the personal information for the purposes of providing educational and related services. For a detailed listing of the collection purposes see the Protection of Privacy Policy: Schedule A, Procedures for the Management of Personal Information. Should you have any questions concerning your personal information, please contact the university's Access Officer at accfoi@uvic.ca or Chief Privacy Officer at cpo@uvic.ca.  Requests for access to information can be sent to foipp@uvic.ca.