Exchange mobile device security
Commencing October 1, 2012, University Systems will be making a change to our Microsoft Exchange email and calendar service which will enable the following mandatory security settings on all devices that are capable of supporting them:
Automatically locking your device after a period of inactivity
Requiring a reasonable passcode to unlock your device (i.e. not 1111)
Enabling built-in device encryption for Apple iOS devices running iOS 4 and higher
Setting your device to self-erase in the event of too many incorrect password attempts
Why is the university making this change?
When mobile devices such as the iPhone connect to our Microsoft Exchange Email and Calendar service, they store a local copy of email messages and attachments on your device. This change will enhance security of access to university mail, calendar, and contact information on mobile devices, and protect your information from abuse by unknown and unauthorized persons.
Am I affected?
All faculty and staff accessing Exchange email, calendar, and contacts on both university-owned and personal mobile devices may be affected. The security settings are features that are built-in to most mobile devices. If your device supports the settings we will enable them, while devices that do not support the security features should be unaffected.
If you do not have a mobile device and only access your Exchange mail, calendar, and contacts via Outlook Web Access (
https://mail.uvic.ca
) or a client such as Outlook on your computer, you are not affected.
What can I expect?
The main change you may notice is a prompt to create a password on your mobile device, and your device will lock with the password after a period of inactivity.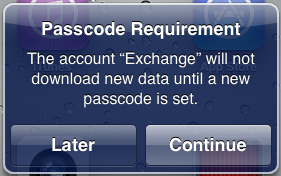 After the change you will have the same "slide to unlock" screen when you use your device after it has been idle. However, you will now be presented with an additional screen that prompts for your password.
If you lose the password for your device, University Systems will not be able to recover it for you.
How do I opt out?
If you wish to continue to access Exchange on your mobile device you must accept the security settings. However, if you want to resume using your mobile device with the original settings without receiving synchronized data, you can remove the account from your device. For example, on an iPhone or iPad go to Settings -> Mail, Contacts, Calendars -> select your Exchange account -> choose Delete Account. After doing this, you will be able to remove the password.
Where can I get additional help?
For questions or help configuring your mobile device, contact the Computer Help Desk or visit our online guides:
If your department has Desktop Support Services, please contact your departmental personnel. For additional recommendations on securing your mobile device, visit Secure your smart phone & tablet.