IT Strategy & Governance
Strategic plan
University Systems aligns with the University of Victoria's Strategic Plan, and therefore builds its strategy and plans by focusing on the organizational objectives and goals. Further to this, the University's Integrated Planning Committee develops an Integrated Plan that focuses on a planning horizon of 1-2 years with the primary on focus on goals and initiatives for the coming year. Based on the institutional goals and initiatives, University Systems works with Integrated Planning, VPs, Faculties, Departments and IT Governance to develop strategies that ensure what we do is aligned with, is embed in and enables the success of the goals and overall objectives. The result of this planning is the University Systems Service Plan and IT Governance Initiatives.
Governance
IT Governance is a core element of our organization which allows us to optimize the value of IT portfolio by making the right decisions, investing in the right initiatives and managing risks. IT governance provides the conceptual framework, structures, processes and resources that allow us to align decisions and strategies to objectives and goals. This in turn enables us to take full advantage of IT by maximizing benefits and capitalizing on opportunities to gain a competitive advantage. It also provides strategic leadership in establishing campus-wide IT priorities and policies, and is accountable and transparent to our organization.
The IT Governance structure as a whole is responsible for:
Integrating institutional strategic planning with IT strategic planning.
Establishing campus-wide priorities for IT initiatives that are aligned with institutional goals and priorities.
Ensuring consistent communication and engagement with campus community on project investments.
Providing structures and processes that influence the direction and outcomes of technology services, policies and solutions.
Promoting transparency, accountability, dialogue and communication about IT investments.
Establishing a project investment fund to enable the execution of investments.
Our governance focusses on processes for making and implementing decisions; it is about making 'the right decisions' and about following the best possible process for making these decisions. Good governance is about effectiveness, completeness and accountability. Good governance ensures that the institution is getting good value from IT and that the right investments are being made to enable the organization to achieve success. We simplify this by thinking about the outcome and asking four key questions: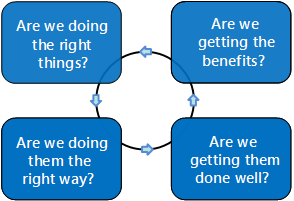 To enable good governance, there are three components that constitute IT Governance:
Structure

The structure component pertains to the activities, the way those activities support the goals of the university, and the people who manage those activities.
Structure components include mission, mandate, terms of reference, roles, conflict-resolution mechanisms, accountability, transparency, and constituent groups.

Process

The process component defines decision-making rights as well as paths and policies that are used to measure and control the way decisions are made and executed.
Process components include alignment, commitment, motivation, leadership and meaningful participation.

Communication

The communication component defines how the results of processes and decisions will be monitored, measured and communicated.
Communication components include information sharing, meetings, stakeholder engagement and reporting.
The University of Victoria renewed its IT Governance structure in 2013/2014 and as a result, the following documents provide guidance for how governance is structured, what the processes are and how we ensure good communication: