Composting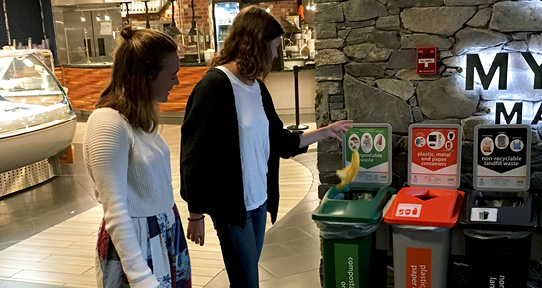 In August 2017, UVic installed compost bins at recycling stations across campus. The program was expanded in summer of 2019, with the installation of outdoor Sort It Out stations to make composting available in both indoor and outdoor areas of campus. 
Our system works the same as municipally run curbside composting programs.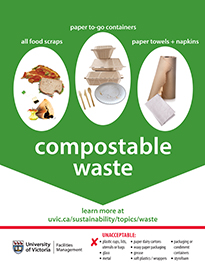 UVic compost bins accept all:  
food waste,
paper napkins and plates,
wooden chopsticks and stir sticks,
compostable take-out containers used on campus,
paper towels, which account for 12% of UVic's landfill waste by weight!
If you find any of the bins need to be serviced, please e-mail compost@uvic.ca detailing the location of the bin and the service issue and Facilities Management will respond as soon as possible to deal with the issue.
Composting paper towels 
Why are the bins in the washroom paper towels only? 
About 12% of the waste that we send to the landfill is paper towels.  As paper towels are compostable, it is important for us to divert this waste stream from the landfill. 
The vast majority of washroom bins contain solely paper towel waste, therefore it was decided to convert all washroom bins to paper towel only bins. 
It is important that these paper towel bins do not get contaminated with 'general garbage'.