Composting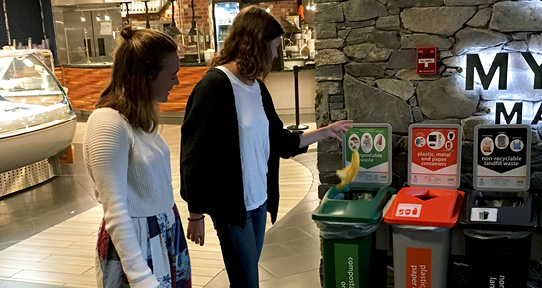 UVic is installing compost bins at recycling stations across campus: August 2017.
Composting is well established at UVic. We started composting all food waste from operational activities on campus in 2003, and the program has grown steadily since. Between January 2011 and December 2016, UVic has diverted more than 2800 tonnes of organic waste from the landfill.  However, our 2014 waste audit showed us that a large amount of compostable waste is still ending up in the landfill. 
The inclusion of compost bins at recycling stations across campus will make sorting waste even easier. This program will also help us in achieving our waste diversion target of 75% by 2019.
Volunteer office compost program
UVic volunteers have been emptying office compost bins since 2005. We thank the volunteers for their countless trips outside to empty their office's kitchen catcher. Facilities Management will be upgrading the compost system with larger centrally located bins. Volunteers will no longer be required to take out the compost and bags for kitchen catchers will no longer be supplied as of August 2017.
What else do I need to know?
Can't find the answer to your question below? Contact compost@uvic.ca with questions or concerns.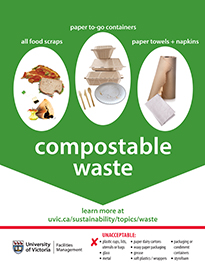 Our system works the same as municipally run curbside composting programs.
UVic compost bins accept all:  
food waste,
paper napkins and plates,
wooden chopsticks and stir sticks,
compostable take-out containers used on campus,
paper towels, which account for 12% of UVic's landfill waste by weight!
Please e-mail
compost@uvic.ca
detailing the location of the bin and the service issue and Facilities Management will respond as soon as possible to deal with the issue.
There is a strong interest to make composting more convenient for everyone in the campus community.
In January 2015, the CRD banned all kitchen scraps (food waste and soiled paper products) from the landfill.  This program expansion is being done to move the university towards compliance with the CRD regulatory by-laws.
A campus wide Waste Audit conducted by the Waste Reduction Unit in 2014 indicated that food waste and soiled paper accounted for over 40% of the waste going to the landfill.
In 2016, UVic generated 1900 tonnes of waste and has a landfill diversion rate of 70%.  This approach is a solution for reducing this volume and increasing our diversion rate in order to meet and exceed the Sustainability Action Plan (2014-2019) target of 75%.
A local service provider will be responsible for emptying campus compost bins. Janitorial Services will continue to service washrooms and the non-compost bins at recycling stations across campus. Compost bins will be added to:

bathrooms to capture paper towels,
recycling stations in class areas,
recycling stations in office areas.

Over 300 green bins will be installed inside buildings on campus.
The campus community will be asked to deposit their food waste into these green bins for composting.
Janitorial services will service the paper towel bins in washrooms.
The bins will be installed and the program fully implemented by the end of August 2017.
The university will no longer be providing biobags for this program as there will be several indoor bins for ease of use. 
Occupants are welcome to keep the kitchen catchers for their own personal use.
The service provider will be here every weekday and will have the capacity to service bins on a daily (weekday) basis. 
The first month will be a trial period to ascertain where high volume areas are. 
The Waste Reduction Unit and Janitorial Services will be on hand for additional servicing and feedback if necessary.
There will be open lid on every green bin installed inside buildings. These lids will look identical to the landfill waste bins, except they will be green. Feedback from Janitorial Services and our local service provider stated that closing lids are deterrents to bin usage. People preceive them as dirty and undesirable to touch. 
If your office area desires a closing lid on your closest green bin, please submit a request to compost@uvic.ca.  We will be compiling and dealing with requests on a case by case basis after the first month of the program.
In February 2018, Facilities Management will be conducting a campus wide waste audit.  A report will be published outlining our progress with a detailed analysis of what we are sending to the landfill. 
This report will be available to the campus community sometime in April 2018.
About 12% of the waste that we send to the landfill is paper towels.  As paper towels are compostable, it is important for us to divert this waste stream from the landfill. 
The vast majority of washroom bins contain solely paper towel waste, therefore it was decided to convert all washroom bins to paper towel only bins. 
It is important that these paper towel bins do not get contaminated with 'general garbage'.