#Sharethespace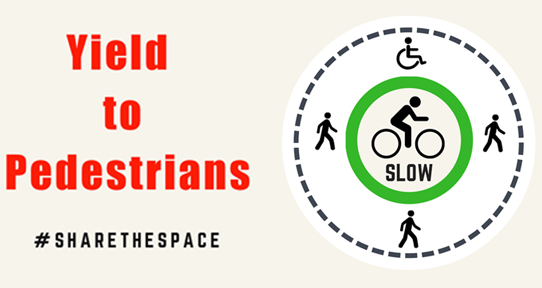 Our campus is a busy place. Throughout the day, there are thousands of people trying to get from building to building on bike or on foot. Sometimes it can be a bit crowded, which can make it both difficult and unsafe for pedestrians and cyclists. To help make sure UVic stays both pedestrian and bicycle-friendly, please share the space!
Tips for cyclists:
Yield to pedestrians. Be alert and prepare for unpredictable moves by others.
Slow down. Going too fast on campus is unsafe to both yourself and the people around you.
Leave room when passing. Cycling too close to pedestrians on multi-use paths increases chances of collision. If you want to cycle more quickly, use Ring Road.
Use a bike bell. Give the person in front of you warning that you are about to pass. They will appreciate it!
Use hand signals. Unpredictable cycling can lead to unsafe reactions by others and cause accidents. 
Dismount in congested areas. It's easier and safer. Don't treat pedestrian traffic like an obstacle course!
Want a free bike bell?
Come visit us in ASB A275 to take the cycling pledge below and receive your bell!
Cycling resources:
Cycling at UVic (campus amenities, maps, resources and more!)
Bike Sense safety and operation manual