Sustainability Events @ UVic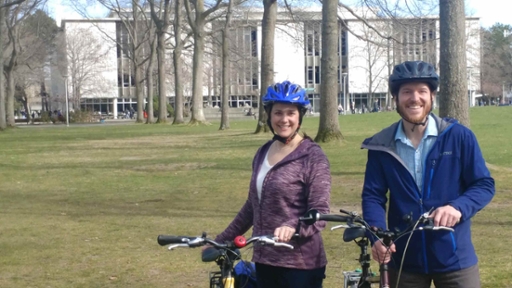 Love-A-Mug Week: October 15-19 
October 15 to 19th - bring your reusable mug to get a free coffee!
Muggo and friends will be handing out FREE coffee coupons in the Quad and SUB, show us your reusable coffee mug and we'll give you a coffee coupon. 
Fall Bike to Work Week: October 22-28 
UVic Celebration Station: Tuesday October 23 7:30 - 9:30 AM at Petch Fountain 
Join your fellow cyclists at UVic's Celebration Station and enter to win raffle draw prizes to get you prepped for winter cycling.
Register for free at: Bike to Work Week
Stay tuned for more details. 
Lighten Up! Monday, November 5
The end of Daylight Savings Time (DST) can sneak up on us, so each year on the Monday after the clocks "fall back", we give out free bike lights to cyclists who are riding without lights. We want you to get home safely. At the end of the school day we'll be out on campus to help you Lighten Up!
Don't Smash Your Pumpkin: November 1-30
We want you to be safe out there on your bike – so much so that if you buy a helmet or lights at SUBtext (in the SUB) during the month of November, you will get a 25% discount! Protect your brain and be seen.
Bike tune-up pop-up booths
Hosted by SPOKES. Stay tuned for more details.
Stay tuned for more Special Events!
See also our Campaigns page