Staff recognition: Steve Martin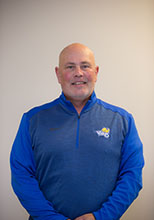 Working as the official University of Victoria Vikes physician since 2013, Dr. Steve Martin is pivotal to the success of the varsity programs. As a sport medicine physician working part-time out of the UVic Sports Injury Clinic, he gives tirelessly to the Vikes community volunteering his time to ensure all student-athletes are well cared for.
Since March of 2020, Dr. Martin has been instrumental in the COVID-19 management for varsity athletic programs while also committing countless hours as a volunteer medical representative to the Canada West COVID-19 task force.
Dr. Martin's work stretches well beyond his regular schedule, answering text messages, emails, phone and telehealth calls after office hours for urgent medical questions. He is heavily involved in concussion management, mental health evaluations and the sports medicine injury evaluation for Vikes student-athletes.
"Dr. Martin has gone above and beyond, volunteering countless hours to make himself available to our community over the past year. He's given out his personal cellphone number to coaches and student-athletes, making himself available 24/7, including evenings and weekends. It's unbelievable the level of service he provides, and could not be more deserving of this award," said Director of Varsity Performance Sport, Dr. Nick Clarke.
Dr. Martin can often be found on the sidelines as a Canadian Academy of Sport and Exercise Medicine (CASEM) physician, putting his skills to work to get athletes back into the game as quickly as possible. These examples represent a portion of the many hours Dr. Martin contributes to the Vikes varsity programs at UVic.
"It is hard to put into words how much he contributes to transforming the lives of our student-athletes. He is a rock that we count on, and it is a pleasure to have him as an integral part of the Vikes team," said Clarke.