Staff recognition: Lily Ng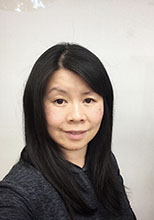 When our campus quickly moved online in March of 2020, Lily Ng was instrumental in supporting the Bookstore's customers as they found their way through new online services. Her colleagues have noted the care with which she personally supported many of UVic's sponsored students, helping them to understand the steps necessary to place and receive an order. Her support and attention to detail were integral to the Bookstore's success during this challenging time.
Moreover, through her exemplary work with the Course Materials and Accounting teams, Lily demonstrated her accountability and willingness to collaborate at every turn. Her creative ideas helped to dramatically improve the management of the Bookstore's January rush and to make customer service during that period as impressive as it was timely.
Lily has shown great warmth and kindness to staff, students and community over this past year. She has demonstrated professionalism and dedication every day and it has not gone unnoticed. She is an example of what it looks like to live STUA values of Collaboration, Community and Respectful Interaction and Communication and for that, we are truly appreciative.