Join us for Stock-tober 2020!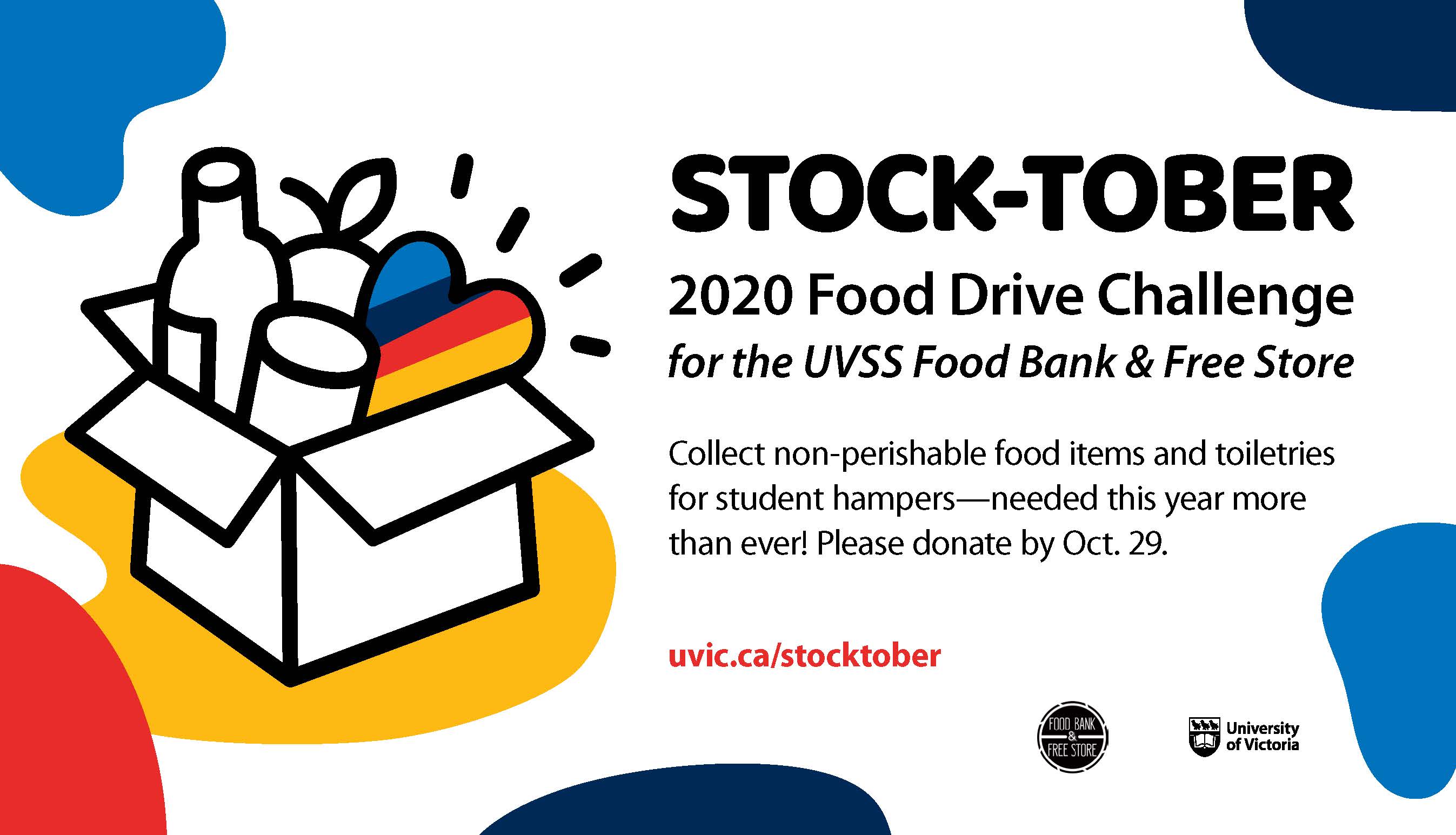 Message on behalf of Jim Dunsdon, Associate Vice-President Student Affairs
---
Stock-tober is upon us and although we are in a different environment than previous years, we are very excited to keep this important and much needed initiative going.
This annual Student Affairs food drive in support of the UVSS Food Bank & Free Store, is scheduled to take place from now until October 29. The UVSS Food Bank & Free Store supports hundreds of UVic graduate and undergraduate students each week. Access to nutritious food is a key element of mental and physical health, and the UVSS Food Bank & Free Store is a crucial resource for UVic students.
Last year we received 2,335 lbs of food, $440 cash donations and other much needed non-perishable items—more than doubling the 2018 total of 1,114 lbs. That brought our six-year donation total to an amazing 9,674 lbs.  
This year, you can donate in three ways:
Online through the UVSS Food Bank & Free Store donation page: (https://extrweb.uvic.ca/pages/annual-giving/donate-online/_main/angv---uvss-food-bank--free-store)
By collecting donations in your office throughout the month and then requesting that Rayael (Staf2@uvic.ca) pick up your donations mid-day on October 29 via the campus golf cart.
By coming to the drive by drop off location at the Jamie Cassels Centre, formerly known as the University Centre on October 29 from 8:00am-9:30am or 3:00pm-4:15pm. There will be a small number of volunteers to remove the donation items from the back seat or trunk of your vehicle.  Given our safe work plan, we ask that you stay in the vehicle and simply allow us to remove the items.
Note: The UVSS Food Bank & Free Store switched over to offering a hamper program for students to maximize safety in light of the pandemic.  In order to aim for consistency in the makeup of the hampers, they have provided a list of donations (below) that they are accepting. 
Thank you all in advance for your help and support of the UVSS Food Bank & Free Store.
Acceptable Donation Items for the UVSS Food Bank & Free Store Hamper Program
Please note we will not accept any homemade, previously opened, perishable, or expired items.