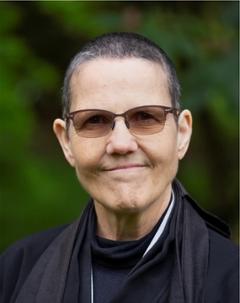 Zen Buddhist Spiritual care provider
Multifaith
Contact:
Credentials:

Rev.
About
Reverend Hoyu (Boulter) here (now). I am a member of the Zenwest Buddhist Society. My relationship with Zenwest is multifold.
At UVic Multifaith, I teach yoga for meditation and occasional facilitator of a learn to meditate practice. As well as a therapeutic yoga teacher, I am also a registered certified clinical hypnotherapist.
To write a bio is as challenging as all of life's moments -- the joys, the challenges and everything else -- lead always to this moment. Each and everything that I can point to only represents a relationship I have with the sentient and non-sentient. It is this making of relationship and returning over and over again to who I truly am that is the practice. And, as such, it is wordless. It is an honour to be a part of the Multifaith team.
Office hours are by appointment.