Meet Dr. Adekunbi 'Kunbi' Ajiboye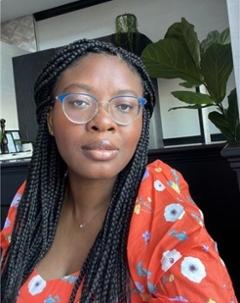 Director, Student Wellness
Leadership & administration
Contact:

Office: Health and Wellness Building

dirsw@uvic.ca
Credentials:

EdD
About
Dr. Adekunbi 'Kunbi' Ajiboye (She/Her) serves as the Director, Student Wellness. Kunbi holds a Doctorate in Educational Leadership from Seattle University.  Kunbi's dissertation Funnel Vision: Through the Looking Glass of Recruitment and Admission Practices is a convergent mixed-methods case study that interrogated recruitment and admission policies and practices of a private Jesuit university's Student Affairs (SA) graduate program to determine the extent to which they aligned or misaligned with equity and justice-oriented principles. The Education Deans for Justice and Equity framework, Critical Race Theory, and Social Reproduction Theory serve as conceptual and theoretical frameworks for her work. Kunbi also holds a Master of Education (Health)  with a minor in Healthcare Administration (Texas State University), Bachelor of Arts – Interdisciplinary Studies with a minor in Psychology (Western Washington University), and Associate of Arts and Sciences (Bellevue College).
Kunbi is passionate about creating student-centered inclusive and engaging programs that foster a sense of belonging and communicates an appreciation for unique personal experiences.  Kunbi believes education is a tool for advocacy, empowerment, and growth and her work focuses on human capacity building through leadership development and professional focus on developing, implementing, and evaluating theory and evidence-based student success strategies and programs using an equitable and inclusive lens.
Kunbi is a Nigerian American immigrant who arrives to UVic from Whatcom Community College in Bellingham, Washington, from the role of Associate Director, Student Life and Development.  In her free time, she enjoys gardening, yoga, skiing, exploring the great outdoors with her puppy Arya, Sci-Fi /fantasy movies and books, music, discovering new cuisines, and spending time with loved ones.