Labour market trends
Labour market trends and potential earnings
A bachelor's degree is now required for a number of entry-level positions in the job market. With more people applying to university every year, students and their parents wonder about the value of a bachelor's degree.
University education plays a crucial role in economic and social development. For individuals, a university education contributes to employability, higher lifetime earnings and access to continued learning and training. In the current job market, employers are looking for people who can think critically, solve problems creatively, and communicate clearly. A degree in the social sciences provides this kind of training and prepares graduates to be better equipped and more flexible for the challenges of employment.
For more information on 'The Value of a University Degree' see the 'The Value of a University Degree' report from the Association of Universities and Colleges of Canada.
Back to top
What can social science graduates expect to earn?
University education contributes to higher income increases over time.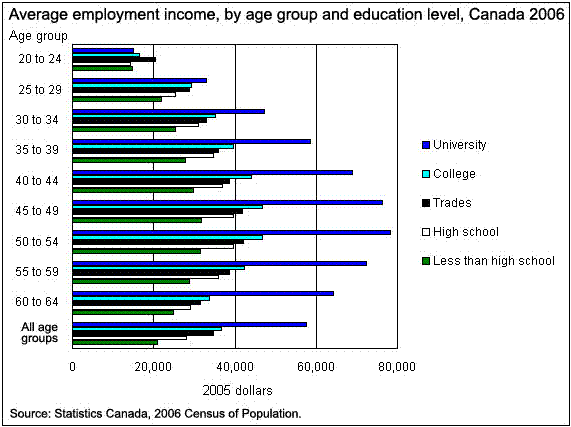 The University of Victoria conducts a survey of alumni who graduated with a Bachelor's degree two years previous. The 2011 Graduate Outcome Survey reports that Bachelor graduates in Social Sciences earned an average of  $44,000 within two years of graduating.
Income levels also vary based on the level of degree, recent statistics in Canada reveal these findings:
$35,000 for college graduates.
$45,000 for bachelor's graduates.
$60,000 for master's graduates.
$65,000 for doctorate graduates.
Health Occupations

Canadians are wondering about how our aging baby-boomers will affect the economy and job market. The aging population will increase the demand for healthcare and healthcare workers, which is the fastest growing job sector in the country, providing students with great career opportunities in the sector. Students in Sociology, Anthropology and Psychology will be able to apply their knowledge of health, aging and care to this growing field, while other students will consider applying their skills to healthcare management in the private and public sectors.

Despite talk of delayed retirement, Statistics Canada predicts that by 2026, many baby boomers will have retired and employment opportunities will increase in all job sectors.

Natural Applied Sciences and Related Occupations

The 'green economy' is growing. B.C.'s  Climate Action Plan put in place policies to encourage the development of clean energy sources, which will open up new kinds of job opportunities in the province. Similar incentives for environment friendly technology and initiatives are in place in many other jurisdictions in Canada and abroad. With increasing investment in renewable energy, clean technology and green infrastructure, Geography and Environmental Studies will find growing demand for their knowledge and technical skills, while Economics students will be able to apply their training to study the changing economy and develop economic policies for this growing sector.

For more information about Green Jobs in British Columbia, see Careers For a Sustainable Future: A Reference Guide for Green Jobs in British Columbia

Occupations in Art, Culture, Recreation and Information

The information, culture and recreation industry is constantly changing. The Internet revolution has had a transformative effect on music and film, publishing, broadcasting and telecommunications and has played a big role in the growth of the industry as a whole.

Social Science graduates will find many opportunities to apply their understanding of culture and cultural diversity to this burgeoning industry.  Employers are searching for people who have an understanding of cultural diversity and the ability to work with diverse groups of people in light of globalization and international labour mobility.

See more information about jobs in Art, Culture, Recreation and Sport.

Social Science, Education and Government Service

A major economic base on Vancouver Island is public administration and government service, which provides opportunities for all Social Science department graduates. Many of our former Political Science and Economics graduates have chosen careers in this sector.
Back to top
Will a bachelor's degree help me get a job?
The shift from a resource-based economy to a knowledge-based economy means that more jobs will require post-secondary training. In British Columbia, it is expected approximately 30% of job openings over the next decade will require a university degree. These statistics reflect trends across the country. From 1990 to 2009, the number of jobs filled by people with a university degree more than doubled—from 1.9 million to 4.2 million, while there were 1.1 million fewer jobs for those with only a high-school diploma.
A Social Science degree prepares students with the knowledge and training for a variety of careers. Some students may use their social sciences education to pursue careers as social scientists—psychologists, economists, geomorphologists—others will transfer their skills to careers in business, education, government and health.
Back to top
What skills are needed for the job market?
Many people wonder about whether a social science degree prepares graduates for today's competitive job market. The evidence suggests the conclusion that in today's job market, a liberal arts or social science degree provides the knowledge, practical training and skills which will not only foster mature, responsible and engaged citizens but also contribute to professional success.
Studies show that while vocational and professional training—trades, engineering, accounting, nursing or architecture—lead to more immediate job prospects after graduation, students with a social science or liberal arts background have a higher potential for greater lifetime earnings and career advancement.
Many of the skills needed to thrive in the current job market are those that a well-rounded social science degree provides: the ability to view society from a critical perspective, situate information within a larger context, consider a problem from multiple perspectives, develop creative solutions and communicate findings to a wide variety of audiences.
The current pace of technological and social change means that having the capacity for continuous learning make university graduates more employable in difficult economic times. Many studies show that during economic crisis, those with job-specific skills may have difficulty finding work, while those with transferable skills, such as the ones acquired with a social science degree, have much more career flexibility and are able to transition along different professional paths.  Careers with one company over a lifetime are becoming increasingly uncommon and graduates will learn that the job market is much more fluid that it was for previous generations. Similarly, many of our graduates return to school to pursue additional education after a few years in the workforce.
Back to top
Where will the jobs be?
Recent studies on the labour market predict more than one million job openings in the province in the next ten years. The fastest growing sectors that will experience the greatest demand for workers are: (1) Health Occupations, (2) Occupations in Natural and Applied Sciences, (3) Occupations in Art, Culture and Information and (4) Social Science, Education and Government Service Occupations. Each field provides diverse opportunities for all Social Science graduates and especially those from particular disciplines.
For more information about current labour market trends in British Columbia, see Challenges and Opportunities: British Columbia's Labour Market Future.
Back to top
How to 'sell' yourself to potential employers
It is important to be able to explain to potential employers how the knowledge and skills learned at university are relevant in the workforce. Most employers are hiring employees based on competencies rather than skills alone. It is important to understand be able to describe your competencies—your knowledge, skills and abilities—to measure your progress towards your goals, strengthen the link between your academic and workplace learning, and express your value to employers. Studies show that graduates are more likely to find a career relevant to their studies if they were made aware of the skills they learned, placed them on their resumes and discussed them in job interviews.
When a potential employer asks, "Give me an example of how you've used teamwork to solve a problem," you will be able to reflect on the group projects, fieldwork or volunteer and extracurricular activities that you were involved in during your Bachelor's degree.
Participating in out-of classroom activities, through internships and co-op placements, attendance at job fairs, community-service learning projects and involvement with student groups and clubs also increases employability and provides many opportunities to network with potential employers before graduation.
For more information about how discuss your competencies with future employers, check out UVic's Co-op and Career Services page. 
Want to know more about the specific competencies you developed during you degree? Check out your program-specific competencies.
Back to top