Village Greens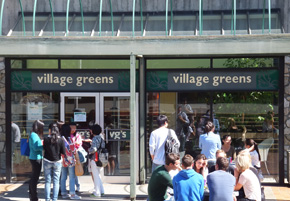 Award winning vegetarian and vegan options. Enjoy booth or table seating with a trendy ambience and natural lighting. Choose a table by the window or outdoor patio seating. Located in the Cadboro Commons building. Features:
fresh stir fry
fruit, pastries, and other sweets
smoothie bar
assorted beverages including coffee & tea
Hot food served:
Lunch: 11:00am-2:30pm
Dinner: 4:30pm-7:30pm
Smoothie Bar
Village Greens is also home to our fabulous Smoothie Bar. 100% real fruit. 100% delicious. Featuring extended hours, weekly and seasonal specials and more. 
Find us