Personal preparedness
Emergencies are usually unpredictable in both timing and nature. While it is impossible to prepare for every potential situation, there are simple steps that may greatly reduce the impact of an emergency on you and your family.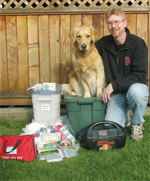 Consult the following UVic specific resources for emergency preparedness information:
Will you be able to communicate in a crisis? Is texting better than a call? Check out our tips on using technology during a disaster. For information on how UVic will communicate in an emergency, check out Communicating in an emergency.