Our visiting scholars
Academic and community-based scholars visit with us throughout the year.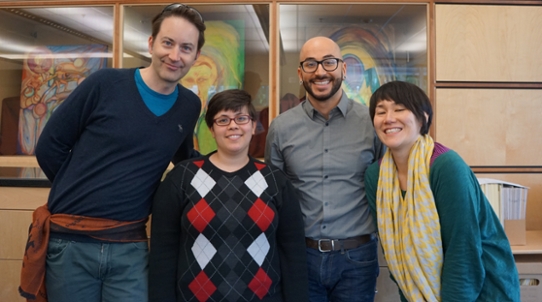 Syrus Marcus Ware 
Syrus is a Vanier Scholar, visual artist, activist, curator and educator. He uses painting, installation and performance to explore social justice frameworks and black activist culture. His work has been shown widely, including at the Art Gallery of Ontario, the University of Lethbridge Art Gallery, Art Gallery of York University and The Gladstone Hotel. His performance works have also been part of festivals across Canada. He is a facilitator and designer at The Banff Centre, and for 12 years was the Coordinator of the Art Gallery of Ontario Youth Program. Syrus is the inaugural Daniel's Spectrum Artist-in-Residence (2016/17) and is also a core-team member of Black Lives Matter- Toronto. Syrus is currently working on a PhD at York University in the Faculty of Environmental Studies.
It has been incredible!  It's one of the fastest archives I have even been in, where you can ask for something and within minutes it appears.  It's so important to have spaces like this accessible and open to the public.
---
Lorna Barton
Lorna Barton is a 4th year PhD candidate at the University of Strathclyde in the Scottish Oral History Centre. She visited The Transgender Archives in October 2017.
---
It is amazing and I'm devastated that I'm not here longer. I will definitely be back. It's an absolute wealth; it's so rich. Everyone has been friendly and the archivists have been really amazing in terms of access and getting all the materials really quickly to me. Everyone has been incredibly inviting and welcoming. It's been brilliant!
---
---
David Shively
David Shively is a MLIS/MAS student from UBC who visited the Transgender Archives July-September 2017 to do a practicum.  He performed indexing and provided descriptive metadata for a scrapbook donation from the Univeristy of Ulster TGA collection.  
My experience was extremely positive.  Lara and Jane offered helpful guidance in realising the project and the work environment was relaxed and efficient. Fascinating materials and a good chance to put some training into practice.
---
Elias Capello
Elias is a medical anthropologist who is examining materials in the Transgender Archives to better understand the linguistic patterns of how transgender people disseminate knowledge about their bodies and health. The linguistic patterns of how transgender people communicate about their bodies will be compared with the research papers in the archives. Elias focuses on themes of embodiment, dissemination of knowledge about bodies, health, and resilience.
Everyone was generous with their time, which enabled me to get a vast amount of work done. I was able to sift through several well-known periodicals and lesser-known periodicals to contextualize my research on how transgender people have distributed medical knowledge to each other to empower each other not just through journal articles, but through poetry, comics, and advice columns published in the periodicals. This work will help me design my dissertation research. All in all it was a great experience--everyone from Dr. Aaron Devor to the staff of the archives were incredibly supportive and helpful.
---
---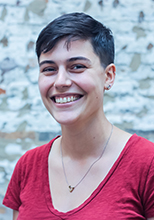 Paula Martin
Paula Martin is a PhD Student at the University of Chicago, Department of Comparative Human Development. She came to the TGA with the support of the SPA/Robert Lemelson Foundation Student Fellowship to use the Rikki Swin collection and to think about how formal knowledge producing systems and activist movements impact the conceptualization and implementation of treatments for gender.
I was able to use material in the TGA to help contextualize the research I do with contemporary providers and young gender expansive people in the US. Everyone involved from the librarians to the other individuals using the archival materials were kind and welcoming. The TGA is a great resource, and I definitely strengthened my project by spending time there.
---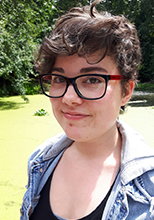 Kai* Brust
Kai* Brust is a History and Political Science student at TU Darmstadt (Germany). From May-July, 2017, they participated in an international internship through Mitacs at the Transgender Archives, where they gathered metadata about transgender activist networks from the 60s till the early 2000s. During this time they worked with several periodicals, mostly newsletters and journals from more than 20 groups. Focusing on North America they also worked with periodicals from Germany, Australia, New Zealand, France, Belgium and the Netherlands.
Being able to get an insight into the Transgender Archives unique holdings at such a broad scale equipped me with more knowledge about past transgender activism than I ever thought could be possible in just three months. My stay at the Archives taught me how to navigate through Transgender History and challenged me to understand, in which way groups of transgender, transsexual, transvestite, crossdressing and gender-nonconforming people raised their voices against the discrimination they faced in the past and what this had to do with their general standing in society.
---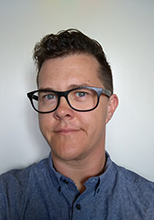 Cyle Metzger
Cyle is a PhD Candidate at Stanford University in the Department of Art History with a PhD minor in Feminist, Gender and Sexuality Studies.
My experience at the archives was crucial for the development of my work in transgender art and visual history. In particular, the photos from the original publication of Harry Benjamin's Transsexual Phenomenon and the seemingly innumerable works in the collection of Barbara Jean's Petticoat Punnishment work have become key features of the historical narrative I am trying to build.
---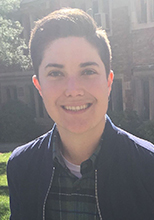 Kate Redburn
Kate Redburn is a JD-PhD student at Yale Law School and Yale Department of History.  Kate researches trans legal history at the beginning of U.S. trans political organizing in the mid-1960s to the present. Their preliminary questions relate to the toppling of anti-cross dressing laws, the legal strategies (or lack thereof) in trans organizing, and the penetration of legal categories and legal habits of mind in trans politics. 
---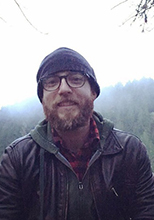 Abram J. Lewis
Abram J. Lewis is a postdoctoral fellow in the Sexualities Project at Northwestern University in Chicago. Abram is working on a book project examining the role of supernatural, paranormal, and other forms of "irrational" experience in 1970s queer, feminist, and trans activism. He visited the Transgender Archives to research Reed Erickson's support for new age projects.
"Everyone has been great -- the staff are great and the archives really easy to use (getting boxes minutes after requesting them is a research game changer). Aaron Devor was very generous in meeting with me and sharing his expertise about Erickson's life. And the Erickson papers are really extraordinary. I definitely recommend checking them out, even if only for his doodles and limericks."
---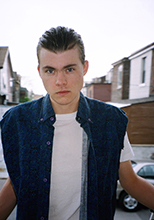 Beck Gilmer-Osborne
Beck Gilmer-Osborne is a queer trans-media artist who is doing personal research for graduate studies and a curatorial collections practicum at the Banff Centre for Arts and Creativity.  They visited the TGA to gain access to trans histories and ephemera that cannot be found elsewhere.  Beck is invested in addressing archival gaps when it comes to Queer, Trans, Black, Indigenous, People of Colour (QTBIPOC) content/stories/contributions.
"The staff were incredibly friendly and helpful with my inquiries. Dr. Devor came down to the archives to meet with me personally and helped me navigate the archival database…I was particularly interested in Harry Benjamin's photographs and notes for "The Transsexual Phenomenon." Holding those images before they were censored was quite overwhelming."
---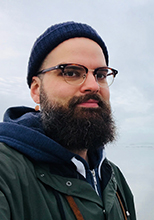 Michael Radmacher
Michael Radmacher is a recent graduate student of library and information science who currently works with the Chair in Transgender Studies at the University of Victoria.  Michael utilized the Transgender Archives during his studies by digitizing a portion of the Rikki Swin collection featuring Virginia Prince. 
I always jump at the chance to dig through The Transgender Archives and to review the unique materials.  Special Collections and University Archives is a beautiful and peaceful space to perform research; Lara and her staff are always hospitable and helpful.  Thank you!
---

Xanthia Hargreaves
Xanthia Hargreaves is a law student & research scholar at the University of Oxford.  Xanthia's August 2016 visit to The Transgender Archives was a part of her comparative research project on LGBTQ history and cultures across North America.
 I had a fantastic experience - it was incredible to see the range that the Archives has accumulated, and to hear about where it began and where it is heading!
---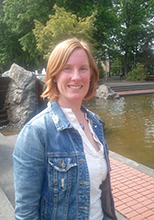 Jeannie Bail
Jeannie Bail is the Director of Learning & Research Services at UNB Libraries. She sees libraries as trans allies, and works to create and promote inclusive spaces, services and resources for LGBTQ communities.
After reading about the collection from all the way across the country, it was exciting to get to use the TGA in person. The entire staff was beyond helpful, and thank you Aaron and Lara for meeting with me while I was in town. The importance of the archives was underscored by a something I read in the Virginia Prince fonds (21.23). It was a letter to Virginia from a physician who wrote that "all my education about my dual gendered nature has come from community literature, not from what I found in the medical library.
---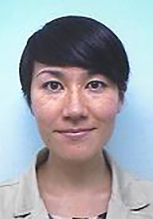 Sonja Pei-Fen (SPF) Dale
Sonja Pei-Fen (SPF) Dale is an adjunct assistant professor at Hitotsubashi University in Tokyo, Japan.  After attending the Moving Trans History Forward 2016 conference, Sonja came to the Transgender Archives to review Japan-related materials which Sonja says are difficult to access in such numbers in Japan.
It was lovely! The librarians were very helpful, and I enjoyed looking through the materials you had available. I also felt inspired to start up an archive of some sort in Japan - at present there does not exist anything similar.
---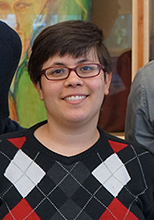 Carter Lynn Thurmond
Carter Lynn Thurmond is a volunteer at the Tretter Collection LGBT archives in Minneapolis, MN., and is an Image Archivist for General Mills.  Carter is developing a photo book using historic images of gender non-conforming lesbians assigned female at birth (trans/dykes). The images will be collaged together along with intriguing texts and quotes.
My experience with the Trans Archives was fantastic. I really enjoyed perusing through the FTM Newsletters and other news clippings and journals.
---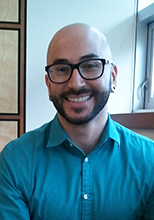 Demetrios Psihopaidas
Demetrios Psihopaidas is a PhD Candidate in Sociology and a Graduate Research Enhancement Fellow at the University of Southern California.  Demetrios came to the TGA as part of his international research project Unsettled lives: How transgender became a global health policy priority (1966-2016). The project traces 50 years of science and policy-making affecting transgender persons, and community-based efforts to shape them.  
My time at TGA was exceptionally positive. The archive is housed in a really bright room with lots of big windows, which is such a nice change from the windowless-norm. Also the special collections staff has the material so well organized and they're so nice and hard-working, that I never had any difficulties or delays getting access. They really had to shove me out at the end of each day, I never wanted to leave.
---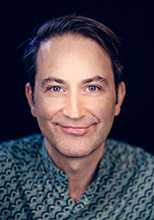 Kevin Allen
Kevin Allen is the Lead Researcher for the Calgary Gay History Project. Kevin came to source Calgary citations in the Transgender Archives as well as attend the Moving Trans History Forward Conference.
The reading room is very comfortable and the archive staff friendly.  This was my second visit to the archives, Lara gave me a tour last year, and Aaron gave me a recap of its genesis.  We are planning on setting up our own queer archives in Calgary so seeing how other institutions are set up is useful.
---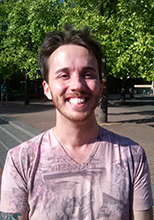 B Lee Aultman
B Lee Aultman is a PhD candidate in political theory at The Graduate Center, City University of New York and lecturer of political science at Purchase College in Purchase, New York. B's dissertation is a study of the epistemological dimensions of transgender political resistance. It explores how "transgender" is, and has been, constructed within the realms of law, the political, and cultural memory (the archives).
My visit to the transgender Archives was one of the most memorable and intellectually fulfilling experiences of my graduate career. I would recommend anyone interested in transgender studies to visit and make use of this tremendous resource.
---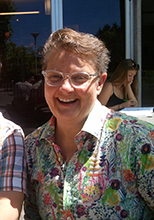 Ardel Haefele-Thomas
Ardel Haefele-Thomas is the chair of the LGBT Studies Department at City College of San Francisco, CA. USA.
She is co-authoring the first Introduction to Transgender Studies textbook.
She came to the Transgender Archives to research "underground" trans culture before the internet.
 What was stunning to me were all of the amazing underground 'zines that had a trans* focus….There are also specific collections in the archive that focus on the importance of transgender pioneers …. who really began to empower the community and take it upon themselves to wrest the information away from medical practitioners who might not have trans* people's best interests at heart.

I have had a lot of really diverse archive research experiences. At Stanford University, I often utilized the Hoover Archives …. I felt that the UVic Transgender Archive experience was on par with that. This is really something to think about because this Transgender Archive is …. not the hugely endowed institution or library that we know a place like Stanford to be. … I, personally, found every single one of the librarians working there to be just phenomenal. ….. This was by far the most personal, warm and efficient archival research experience I have ever had.
---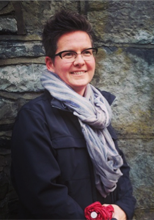 Jamie A. Lee
Jamie A. Lee is an assistant professor of Digital Culture, Information and Society, in the School of Information at the University of Arizona; a member of the Faculty Advisory Committee, Institute for LGBT Studies; and Archivist/Project Director of the Arizona Queer Archives.
She visited the Transgender Archives to conduct research for her dissertation, "A Queer/ed Archival Methodology: Theorizing Practice through Radical Interrogations of the Archival Body."
I had a wonderful experience, first participating in the inaugural Moving Trans Histories Forward Conference, and then moving into direct archival research. Lara and Aaron were both so helpful in sharing their processes and practices in archival development and ongoing archival collection and preservation.
---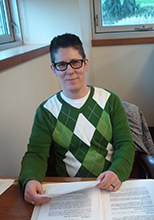 Dr. Jarvis Brownlie
Dr. Jarvis Brownlie is a professor in the Department of History at the University of Manitoba in Winnipeg, Manitoba, Canada.
He came to the Transgender Archives to start amassing information and materials relating to the history of trans rights in Canada.
My experience was extremely positive. The collection itself is remarkably extensive for a relatively new archives….The staff are accessible, very helpful, and knowledgeable and … the archives easy to use…. the records are all on site and can be retrieved in short order (this is not the case for all archival institutions). Finally, the setting is beautiful, light-filled, and comfortable.
---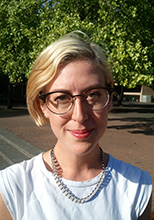 Lauren Fried
Lauren Fried is an AHRC-funded CDA PhD candidate at the Victoria and Albert Museum and Royal College of Art, London, UK. She came to the Transgender Archives to look at trans performance practices in British pop and performance in the later half of the twentieth century, with a specific interest in how trans identities are situated in archives and museum collections both in the UK and in other areas abroad.
I just wanted to say thank you for allowing me to have such a great research trip. I couldn't have asked for a better time there – you were all so friendly, helpful, and knowledgeable, and supported me completely during my stay.
---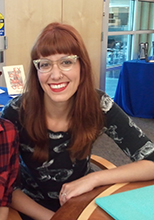 Melina Alice Moore
Melina Moore is a PhD candidate in English at the Graduate Center of the City University of New York and a graduate teaching fellow at Brooklyn College in New York, NY, USA.
She came to the Transgender Archives to research representations of trans people in mid-20th-century popular culture, especially pulp novels. She also spent time looking at Transvestia to broader her understanding of the way trans and gender nonconforming people wrote about their experiences and created community in the 1960s.
I had a wonderful experience at the archives; it was my first archival visit of my graduate career, and it was an honor to spend time with you, your staff, and the other researchers who were present during my visit. The wealth of material is so impressive and moving, and I look forward to returning.
---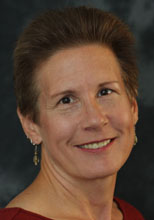 Julie Murphy
Julie Murphy is the director of Library and Information Services at the Pacific Institute for Research and Evaluation in Oakland CA, USA. She visited the Transgender Archives because she had a personal interest in seeing the collection, both as a librarian and a queer person. 
After her behind-the-scenes tour she called the Archives "Wonderful!"
The Archives are a resource that I recommend to friends and activists here in the San Francisco Bay Area.
---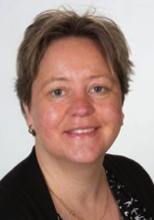 Machteld Vonk
Machteld Vonk is an assistant professor of Family and Child Law at the Institute for Private Law, Department of Child Law, at Leiden University Law School, The Netherlands.
Dr. Vonk is a legal scholar doing research in the area of families and gender: multi-parent families, same-sex families, families through surrogacy and gender in family law. Her starting point in all these issues is the position of children and thus she is very interested in the rights of transgender children. 
---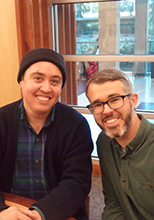 Chris Vargas and Greg Youmans
Chris E. Vargas is an artist and assistant professor of Art at Western Washington University in Bellingham, WA. Greg Youmans (right) is an assistant professor of English and Film Studies at Western Washington University in Bellingham, WA.

Chris Vargas is working on a project called "Transgender Hirstory in 99 Objects," which is part of a project called the Museum of Transgender Hirstory & Art. Greg Youmans' research focuses on U.S. queer history and politics, and in particular media activism of the 1970s. He is currently at work on a book about queer filmmaking in the San Francisco Bay Area in the 1970s.
My experience at the Transgender Archive was amazing, if a bit overwhelming. In the two days I was there I only began to scratch the surface in terms of gaining a comprehensive understanding of all that is contained there. It's such an invaluable resource to me and my creative work and I look forward to visiting again, and often.
---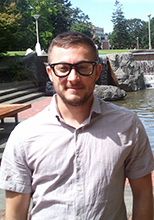 William Hebert
Trudeau Scholar William Hebert is a PhD student in Social-Cultural Anthropology at the University of Toronto developing an ethnographic research project on the over-representation and vulnerability of trans inmates in Canadian and Brazilian prisons.
---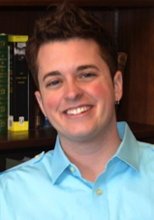 K.J. Rawson
K.J. Rawson is an assistant professor of English and director of the Digital Transgender Archive at College of the Holy Cross in Worcester, MA, USA. He came to the Transgender Archives to do research for the Digital Transgender Archive and etymological work related to trans-related terminology.
---