About Palliative Approaches to Care in Aging and Community Health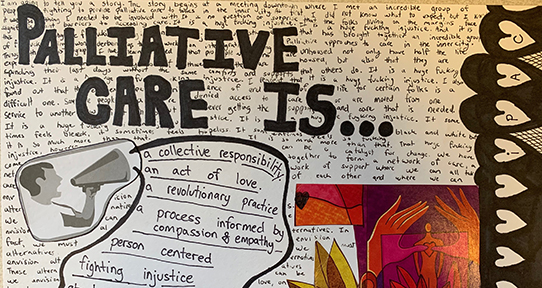 About us
Palliative Approaches is a program of research aimed at improving access and quality of care for people with serious health conditions and their caregivers. We work in partnership with people in community, health and social care systems, and government. Our partners are at the local, national, and international level.
Through our research, we stress the need for palliative approaches in underserved settings. We develop resources and tools, programs and services to improve care for those who face discrimination and exclusion. Learn more about the ePAC collaborative.
Why are palliative approaches to care for aging populations important?
The rising number of people facing old age makes it likely that chronic and life-limiting illness will be a major challenge for healthcare in the next half-century. Almost 80% of all people who die in Canada will die from a life-limiting illness such as heart, lung and kidney disease, cancers, dementias and frailty. Most will not have access to specialized palliative care services (e.g., palliative care professionals, palliative units, hospices).
A palliative approach means attending to the whole person including their physical, mental, emotional, social, and spiritual needs. It prioritizes autonomy, self-determination, and support for a person's caregivers and communities.
Recognizing that many people will not have access to specialized services, palliative approaches happen across settings. This means wherever people are living with life-limiting conditions and dying – hospice and palliative care units, long term care, acute care, and in people's homes and communities. See more on a palliative approach.
Why a focus on community-based care?
Several studies report that most people want to be cared for and to die at home, in their communities, surrounded by their chosen families. For over a decade, our research has focussed on changes needed in home and community-based care to make this a reality. We have sought to understand and target ways to meet the specific needs of:
family caregivers,
older adult populations who are vulnerable, face inequities, and have been excluded from mainstream palliative care services, and
health care providers in developing knowledge to improve home and community-based care for aging populations.
Our work has an explicit focus on community-engaged, equity-oriented, and strengths-based approaches to integrating palliative approaches to care across settings.