Opioid Dialogues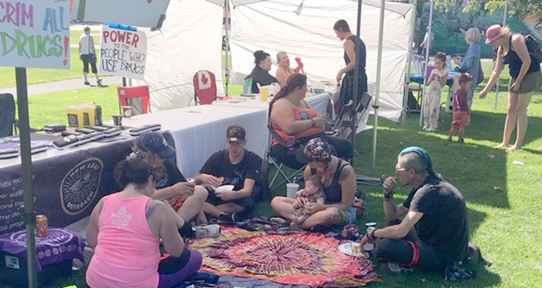 CISUR has been provided with funds by the Ministry of Public Safety and Solicitor General as part of the province's commitment under the Joint Task Force on Overdose Response to develop and administer a grant program to support community dialogues.
Dialogue is a method of communication that involves two-way conversation where people not only speak to each other but also really listen. This kind of listening involves empathy. Each partner in a dialogue is curious about the experiences of the other partners – about their assumptions, beliefs and values. The goal is to leave the conversation with a better understanding.
Dialogue to address the opioid crisis is far more than talking about drugs. Since addiction is not simply about drugs but results from a breakdown in the fabric or connectedness of human community, the dialogue needs to help us understand each other and build social relationships that support individual needs, preferences and autonomy. The breakdown of this integration of the community and all its members is at the root of addiction. Dialogue is an important tool in re-building this integration.
Apply for an Opioid Dialogue grant.
Opioid Dialogues in Action
A police officer and a parent sitting at the same table told each other stories about how the opioid crisis affected them. "Both parties got to share their sides and then they both admitted to how hard it must be to be on the other side of things."
In a town of citizens "numbed" by the opioid problem, a coalition brought people with diverse views and backgrounds together through meal sharing and even poker games. "Dialogue is about a suspension of judgment that helps us to listen to each other. It's about a new way of seeing each other."
Event organizers who invited diverse people to tell their stories through photography, followed by conversations with visitors, were impressed by "how easily the community came together and interacted with each other." They were also struck by how proud people were to be invited into such a creative conversation around drug use, "and that included health care providers and people who have experience with opiates."
At the end of a large community dialogue, "the energy in the room of over 100 participants had shifted from 'You need to do something about the needles' to 'What role can I play?'"
See more in our Opioid Dialogues photo album.
Fraser Health 
Abbotsford Fentanyl Working Group
Agassiz-Harrison Healthy Communities Committee
Burnaby Task Force on Homelessness

District of Mission

F

raser Northwest LAT (Tri-Cities)
Hope Community Coalition
Langley Opioid Response Collaborative
Lower Fraser Valley Aboriginal Society(Langley) 
Lower Mainland Purpose Society  (New Westminster)
Maple Ridge Opioid Overdose Response Team
Matsqui Abbotsford Impact Society (part of Abbotsford Fentanyl Working Group)
Overdose Community Action Team (Chilliwack)
Overdose Community Action Team (Sto:lo First Nation)
Pacific Community Resources Society (Chilliwack)
Sources Community Resources (White Rock)
Surrey North Delta LAT
Surrey Vulnerable Women and Girls Working Group 
Interior Health
Addiction Matters Kamloops 
Bridge Youth& Family Services Society (Kelowna)
Boundary LAT (Grand Forks)
Canadian Mental Health Association (Vernon)
Downtown Vernon Association
East Kootenay Addiction Services Society (Cranbrook)
Interior Health FNHA (Penticton)
Nelson Fentanyl Task Force
Vancouver Coastal Health
Canadian Students for Sensible Drug Policy (Vancouver, Kelowna)
PHS Community Services Society (Vancouver, Victoria)
Richmond Addiction Services Society
Sea to Sky Community Services (Squamish)
Sunshine Coast LAT (Sechelt)
Island Health
Cool Aid Society (Victoria)
Oceanside Public Health Services (Parksville)
Our Cowichan Communities Health Network (Duncan)
People for a Healthy Community on Gabriola Island Society
Port Alberni Shelter Society
Sacred Wolf Friendship Centre (Port Hardy)
Salt Spring and Southern Gulf Islands Community Services  Society (Ganges)
South Island Community Overdose Response Network (Victoria)
Umbrella Society (Victoria)
VIU Child and Youth Care Program Centre for Community Outreach and Care (Nanaimo)
Northern Health
Haida Gwaii LAT (Queen Charlotte)
Lakes District LAT (Burns Lake)

Positive Living North (Dawson Creek)

Positive Living North (Smithers, Prince George)
Saik'uz First Nation and Vanderhoof RCMP
Urban Matters (Fort St. John)
preparing a call for community coalitions from every region of the province to submit a letter of interest in engaging their community in dialogue about opioid and other drug use
developing a guide to community dialogue
evaluating applications and interviewing potential grantees about their project ideas
offering support to selected grantees by sharing resources, contacts, dialogue ideas and encouragement
Related projects
Researchers