Scottish Courts Back Minimum Unit Pricing for Alcohol
CARBC Scientist and Director Tim Stockwell was commissioned by the Scottish government to provide input into the case.

This past week, after almost five years in the courts, The Court of Session in Edinburgh ruled against a challenge by the Scotch whisky industry regarding government plans to introduce Minimum Unit Pricing of alcohol.  The industry had claimed that the plans were a breach of European Law.
The following is the text from the court document detailing Tim's expert testimony:
[49] In the evening session, Timothy Stockwell, professor at the University of Victoria BC, made a presentation on the effectiveness of minimum pricing in Canada.  Asking himself the question of "why introduce minimum pricing", when across the board tax increases would reduce average consumption, Prof Stockwell said that it was known that the heaviest drinkers gravitated towards the cheapest alcohol.  Young people and high risk drinkers were especially responsive to minimum pricing.  Prof Stockwell was effusive in his praise of the proposed legislation, stating that the Bill  would "without a shred of doubt" save lives, reduce healthcare costs, prevent death and injury on the roads, prevent birth defects, and reduce public violence and a range of other things. He agreed with the likely impact as modelled by Sheffield University.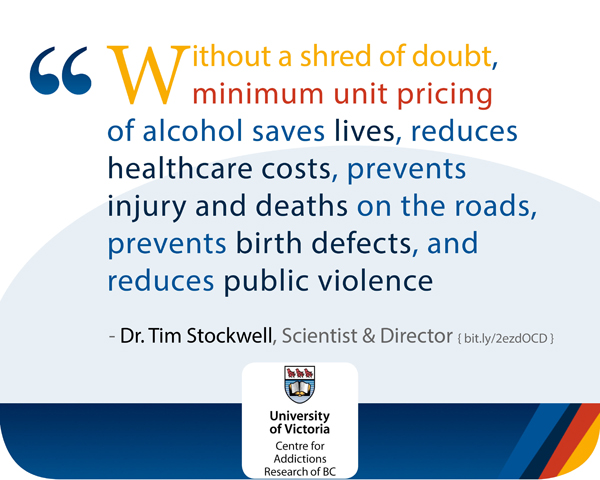 ---
Additional Information