New CARBC Bulletin: The introduction of Happy Hours to bars, pubs and clubs in Victoria, BC
UVic Media Tip: The price of Happy Hour
Did the introduction of happy hours in BC make it cheaper to drink alcohol in bars, pubs and clubs?
It sounds like a question with an obvious answer—and the short answer is yes—but when BC introduced a package of new liquor laws in 2014, which included minimum alcohol pricing for licensed premises, there was widespread speculation that the price of alcohol in BC was about to get a lot higher.
A study by University of Victoria psychology undergrad Casey Sharpe and supervised by Tim Stockwell, director of the Centre for Addictions Research of BC (CARBC), surveyed 23 bars, clubs and pubs in downtown Victoria that had introduced happy hours since June 2014.
The study's key finding shows that while most of the 197 happy hour drink specials that were recorded complied with the three-dollar minimum, happy hour prices were on average 35 cents cheaper per standard drink (the amount of alcohol in a 341 mL bottle of 5 per cent beer or a glass of 12 per cent wine) than pre-existing daily drink specials.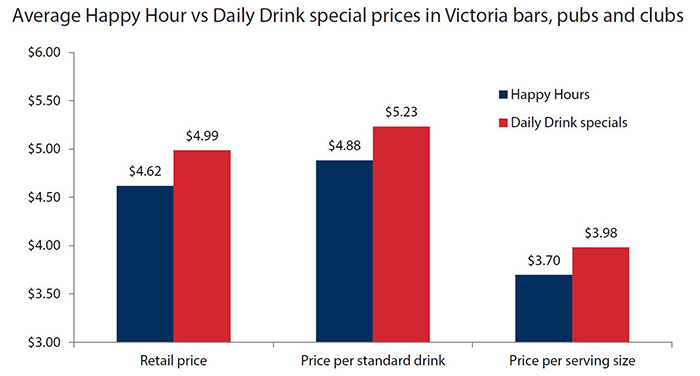 Sharpe and Stockwell recommend that minimum prices in BC bars, pubs and clubs be calculated by alcohol content, not volume, be raised to $3.25 and adjusted annually to keep up with inflation. They also recommend that happy hours be limited to two hours in duration.
Download CARBC Bulletin #13: The introduction of Happy Hours to bars, pubs and clubs in Victoria, BC: Did alcohol become cheaper?
Download infographic: Happy Hoursin Victoria, BC: Did alcohol become cheaper?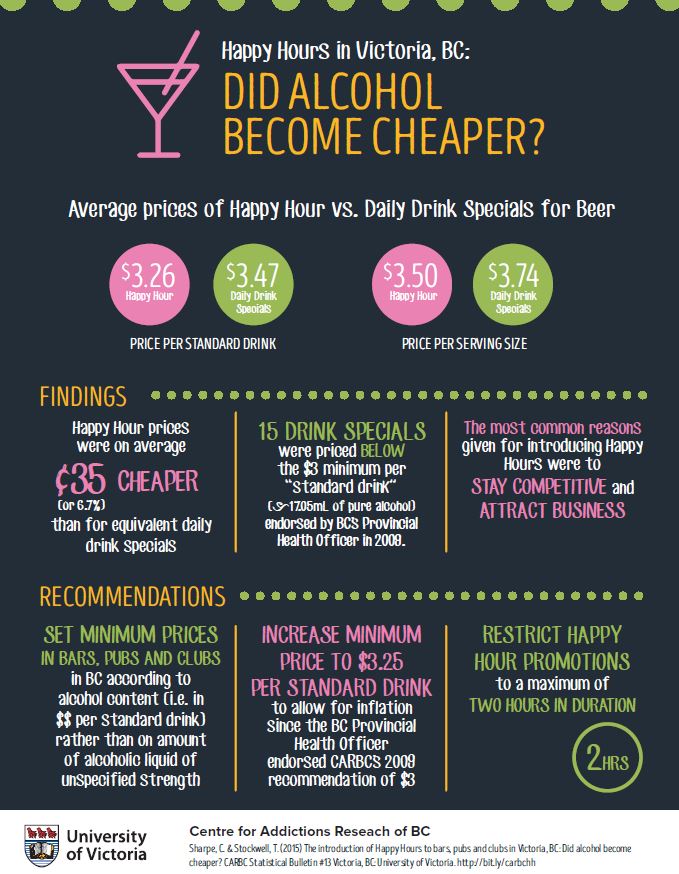 Study authors:
Casey Sharpe: caseylsharpe@gmail.com
Tim Stockwell: timstock@uvic.ca, 250-472-5445