Bernie Pauly: 2016 BC Community Achievement Award and Island Health Research Scholar in Residence Award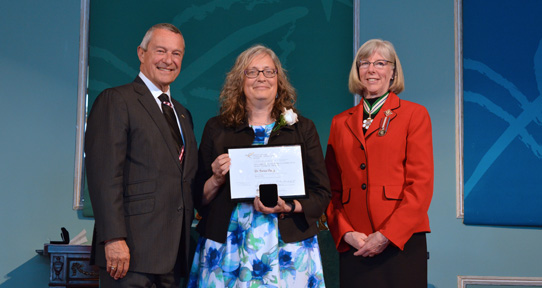 CARBC Scientist Bernie Pauly was recently bestowed two major honours:
(1) A 2016 BC Community Achievement Award, presented to her June 3rd at Government House in Victoria
From the BC Achievement Foundation Website:
"As a nurse, educator and researcher, Dr. Bernie Pauly is recognized for her passionate commitment to improving the health of people marginalized by society. Through Bernie's work, she has not only helped to improve the lives of others, but as an educator, has inspired many students to follow her lead. Her impact has been felt in the many organizations she has supported such as the Greater Victoria Coalition to End Homelessness, AIDS Vancouver Island, and the Society of Living Illicit Drug Users. Bernie continues working towards the goals of health equity and reducing harms associated with substance use and homelessness. Respected for her knowledge and professionalism, Bernie is admired for the sincere warmth and compassion she brings to all she does."
(2) T
he Island Health Research Scholar in Residence Award
From the Island Health Announcement:
"The purpose of this two-year award is to enable a health research scholar to collaborate with Island Health leaders in research, knowledge translation, and capacity-building in Island Health's priority areas. Dr. Pauly is Associate Professor, School of Nursing, University of Victoria and Scientist at the Centre for Addictions Research of BC. She is well-known within Island Health, and has long been a valued researcher who works effectively in collaboration with us, forming relationships that have, in some cases, spanned more than 8 years."
Congratulations Bernie!