2020-2021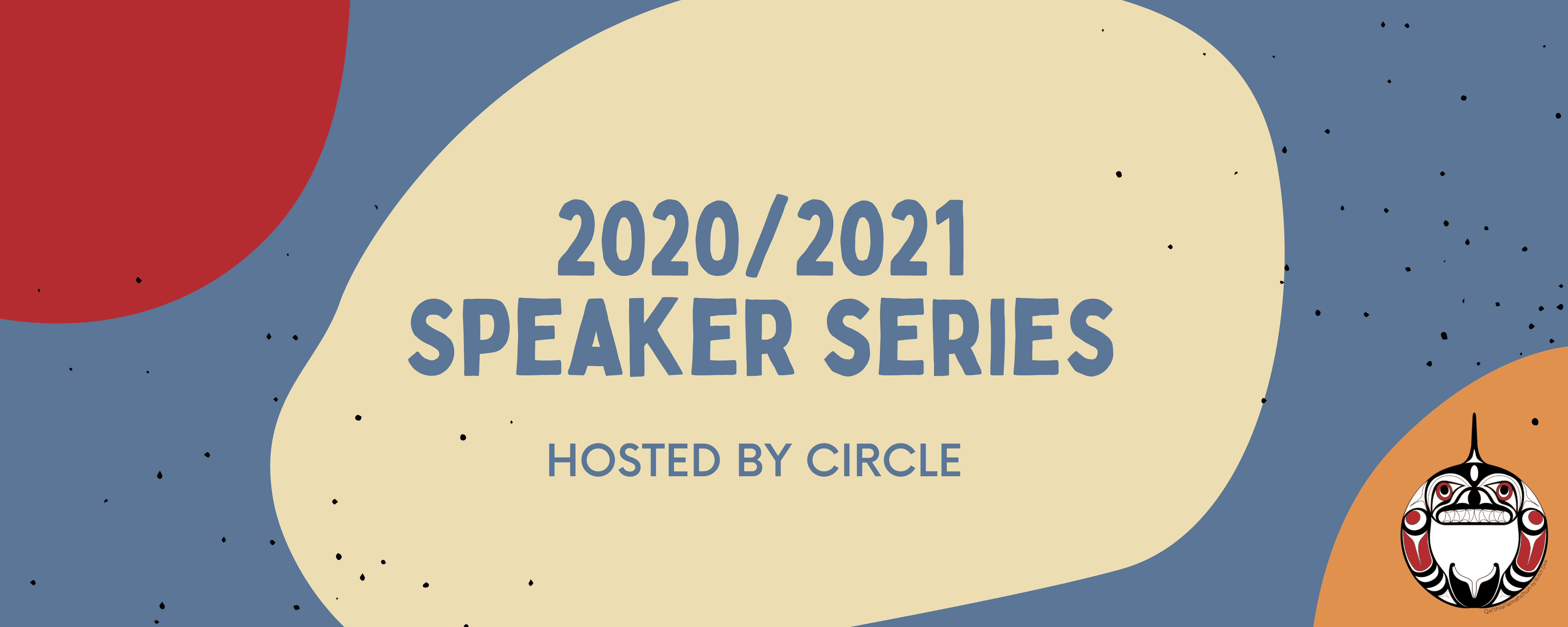 CIRCLE was happy to be able to bring our 2020-2021 Speakers and Events Series to online formats this year. Over the course of the Fall and Spring semesters, CIRCLE welcomed scholars and community-leaders who shared their reserach, knowledge and advocacy. Thank you to all our speakers, panelists and moderators who joined us this year, and we look forward to even more programming coming up this fall. 
For a full list of this year's program, please see below: 
Book Launch and Critical Conversation with Rob Nichols
In his recent publication, Theft is Property! (Duke 2020), Robert Nichols reconstructs the concept of dispossession as a means of examining how shifting configurations of law, property, race, and rights have functioned as modes of governance, both historically and in the present. Through close analysis of arguments by Indigenous scholars and activists from the nineteenth century to the present, Nichols argues that dispossession has come to name a unique recursive process whereby systematic theft is the mechanism by which property relations are generated. In so doing, this work also brings long-standing debates in anarchist, Black radical, feminist, Marxist, and postcolonial thought into direct conversation with the frequently overlooked intellectual contributions of Indigenous peoples.
Rob was joined by Dr. James Tully, Dr. Kelly Aguirre and PhD candidate Phil Henderson for a critical panel discussion.
A Virtual Feast: Honouring and Revitalizing Indigenous Food Systems
This interactive panel explored how Indigenous peoples are seeking climate justice and honouring the complex relationships between land, water and food systems on Lekwungen and W̱SÁNEĆ territories as well as in Papua New Guinea. Hosted by Lisa Kenoras & Jeff Corntassel, with presentations by Tiffany Joseph, Jennifer Baing-Waiko, Cheryl Bryce, and more. We premiered the film Rising Tides, based on a January 2020 gathering around food security and Indigenous climate justice.
CIRCLE presented a discussion with book's editor, Dr. Nancy J. Turner and contributors to the book, including:
Dr. Jeff Corntassel,

Kim Recalma-Clutesi,

Dr. Dr. Mehana Vaughan,

Monica Montgomery

And more!
Gather Film Screening and Panel Discussion 
Screening and conversation with:
Dawn Morrison, Secwepemc Founder/Curator of the Working Group on Indigenous Food Sovereignty

Nephi Craig, Apache Chef, owner of Café Gozhóo, and featured in the film
Food is Connection Screening and Panel Discussion
Screening and conversation with:
Ariel Reyes, IYÉ collective

Jumana Risheq, IYÉ collective and 

Film's director

Earl Claxton Jr, (Thu-thay-tun Kapilano), 

Tsawout First Nation, Elder 

storyteller, and educator

Jared Qwustenuxun Williams, Chef to 

the Quw'utsun Sulhween and writer for the Discourse Cowichan
Laughter is Medicine
Community Comedy night fundraiser, with all proceeds going to support Standing Strong with Sarah Robinson, the Aboriginal Coalition to End Homelessness and Oxygen for India.Together we raised $3366.90!
TEMOSEN-THUT (Charles Elliott) from W̱JOȽEȽP (Tsartlip First Nation)

Jeff Corntassel,

Dan Duvall,

Leah Grantham,

Charlotte Loppie,

Steve McMath,

Tracy & Romaine Underwood,

Mike Dubs,

Chelsea Lou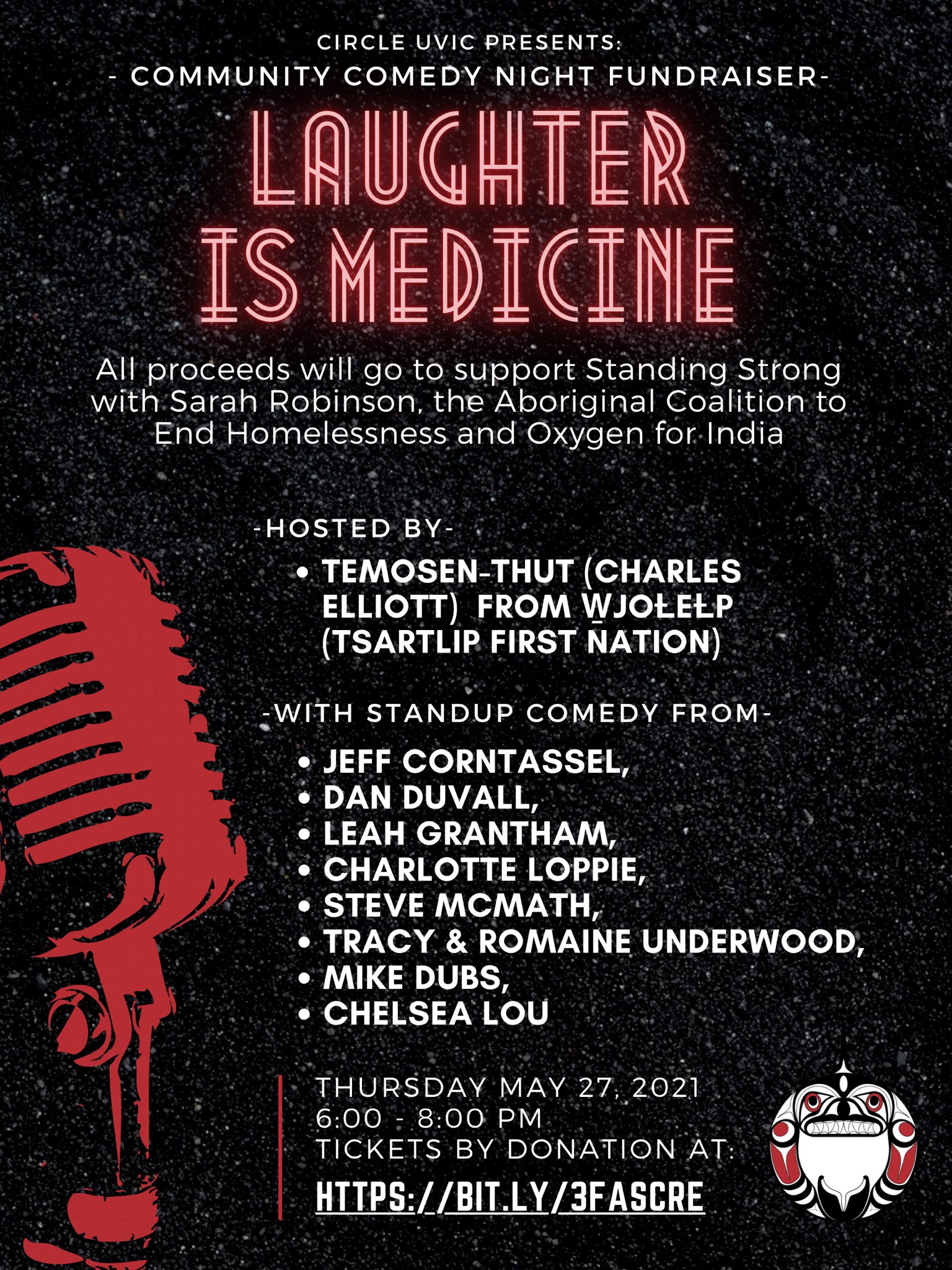 What you'll take away:
Learn about the ongoing work of researchers and communities

Be inspired to participate in community and research projects and events, or explore these themes in your studies or work

Connect with students, academics, and community members who share interests with you