2017 - 2018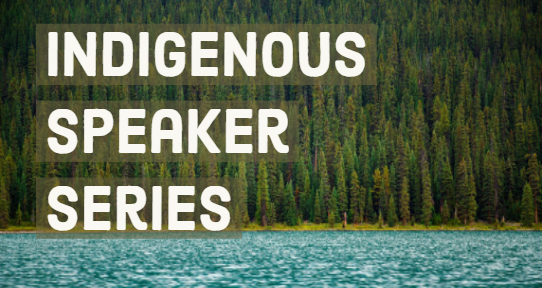 You're invited to our 2017-2018 Indigenous Speaker Series held at the First Peoples' House at the University of Victoria!
Everyone is welcome to attend the 8th annual series which focuses on research towards improving the health and wellbeing of Indigenous peoples, and we ask that participants support us in creating a culturally safe and respectful learning environment.
We acknowledge with respect the Songhees, Esquimalt and WSÁNEĆ peoples on whose traditional territory the university stands and whose historical relationships with the land continue to this day.
***Lunch now provided!***
Presentation information
Location: UVic First People's House, Ceremonial Hall
Time: 11:30 am - 1:00 pm
Tsartlip Elder May Sam will speak to open up the year in a good way, and will be sharing her stories with us.
The Centre for Indigenous Research and Community-Led Engagement (CIRCLE) and the Indigenous Mentorship Network of the Pacific Northwest (IMN-PN) invite you to attend an event on October 10th, 2017 from 11:30 AM-1:00 PM.
Join us at the First Peoples House Ceremonial Hall at the University of Victoria on the traditional territory of the Songhees, Esquimalt and WSÁNEĆ peoples, where the university stands and whose historical relationships with the land continue to this day.
IMN-PN brings together students [mentees] and academic/ organizational/ community/ cultural mentors who share common interests, knowledge and/ or experience in Indigenous wellness-related research.
Come learn about opportunities for networking, mentorship, training, financial support and professional development!
We ask that participants support us in creating a culturally safe and respectful learning environment. Catered lunch provided.
Title: Living into Unknowns: Decolonial futures in applied psychology and human development
Description: In this presentation, I will discuss the current status of decolonial studies in applied psychology and human development, critiquing the deficit and risk-obsessive orientation and ethical incoherence of research. Drawing on examples from research on the sociopolitical dimensions of Indigenous youth health and wellness, I will address necessary shifts in the field towards a life promotion paradigm, that is culturally-sustaining and ethically-grounded practices that enliven Indigenous Peoples' futurity.
Bio: Dr. Jeffrey Ansloos is an Assistant Professor of Human and Social Development at the University of Victoria. His current research is focused on local and digital ecologies of Indigenous youth health and political mobilization, specifically at the intersections of criminal justice reform, suicide prevention, and Indigenous rights. Through community-based partnerships with new media organizations, Ansloos is developing innovative approaches to youth leadership and capacity building for social impact. He is the author of The Medicine of Peace: Indigenous Youth Resisting Violence and Decolonizing Healing (Fernwood, 2017).
As a policy consultant, Ansloos has served as an advisor to provincial, federal and Indigenous government agencies; and, to a number of professional associations. Ansloos previously served as Director of Global Health at Lesley University, leading education partnerships with UNICEF. As an active volunteer, Ansloos has been a board member of a variety of community-based organizations, as well has served on advisory boards and organizing committees for student unions and organizations focused on racial justice, diversity and inclusion. Ansloos currently serves as an advisor to the BC College of Psychologists committee on Indigenous Mental Health, and as an advisor to YouthCO's "Culture is Healing" Indigenous sexual health outreach program.
Ansloos is Nêhiyaw (Cree) and English, and is a member of Fisher River Cree Nation (Ochekwi-Sipi; Treaty 5). He was born and raised in the heart of Treaty 1 territory in Winnipeg, Manitoba, and currently splits his time between Toronto, ON and Victoria, BC.
Title: Healing (and re-healing) from sexualized trauma: Integrated teachings from Elders, Indigenous community research, clinical and forensic psychology, and front-line psychotherapy
Description: An invitation to my talk: As many of us who work in this field are aware, higher rates of sexualized violence represents a current area of concern within many Indigenous communities. This is consistent with other marginalized communities who have experienced mass social disruption spanning centuries of colonization, racism, and social injustices. I have experienced in my clinical practice, and in my family, common mental health outcomes following sexualized violence: mood disorders, low self-worth, posttraumatic stress and a range of issues related to anxiety. These trends are also clearly identified in the psychological literature. Yet despite facing higher rates of trauma, we also see that Western mental health services are typically under-utilized by Indigenous peoples managing these issues. This is due to a variety of reasons, including misunderstandings among mainstream therapists about Indigenous cultures and histories, inconsistent social and health-related values between practitioners and clients, and a general lack of cultural safety in therapy clinics.
Psychologists argue that trauma is the 'hidden epidemic' in the dominant culture. But as those of us who work in Indigenous mental health know, the degree of violation to Indigenous Peoples (socially, culturally and individually) through the machinery of colonization calls for a more expansive conceptualization of 'complex trauma' for many Indigenous groups, from an individual experience to a collective community experience.
My presentation will share stories and teachings about this collective experience of pervasive trauma by focusing on my work with survivors of sexualized violence—a deeply individual and personal trauma. In this talk, I will share the insights I have gained through clinical psychology frameworks that explore attachment theory and a 'lifespan developmental analysis' of the effects of abuse on psychological maturation. I will also share teachings from community members, research participants, Healers and Elders, who use a 'soul wound' analysis to explain how these mental, spiritual, physical and emotional injuries carried by abuse survivors are not distinct from the historical and ongoing rape and violation of land, culture, language, etc. by dominant culture on a national (and global) scale.
As a psychologist and community researcher in a culture-based health clinic in Toronto, I had the privilege of working on an integrated primary mental health care team of Healers, Elders, Social Workers and Physicians. In my talk, I will also share stories of healing with individual clients, families and groups within this holistic health care clinic, as well as amongst this integrated team of helpers who engaged in personal and collective healing through our professional roles.
Bio: Dr. Allison Reeves is a psychologist from Toronto and a new faculty member in Educational Psychology and Leadership Studies at the University of Victoria. Dr. Reeves' research considers the impacts of colonization and Euro-Christian patriarchy on Indigenous Peoples' sexuality and sexual health, particularly in Mi'kmaq and Anishnawbe communities. Her PhD research and Postdoctoral Fellowship at the University of Toronto were funded through the Canadian Institutes of Health Research and explored culture-based Indigenous mental health and healing services for individuals recovering from sexualized violence. Prior to becoming a clinical psychologist, Dr. Reeves completed a Master's degree in Health Promotion, and worked on community-led healing initiatives in India and West Africa, primarily in the area of women's sexual health. She spent the last five years in Toronto working as the psychologist on staff at Anishnawbe Health Toronto, and in a forensic psychology role supporting assault survivors in civil litigation suits.
Her current areas of interest are in anti-oppressive and cross-cultural psychologies, sexualized trauma recovery, Indigenous healing, and Indigenous pedagogies in education. Dr. Reeves is of mixed descent from three continents and enjoys exploring family lore with her mother and aunties. She is a grateful visitor on these Coast Salish territories.
Title: How do you include community in community-based research? Some recent Indigenous education research examples
Bio: Jean-Paul Restoule is Anishinaabe and a member of the Dokis First Nation. He joined University of Victoria as Chair of Department of Indigenous Education in September 2017. Jean-Paul's research is concerned with Indigenizing and decolonizing teacher education; supporting Indigenous student success; Indigenous pedagogy in online learning environments, and Indigenous research methodologies and ethics. Jean-Paul recently served as Indigenous curriculum lead for an innovative online course for First Nations school Principals and is the founding curator of Deepening Knowledge, an effort to infuse Indigenous peoples' histories, knowledges and pedagogies into all levels of education. Jean-Paul co-designed Aboriginal Worldviews and Education, a Massive Open Online Course promoting how Indigenous perspectives can benefit all learners.
Title: "From Territorial Acknowledgements to Here-ing: (Indigenous) Methodology for Being in Someone Else's Home"
Bio: Waaseyaa'sin Christine Sy is a new faculty lecturer in Gender Studies focusing on Indigeneity and decoloniality. Formerly a counsellor for Indigenous and non-Indigenous youth in conflict with Canadian law, she comes to the academy as a second career. Her PhD research in Indigenous Studies theorizes the historical and epistemological contours of Anishinaabe womyn's economic governance of the sugar bush in the Great Lakes Region, in the production of maple sugar, through a queer, Indigenous materialist, feminist lens. This knowledge bundle supports the re-generation of Anishinaabe personhood, relationality, and nationhood in critically gendered ways which are grounded in Anishinaabe meanings and practices of sovereignty. Christine is dynamically active in Indigenous literary arts, is committed to the re-generation of Indigenous land-based sustenance relationships, and is mother to a teenage bear who plays volleyball and queer cat who fetches.​
What you'll take away:
Learn about the ongoing work of researchers and communities

Be inspired to participate in community and research projects and events, or explore these themes in your studies or work

Connect with students, academics, and community members who share interests with you