NTCO AGM Week 2018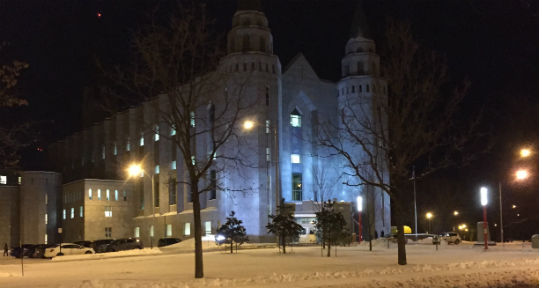 November 13-16, 2018
COPL, Université Laval, Quebec City
The second annual NTCO AGM Week was hosted by NTCO partners COPL (Centre for optics, photonics and laser). This event brought together NTCO students, faculty, and our partners from across the country, and it was a great opportunity for our community to connect and share their latest research. There were many networking opportunities for students, as well as training opportunies and workshops on systems engineering and career development. Other highlights included a student social, the NTCO student poster session, a group dinner, and tours of the COPL labs. See details below. 

We are very grateful to our partners at COPL for hosting this event.
---
Alaina G. Levine Career Development Workshop
Tuesday, Nov. 13 and Wednesday, Nov. 14
room COP-1168, Laval
Prior to the AGM itself, NTCO and COPL host a 2-day Career Development Workshop presented by Alaina Levine. Alaina is a highly-regarded speaker specializing in career planning for STEM students and we're excited to have her.

Click here for details on her workshop.

Tuesday, Nov. 13
Student Social 
5:30- 7:00
Café Fou Aeliés, Desjardins-Pollack Pavilion, Laval
snacks provided


---
NTCO AGM DAY 1
Thursday, Nov. 15
room COP-1168, Laval

Session 1: Welcoming Remarks
9:00- 9:45

Simon Thibault (COPL, Laval): Opening remarks   
Kim Venn (UVic): NTCO overview
Luc Simard (NRC): The Canadian astronomy context
Coffee break
9:45- 10:00
Session 2: Canadian Instruments
10:00- 12:00

Suresh Sivandam (Dunlap Institute): GIRMOS overview
Scott Chapman (Dalhousie, Saint Mary's): The multi-object adaptive optics system for the GIRMOS    spectrograph
Laurent Drissen (Laval): A brief history of SITELLE at the CFHT
Mathieu Ouellet (OMM): Research at OMM
Deven Patel & Guillaume Allain (Laval): HiCiBaS: A pilot mission for exoplanet-imaging from the stratsosphere using high-altitude balloons
Colin Bradley (UVic): Canadian leadership in the next generation of highly-multiplexed spectroscopic surveys
Farbod Jahandar (University of Montreal): Automated testing of high numerical aperture fibres
Lunch (catered)
12:00- 1:00
Session 3: New Technologies
1:00- 3:15

David Naylor (University of Lethbridge): Far infrared Fourier transform spectroscopy: A diagnostic tool to explore the state of matter in the ITER nuclear fusion reactor
Laurie Rousseau-Nepton (CFHT): The SIGNALS legacy survey: On the birth of stars in the nearby Universe
Brenda Matthews (NRC): ALMA  
Stephen Se (FLIR): Introduction to FLIR Integrated Imaging Solutions  
Olivier Daigle (Nuvu): Recent developments at Nüvü on the EMCCD technology
Frederic Grandmont (ABB): Research at ABB
Neil Rowlands (Honeywell): Honeywell and JWST
Amir Hadi (Dynamic Structures): HyDRA on the PLANETS  
Session 4: Student Poster Session
Room: COP 0162
3:15- 4:30
refreshments provided
6:30- 8:30
Sponsored Dinner 
Le Café au Temps Perdu
867 Avenue Myrand, Ste-Foy
All NTCO AGM participants welcome. Please RSVP if you would like to attend.
---
NTCO AGM: DAY 2
Friday, Nov. 16
COPL, room COP-1168, Laval

Session 5 (closed): NTCO Business Meeting
9:00- 10:00
NTCO faculty, Program Management and Admissions Commitee members only. Other NTCO partners are welcome to attend in a non-voting capacity- please contact Jeremy Riishede if you're interested in participating. 
Tour of COPL labs for students   
9:15- 10:00        
led by Mireille Ouellet (COPL)
Coffee break
10:00- 10:20 
Session 6: Data Analysis & Machine Learning 
10:20- 11:40 

Bryan Gaensler (Dunlap Institute): The Canadian Initiative for Radio Astronomy Data Analysis         
Thomas Martin (Laval): One software to rule them all, SITELLE's data reduction and analysis with ORB
JJ Kavelaars (NRC): Using AI to process your data:  Machine learning techniques for the data quality evaluation
Spencer Bialek (UVic): The versatility of neural networks: How machines are learning properties of stars and music     
Session 7: Systems Engineering
11:40 Sonja Vrcic (NRC): Square Kilometre Array (SKA) Control System

Lunch (catered)
12:00- 1:00

Systems Engineering Workshop
1:00- 2:30
Presented by Jeffrey Radwick (Gemini Observatory)