Alaina G. Levine Career Development Worskhop
Tuesday, Nov. 13 and Wednesday, Nov. 14 
9:00- 5:00
Room 1168, COPL (Centre d'optique, photonique et laser), Laval University, Quebec City
Alaina G. Levine is an award-winning entrepreneur, STEM career consultant, science journalist, international professional speaker and corporate comedian. Her first book, Networking for Nerds, was published by Wiley, and beat out Einstein (really!) for the honor of being named one of the Top 5 Books of 2015 by Physics Today Magazine.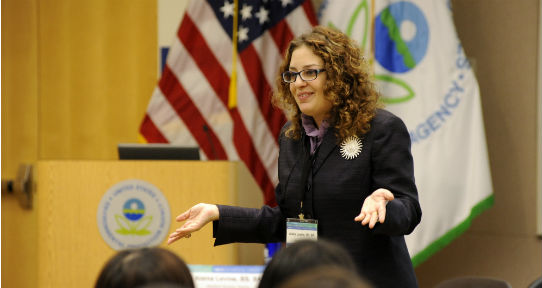 Day 1: Create Your Career and Get the Job
Learn how to create your career and get the job! Most jobs are not advertised, and even if they are, there is usually a short-list of candidates already in mind. So how do you find out about and access the 90% of jobs that are "hidden"? In this workshop, we will focus on strategies and tactics to understand what we can, could, and should be doing for careers, identify new opportunities, locate decision-makers within organizations, solidify your reputation in the minds of those who hire, and gain access to hidden jobs and career-changing opportunities. We will focus our time on specific tactics to enable you to create your own dream career and get you the job, such as marketing your value, interviewing skills, and having a polished social media presence.
Specific topics can include:
Career exploration

Exploring your potential and catalyzing your passion

How to conduct intrinsic and Extrinsic data collection for career planning purposes

Becoming a career entrepreneur (the CEO of Me, Inc.)

Transitioning beyond academia

Understanding and marketing your value

Interviewing

Understanding, using, and leveraging social media

Networking

Evaluating a job offer

Negotiation
Day 2: Keep the Job and Continue to Triumph
Today we will focus on strategies, tactics, tools, and techniques designed to keep you in the job and career of your dreams. Topics and case studies can include:
Communications, including:

The role of scientists in communications and public dissemination of research, discovery, and innovation

Working with journalists, the media, and your public information officers

Designing, presenting, and networking a poster

Public speaking techniques to build confidence

Conflict resolution

Management of personnel, projects, and budgets

Designing a healthy work-life balance

Managing the two-body challenge (or three-body challenge – Scientists and Engineers with Kids or Pets!)

I Heart Failure: Learning and triumphing from challenge and failure

Innovation and intrepreneurship: how to incorporate an innovation-focused mindset into everything you do for optimization of teams, projects, and careers, and advancement of mission and goals
Active engagement activities will be offered throughout both days to provide participants with opportunities to conduct the intrinsic data collection, learn career advancement skills, and practice those skills. We will also do real time case studies collected from attendees.