Parking and transportation services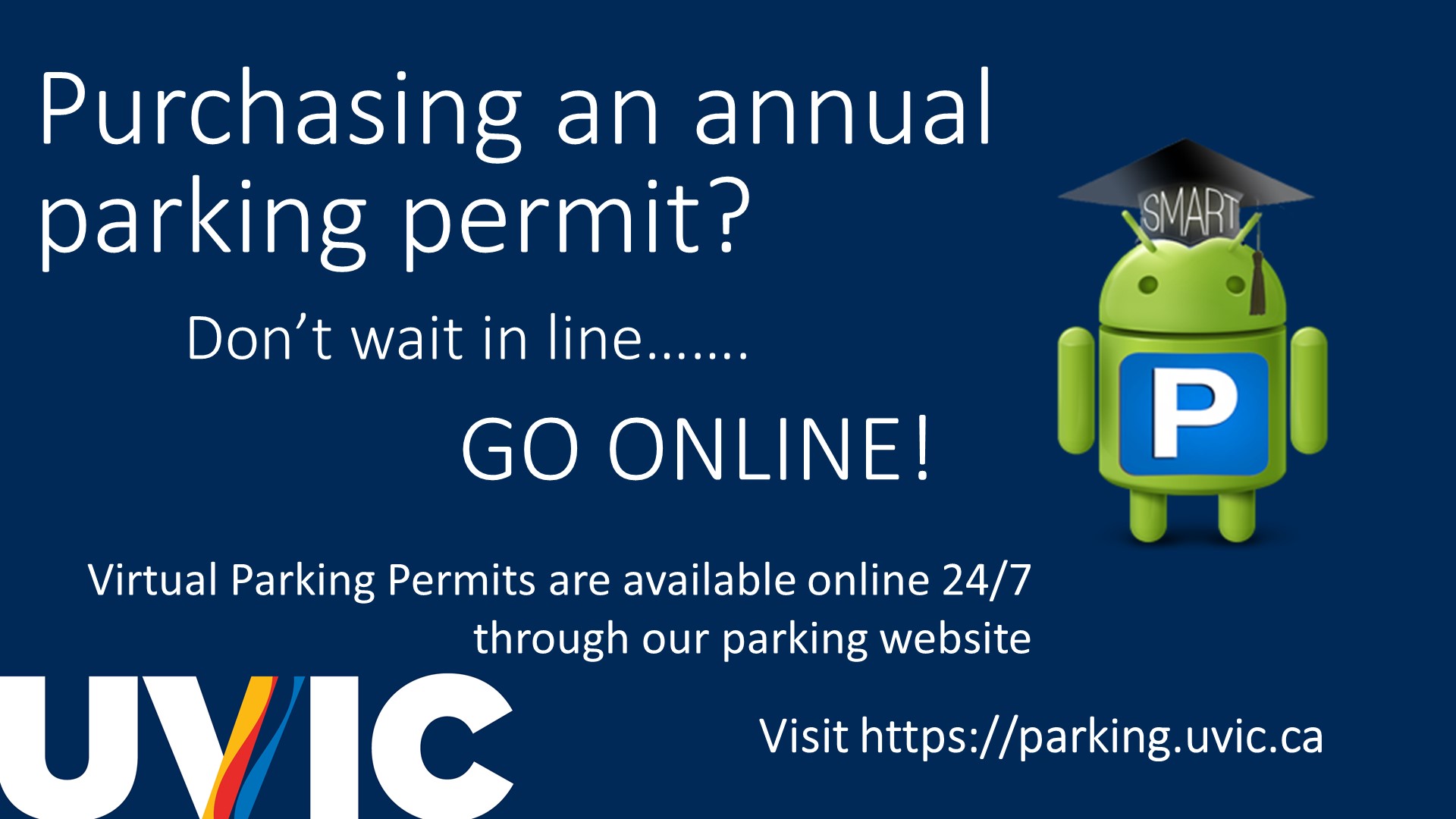 Announcement - 2018/2019 Permits on Sale
Annual parking permits are now available for purchase for September 1 2018 through August 31 2019.  Please login into your parking account and use your netlink ID to access your parking permissions. 
https://parking.uvic.ca/ebusiness/cmn/auth.aspx
Pay by Licence (PBL)
Starting in late June 2017, all parking dispensers on campus will be changed to require the entry of licence plate information at the start of the parking transaction.  This shift to using licence plates to determine permission to park, will be rolled out to annual permit holders over the fall semester.
What does this all mean?
Customers will enter their licence plate number at the parking dispenser.
Coming in the fall of 2017, we will introduce Licence Plate Recognition (see below) for enforcement.   This will be performed by staff using a camera equipped vehicle that reads licence plates to determine parking permission by comparing plates to a database of paid parking transactions.
With the addition of Licence Plate Recognition, in the fall of 2017, customers will no longer need to return to their vehicle to display a dispenser permit on their dash.
Benefits?
Customers can get to their destination faster by not having to return to their vehicle.
Less paper use helps to achieve campus sustainability goals.
Officers on patrol are more efficient.
Allows for the future use of mobile payment technology (if approved by the University for Campus use)
Licence Plate Recognition (LPR)
Over the summer, Campus Security wil be introducing Licence Plate Recognition (LPR) technology on campus for parking enforcement.
LPR is an efficient way to ensure that those vehicles parked on campus have paid to do so, this system works hand in hand with Pay by Licence technology.  Look for a branded vehicle driving through Campus parking areas.  This vehicle is equipped with cameras and captures images of licence plates, then compares them to a database of vehicles that have paid for parking.   Any vehicle found in violation will be subject to a parking citation.
Security Officers on foot will still patrol Campus parking areas and will continue to provide a visual presence in order to enhance overall safety for the Campus Community.
Campus Security's goal is to ensure people who wish to park on campus are not adversely affected by those who do not follow the University's Traffic and Parking Regulations (PDF).
Rates and permits
All motor vehicles parked on the Gordon Head Campus must display a valid parking permit Monday to Saturday, 24 hours a day. The Ian Stewart Complex and University Center Parkade require parking permits 24 hours a day, 7 days a week.
Visitor parking
Visitors to campus may park at a meter or display a valid daily/hourly parking permit available from one of the many permit dispensers located in parking lots outside of Ring Road.
More information
Whether you are a first time visitor, or have been on campus for awhile, please familiarize yourself with parking and transportation options on campus prior to your arrival.