New Student Welcome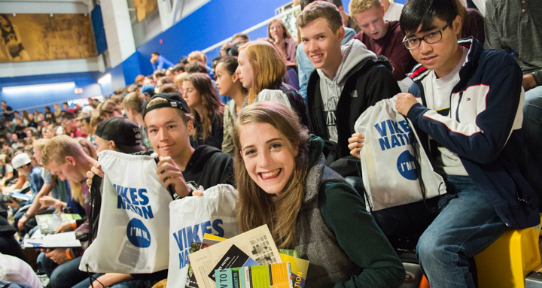 Tuesday, September 3, 2019
New Student Welcome is UVic's official orientation day for all new undergraduate first-year, international and exchange students. The day-long program will introduce you to campus, your faculty, academic expectations, support services and your fellow students. 
Meet other new students and begin developing friendships
Explore campus and learn your way around
Get tips for success inside and outside the classroom
Learn about campus resources and supports
Become a part of Vikes Nation
---
Program
New Student Welcome starts at 9:45 a.m. and ends at 5 p.m. (or earlier, depending on your faculty). While various parts of the program will take place all over campus, you will meet in the quad in the morning to kick-off the day. 
Event
Description
Check-In
Find your group to check in and begin getting to know your peers and orientation leaders. >> View check-in map
Opening Ceremony
Join the entire incoming class in the CARSA Performance Gym to celebrate this major milestone--you're now a UVic student! You'll learn about the UVic community, participate in UVic traditions, meet Thunder, receive a free spirit pack and leave feeling like you're a part of Vikes Nation.
Campus Services Tour
Learn how to navigate campus and about the supports and resources available to you. Campus tours will be led by your orientation leaders, so you'll also learn some inside tricks for navigating life on campus. 
BBQ Lunch
Fuel up for the rest of the day and spend some time hanging out with your orientation group. Vegan and gluten-friendly options will be available for those who selected them when registering. 
Academic Presentation
Get ready to attend your first class by attending your faculty's academic session. You'll learn a bit about what you can expect academically, what is expected of you and have a chance to meet some of the professors you may be seeing at the front of the classroom. 
Library & Learning Commons Tour
The library and learning commons can support you with a place to study, librarians to help you navigate research, workshops to enhance your academic skills and lots more. This quick tour will give you an introduction to how valuable the library can be to your studies. 
Information Fair

Learn about the opportunities, supports 

and

 resources available on campus by visiting a number of interactive booths on the quad. Bring your questions!
---
Schedules 
At New Student Welcome, all students will be in faculty-based groups. Students who have pre-registered will recieve their group number via email on Saturday, August 31. Using that group number, you can find your group schedule on our Schedules page. 
---
Registration
New Student Welcome is fo all new undergraduate first-year, exchange and study abroad students. Mature students are encouraged to register for Transfer and Mature Student Orientation instead.
Online registration will close on Thursday, August 29.
Online registration is now closed. Late registration will be available beginning at 9:15 a.m. on Tuesday in front of McPherson Library.
UVic Orientation is committed to making our events as accessible and barrier-free as possible. If you have any accessibility needs in order to participate in our events, please provide details when you register and/or contact us at orientation@uvic.ca.
---
Other orientation programs
While New Student Welcome is our main orientation program, we also offer a number of programs targeted to specific populations. You are encouraged to register for and attend any additional programs that may be applicable to you.