New Student Welcome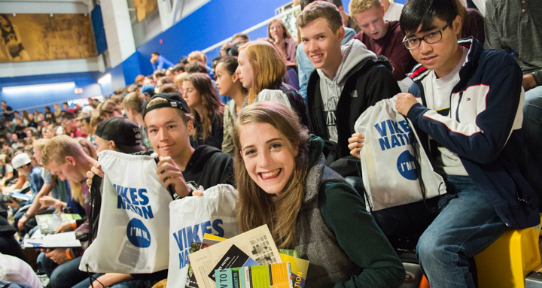 Monday, September 7 & Tuesday, September 8
New Student Welcome is UVic's official orientation program for all new undergraduate first-year, transfer, and exchange students. The two-day program will introduce you to your faculty, academic expectations, support services and your fellow students. 
Meet other new students and begin developing friendships
Get tips for success inside and outside the classroom
Learn about campus resources and supports
Become a part of Vikes Nation
---
Program
New Student Welcome will take place entirely online in fall 2020, with programming spread over two days.
| | | |
| --- | --- | --- |
| Date | Event | Description |
| Monday AM | Virtual tours | Come explore campus with us through our virtual video tours. Get to know the Student Union Building, explore the First People's House, meander through Finnerty Gardens, tour the full campus and more. All tours will be available asynchronously, so you can view whenever you'd like throughout the morning! |
| Monday PM | Workshops | Learn the skills and knowledge you need to succeed as a student and explore opportunities to build community on campus by attending sessions that interest you. Options will include information sessions, workshops and students panels covering a variety of topics including academic success, community, campus culture and wellness. |
| Tuesday AM | Welcome to your faculty | Get ready to attend your first class by attending your faculty's academic session. You'll learn a bit about what you can expect academically, what is expected of you and have a chance to meet some of the professors you may be seeing at the front of the classroom.  |
| Tuesday PM | Meet your pod | Participate in an interactive, small group meet & greet session to get to know your fellow new students. For students participating in the New Student Connect program, this will be your first opportunity to meet your pod!  |
| Tuesday PM | #ThisIsUVic Live | Join the entire incoming class at our opening ceremony to celebrate this major milestone-you're now a UVic student! You'll learn about the UVic community, participate in UVic traditions, meet Thunder and leave feeling like you're a part of Vikes Nation. |
Students are also encouraged to attend First Week Programming from September 9 - 11, including Thunderfest, our virtual information fair where you can learn about the opportunities, supports and resources available at UVic.
---
Schedule
All registered students were sent a faculty-specific schedule via email on Saturday, September 5. This schedule includes links to all sessions. The schedules can also be found via the link below. 
Prepare your technology: All sessions throughout the event will be facilitated virtually using Zoom or Microsoft Teams. Please ensure you have activated Microsoft 365 (of which Teams is a part) and logged in to both Teams and your UVic Zoom account (uvic.zoom.ca) at least once prior to the event to ensure that you can. More information on both platforms can be found in the Technology instructions section of the schedule. Contact the Computer Help Desk at helpdesk@uvic.ca if you encounter any issues. Since all sessions are being hosted online, we also recommend ensuring you have a strong internet connection when participating. 
---
Workshops
On the Monday afternoon of New Student Welcome, we're offering a number of different workshop sessions in four different streams. In each timeslot, you can choose which session you would like to attend. All sessions will be recorded. 
| | | | |
| --- | --- | --- | --- |
| Stream | Info Session (1 - 2 p.m.) | Workshop (2:30 - 3:30 p.m.) | Panel (4 - 5 p.m.) |
| Academics | Get prepared for online learning | Strategies for a successful first term | How to be an online student |
| Community | Let's talk about sex: Positivity and consent | Finding your place | Get connected! |
| Campus culture | Social justice at UVic: Creating safer spaces | Doing a territorial acknowledgment: How and why | Self-advocacy and equity at UVic |
| Wellness | We're new too! An introduction to the Student Wellness Centre | Rise and shine | Wellness at a distance |
---
Registration
New Student Welcome is for all new undergraduate first-year, transfer and exchange students. 
UVic Orientation is committed to making our events as accessible and barrier-free as possible. If you have any accessibility needs in order to participate in our events, please provide details when you register and/or contact us at orientation@uvic.ca.
---
Other orientation programs
While New Student Welcome is our main orientation program, we also offer a number of programs targeted to specific populations. You are encouraged to register for and attend any additional programs that may be applicable to you.