New Student Welcome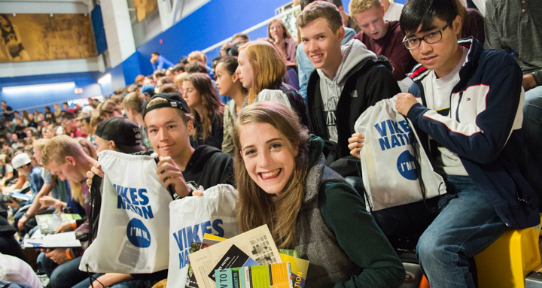 September 3 - 7, 2021
New Student Welcome is UVic's official orientation program for all new undergraduate first-year, transfer, and exchange students. The program will introduce you to campus, your faculty, academic expectations, support services and your fellow students. 
Meet other new students and begin developing friendships
Get tips for success inside and outside the classroom
Explore campus and begin learning your way around
Learn about campus resources and supports
Become a part of Vikes Nation
---
Program
New Student Welcome will take place in a hybrid format in fall 2021. Programming from Friday, September 3 - Sunday, September 5 will take place online. Programming on Monday, September 6 will take place in-person, with virtual options available for those who cannot come to campus in-person. The delivery mode for programming on Tuesday, September 7 will depend on your faculty. 
| | | |
| --- | --- | --- |
| Date | Event | Description |
| September 3 | #ThisIsUVic Opening Celebration | Join the entire incoming class at our opening ceremony to celebrate this major milestone-you're now a UVic student! You'll learn about the UVic community, participate in UVic traditions, meet Thunder and leave feeling like you're a part of Vikes Nation. This event will take place virtually.  |
| September 3 | Meet your pod | Participate in an interactive, small group meet & greet session to get to know your fellow new students. For students participating in the New Student Connect program, this will be your first opportunity to meet your pod! This event will take place virtually.  |
| September 4 & 5 | Virtual social activities | Looking to meet people and make new friends? Throughout the weekend, we'll be offering a number of different virtual activities that you can opt-in to. Expect everything from speed-friending, Among Us, casual drop-ins and more. These activities will take place virtually.  |
| September 6 | Campus tour and social activities | Get to know the UVic campus with an in-person tour led by an upper-year UVic students. They'll help you get acquainted with campus buildings, introduce you to campus resources, and share some of the tips and tricks they have learned as a UVic student. The campus tour will be followed by some small group social activities to help you get to know your fellow new UVic students. This event will take place in-person. Virtual options will be available this day for students who cannot come to campus in-person.  |
| September 7 | Welcome to your faculty | Get ready to attend your first class by attending your faculty's academic session. You'll learn a bit about what you can expect academically, what is expected of you and have a chance to meet some of the professors you may be seeing at the front of the classroom. Depending on your faculty, this session may be in-person or virtual. Stay tuned! |
---
Recordings
---
Registration
New Student Welcome is for all new undergraduate first-year, transfer and exchange students. Please note that students who are required to complete the 14 day self-isolation (quarantine) must complete this before attending any in-person programming.
Registration for New Student Welcome is now closed. 
UVic Orientation is committed to making our events as accessible and barrier-free as possible. If you have any accessibility needs in order to participate in our events, please provide details when you register and/or contact us at orientation@uvic.ca.
---
Other orientation programs
While New Student Welcome is our main orientation program, we also offer a number of programs targeted to specific populations. You are encouraged to register for and attend any additional programs that may be applicable to you.