Review of UVic Sexualized Violence Prevention and Response Policy
- University of Victoria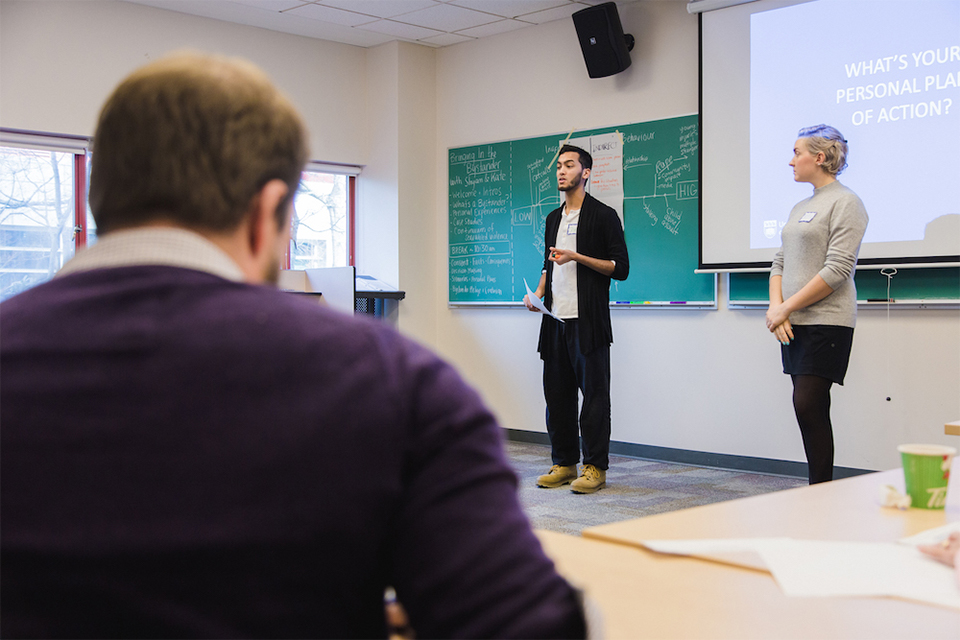 Three years ago, UVic's first Sexualized Violence Prevention and Response Policy with its associated practices and procedures came into effect following extensive consultation with the university and broader community.
Now, we are looking to re-engage the community to see how the policy, procedures and practices can be improved and strengthened for our three-year review.
Preventing and responding to sexualized violence is a shared responsibility and incredibly important for our entire campus community. When the university initially undertook the work to draft a specific policy, we wanted it to be fair and transparent and clearly explained to students, staff, and faculty. We've achieved that and with the insights and experience of our campus community, this review will help to further strengthen the policy and procedures.
—Jamie Cassels, UVic President
Offer your feedback: campus-wide survey launched
To date, the significant work and consultation put into developing the 2017 policy has shown to serve the community well, said Cassbreea Dewis, executive director of Equity and Human Rights (EQHR).
EQHR, alongside other offices, units, and departments who regularly interact with the policy, have found that it is generally easy to work with, speaks strongly to the values of the university community, and provides a much-needed framework for sexualized violence prevention and response at UVic.
There are, however, always opportunities to learn and build on the important learnings of the past three years, which is what this review is about: an opportunity for our university community to weigh in and help us identify areas of strength and improvement.
To this end, a campus-wide survey launched to gather community input on three broadly identified areas of change:
informal resolution strategies
addressing intersectionality
reconciling tensions with other laws and legislation
The survey also has a general content section where people can contribute their ideas and recommendations for improving the policy, procedure and practices as a whole.
All UVic community members are welcome to complete the survey. To ensure the broadest reach while people are working or studying remotely, people are encouraged to facilitate "conversation cafés" on the policy review with their peer-group, workgroup or organization. Participants are encouraged to follow the guidelines for conducting a safe and supportive conversation about the policy and its procedures.
We are always looking for ways to improve our approach. A tremendous amount of work has gone into the implementation of the three key areas of the policy: information and support, response options and education and prevention.
—Cassbreea Dewis, Equity and Human Rights Executive Director
Resource office offers support, education
A key outcome of the 2017 policy was the establishment of a sexualized violence resource office in EQHR with a full-time manager. In addition to working with survivors and those impacted by sexualized violence, developing support protocols as well as robust data collection and reporting mechanisms, the Manager, Sexualized Violence Prevention, Education and Support, Leah Shumka, has developed a robust educational program for UVic. To date this has included tailored programming for staff and faculty, international students, student-staff, campus security, graduate students, as well as specific department and faculty collaborations as has been established with Chemistry, Theatre, Law, Engineering, and Athletics and Recreation Services among others.
More than 2,500 faculty and staff have received in-person training on the policy including how to receive a disclosure. Tools for Change was launched in 2019 and is now embedded into UVic's pre-arrival program. This dedicated website and campaign Consent: It Starts with A Conversation reminds people of the available programming. Additional prevention programming is planned for the fall including one specifically designed to raise awareness about the intersections of alcohol and consent.
"Prevention education is essential," says Shumka. "We need to work together to build a positive culture of respect and consent. It will take time, every year new students, staff and faculty join the university with different personal and professional experiences that shape their attitudes and behaviour.
What we want people to understand and embrace are the shared values and expectations that define UVic as a safe and supportive place to learn, work and live.
—Leah Shumka, Sexualized Violence Prevention Education and Support Manager
The sexualized violence resource office in EQHR received 57 disclosures in the 2019-20 academic year. The majority of the disclosures received occur on one end of a sexualized violence continuum – this includes non-physical and sometimes non-verbal forms of sexualized violence including unwanted looks or attention, persistent come-ons, and sexualized comments.
People disclose for a variety of reasons and are looking for a variety of support options and outcomes. Information and support are provided to everyone who discloses and all respondents in a formal process. The type of information and support provided is determined by the individual and coordinated by the sexualized violence resource office, including supports from the office of student life, counselling services, and/or other units on campus including the Anti-Violence Project, a student organization.
The consultation timeline is available on the EQHR website. Phase One included a broad questionnaire asking for key areas to consider during the view. The survey is part of Phase Two of the policy consultation and closes on October 2, 2020.
Photos
In this story
Keywords: community, administrative
People: Jamie Cassels, Cassbreea Dewis, Leah Shumka