Congratulations, Fall 2013 grads!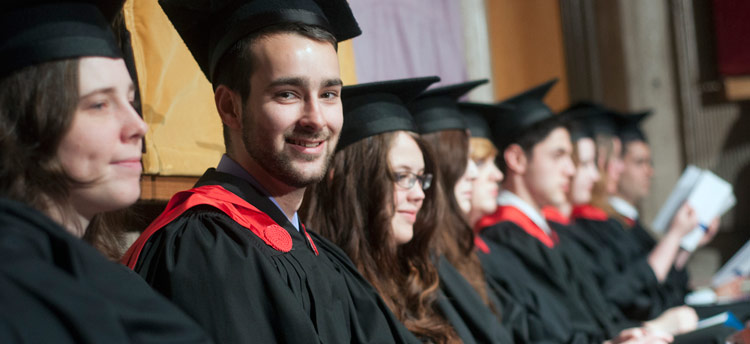 Thousands of UVic students and their families and friends will gather on campus this month to celebrate the achievement of an academic milestone. During Fall Convocation, which stretches across four ceremonies conducted during Nov. 12 and 13, the University of Victoria will award degrees, diplomas and certificates to 1,251 students.
The ceremonies will also be webcast live at (uvic.ca/convocation). Congratulations and best wishes to all convocating students.
Tuesday morning's ceremony will also include the Installation Ceremony for President Jamie Cassels, QC.
On the following pages, we present profiles of a few of the many outstanding members of this year's graduating class:
Honorary degrees span literature, science
Patrick Lane and George Whitesides
Economics grad knows the real value of safe drinking water
Moussa Traore
Coming full circle in child and youth care
Chelsea Turpin
From campus to incorporated: Engineering grads launch Audilent Technologies Inc.
Sean Cunningham and Matt Holland
Shared resources shape grad's research
Blaise Bazuik
'Brain sparks' fuel innovation
Connor Bildfell
Working (art) in a coal mine
Melisendra Daviel
An intertidal explorer
Carolyn Fox
A legal tool kit, assembled with compassion
Amber Dawn Hieb
Photos
In this story
Keywords: grad, convocation
People: Patrick Lane, George Whitesides, Moussa Traore, Chelsea Turpin, Sean Cunningham, Matt Holland, Blaise Bazuik, Connor Bildfell, Melisendra Daviel, Carolyn Fox, Amber Dawn Hieb