Killam Prize awarded to people's advocate
- Tara Sharpe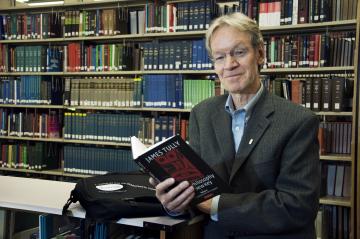 UVic political philosopher Dr. James Tully is one of this year's five winners of the prestigious $100,000 Killam Prize, awarded annually by the Canada Council for the Arts. Tully, one of the foremost political theorists of our age, received the 2010 Killam Prize for the Humanities on April 13 for his distinguished career and exceptional contributions to Canadian scholarship and public life.
Public philosophy and diverse democratic constitutionalism are common phrases in Tully's lexicon, but he can quickly translate unwieldy theoretical discourse into plain language. After all, he has made his life's work writing and speaking about "the people."
"I am an academic deeply immersed in the tradition of Western political reflection," says Tully. "But I'm also committed to encouraging my fellow researchers to write not only for academics but also for a public audience." Tully is the author or editor of nine books and over 100 articles and public lectures that have been translated into several languages. His most recent work, Public Philosophy in a New Key (two volumes), has already prompted a number of special workshops and panels.
A Fellow of the Royal Society and the Trudeau Foundation, Cambridge-educated Tully has held positions at McGill University and the University of Toronto, and is UVic's Distinguished Professor of Political Science, Law, Indigenous Governance and Philosophy.
At the heart of his work-from minority rights and the rights of Indigenous peoples to global inequality and the environmental crisis-is Tully's focus on public philosophy, civic freedom and the capacities of individuals to act co-operatively and effectively in addressing the complex challenges of the day. Public philosophy as applied by Tully is a new kind of political and legal approach that explores how civic struggles take place around public problems; the history of their formation; and the possibilities of addressing them democratically and effectively by citizens and governments.
Modern treaty negotiations with Indigenous peoples, citizen forums on proportional representation, the Qu&e#180;bec Commission on reasonable accommodation, the World Social Forum, and consultations with local communities, non-governmental organizations and social movements are all attempts to make the exercise of political power more democratic and responsive through civic participation.
"Internationally, global governance institutions make decisions that adversely affect the lives of millions of people, yet they have little or no effective voice," says Tully. With the potential democratic power of the internet, Tully thinks it is a good time for public philosophy. Vocal communities can be quickly galvanized after convening on the internet and through social media. The struggle to manage local freshwater supplies, the efforts by grass-roots organizations to combat climate change, and threats to food security and the commons-these are some other examples of areas where Tully thinks public philosophy can be applied so citizens can continue to act for themselves without waiting for their governments, or by prompting governments to act.
Tully also points out that UVic is leading the way. "Civic engagement is a signature area for UVic," says Tully, citing UVic's Office of Community-Based Research (OCBR) and the Centre for Co-operative and Community-based Economy. "Universities such as UVic are not only developing specialized knowledge in these areas of global problems. They are also realizing that they can learn from the creative generation of practical knowledge by citizens' organizations and local communities around the world. We are establishing unique relationships of mutual learning between academic research and community-based groups of various kinds."
Tully, a professor in UVic's Faculty of Social Sciences (political science), is cross-appointed to UVic Law, Indigenous Governance and UVic's Faculty of Humanities (philosophy).
More: http://bit.ly/9eaAZn
Photos
In this story