Honorary degrees for photojournalist, actor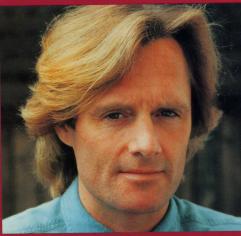 The university's 2008 fall convocation ceremonies will include the presentation of two honorary degrees recognizing the lifetime achievements of pioneering photojournalist Ted Grant and versatile artist Duncan Regehr.
Ted Grant—the "father of Canadian photojournalism" and "Canada's premier sports photographer"—has been intimately involved in the practice and teaching of the medium in Canada for more than 55 years. Over that time, his work has provided a rich visual record of the arts, politics, athletics and medicine both in Canada and across the world. About 280,000 of his pictures are now secured in the National Archives of Canada, the result of his donation of his life's work.
Among the highlights of his career, Grant and his Leica camera documented the right-to-die campaign of Sue Rodriquez, the children of Chernobyl, the Vietnam War, and all of the Summer and Winter Olympics, Commonwealth and Pan-American Games between 1968 and 1998. Prior to Expo 67, Grant was commissioned by the National Film Board to photograph every ethnic group in Canada. His work for the NFB earned their gold and silver medals for photographic excellence (he is the only still photographer to receive the medals). He was the photographic coordinator for the 2004 Victoria Commonwealth Games.
His best-known photographs include the 1968 image of Pierre Trudeau sliding down a hotel banister, and the triumphant image of sprinter Ben Johnson winning gold at the Olympics (only to be stripped of the medal 24 hours later).
He has also devoted a considerable portion of his career to medical photography, and has published Women in Medicine: A Celebration of Their Work and Doctor's Work: The Legacy of Sir William Osler.
A resident of Saanich, Grant was the subject of a documentary, broadcast by Bravo! TV, entitled "Ted Grant: The Art of Observation."
His honorary doctorate of laws will be presented at convocation on Monday, Nov. 10 at 10 a.m.
Duncan Regehr is a classically trained actor, visual artist and author. The volume and breadth of his work defines the term "multi-media artist."
He began acting professionally at age 15 and now has a lifetime of experience as a performer and director of national and international productions for stage, film, radio and television. In the late 1960s and early '70s he performed with Victoria Fair and the Phoenix Summer Theatre productions before moving to Toronto where he became a member of the Stratford Shakespeare Festival company. Later, his Hollywood acting career included the leading role in TV's "Zorro," from 1990–93.
In the realm of the visual arts, his extensive body of figurative paintings has been exhibited and collected locally, regionally, nationally and internationally by patrons, galleries, institutions and museums.
Regehr has also published poetry, articles, essays, catalogues, books and documentary works. He has presented lectures and readings in all creative disciplines.
His paintings and drawings have been described as "haunting yet imbued with hope, clarity and a kind of joy."
His past honours include the 1996 American Vision Award of Distinction in the Arts. He has also been granted the "Royal Canadian Artist" appellation by the Royal Canadian Academy of Art.
Regehr resides in Shawnigan Lake, where he continues to paint, write and act. His honorary doctorate of fine arts will be presented at convocation on Monday, Nov. 10 at 2:30 p.m.
Photos
In this story