Honorary degrees conferred on four exceptional individuals
- Mike McNeney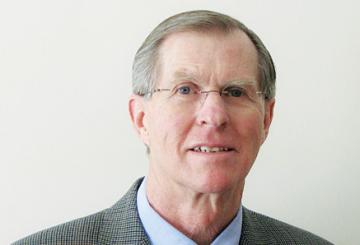 Four individuals with distinguished accomplishments in the fields of language, entrepreneurship, physics, and academic leadership are this spring's honorary degree recipients. Recipients are selected based on exceptional records of distinction and achievement in scholarship, research, teaching, the creative arts or public service.
Podcasts of honorary degree recipients' Convocation addresses
Dr. Edward Berry
Honorary Doctor of Laws (10 a.m., June 16)
Since the early 1980s, Dr. Edward Berry has taught legal writing and oral judgment delivery to hundreds, if not thousands, of judges in Canada and around the world. His work has been instrumental in reinforcing a principle at the heart of the justice system: that a judge's reasons for decision should be clear, cogent and comprehensible.
His work with the judiciary sprang from his first career as a highly regarded UVic English professor and Shakespearean scholar. He retired from the university in 2006. His book, Writing Reasons, is in its third edition and is the leading textbook on judicial writing in Canada. It provides the foundation for the workshops and seminars he regularly leads. In 2005, Chief Justice Beverley McLachlin invited him to deliver a writing program for members of the Supreme Court of Canada. Over the course of two days, Berry lectured and met with individual judges to comment on their writing and give them guidance for improvement.
Ms. Rebecca MacDonald
Honorary Doctor of Laws (2:30 p.m., June 15)
Rebecca MacDonald is a self-made entrepreneur who exemplifies success in the face of adversity. Born in Yugoslavia, she came to Toronto in 1974 with training in medicine and classical piano but with few resources and limited English. She discovered a natural flair for sales and started a door-to-door marketing company.
In the 1980s, when Ontario opened natural gas retailing to competition, MacDonald launched Energy Marketing. It grew to become the largest energy marketer in Ontario. Then, in 1996, she started Ontario Energy Savings Corporation, which now has annual sales of approximately $1.5 billion and has 600 full-time and 600 part-time employees.
MacDonald raised two children as a single parent, following her husband's death in a 1992 car accident. She has also overcome severe rheumatoid arthritis. In 2002 she gave $3 million to help build the Rebecca MacDonald Centre for Arthritis and Autoimmune Disease at Toronto's Mount Sinai Hospital.
Prof. A.J. Stewart Smith
Honorary Doctor of Science (2:30 p.m., June 18)
Prof. A.J. Stewart Smith is a leading researcher in high-energy particle physics and is known in the United States for his influence on national science policy.
A graduate of Victoria College, he continued his education at UBC and earned his PhD from Princeton University in 1966, joining the faculty of Princeton's physics department the following year. He has held various administrative positions at Princeton, including chair of the physics department, dean for research, and chair of the university research board.
Smith has carried out a number of major experiments and, since 1995, has served as team leader of an international collaboration of 600 scientists from 10 countries participating in a major project based at the Stanford Linear Accelerator.
Smith has also kept an interest in Canadian physics research. In 1998, he chaired a National Research Council review of the TRIUMF lab in Vancouver, with recommendations that led to a stable funding environment for the particle and nuclear physics facility. He was also instrumental in ensuring Canadian involvement (including that of UVic physicists) in the "BaBar" high energy physics experiment.
Dr. David Strangway
Honorary Doctor of Science (2:30 p.m., June 17)
Dr. David Strangway is a noted scientist, respected academic administrator and a senior statesman of Canadian research administration known for his innovative leadership skills.
He joined the University of Toronto in 1968 as an associate professor of physics and in 1970 accepted an invitation from NASA to become its chief of geophysics and physics at the Johnson Space Center in Houston. He was responsible for geophysical aspects of the Apollo moon missions, including experiment selection and attendant astronaut training, site selection and real-time mission support.
He returned to the University of Toronto in 1973, holding a series of senior administrative positions until 1985 when he was named president of UBC. In his 12 years as president, UBC established itself as a world-class academic institution.
Strangway later led the Canada Foundation for Innovation, which allocated $2.7 billion in research infrastructure to universities, colleges and research hospitals during his six-year term. He also founded Quest University Canada – the country's first private, secular, not-for-profit liberal arts and science university, located in Squamish.
Photos
In this story