Lighting homes in rural Indonesia sparks business grad's passion
Peter B. Gustavson School of Business
- Dianne George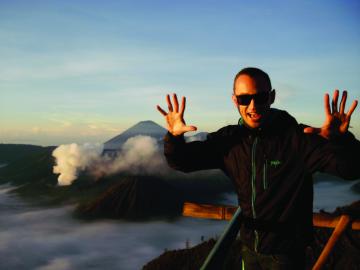 Jeffrey Manner, who graduates this month with a commerce degree and a specialization in entrepreneurship, says his UVic years were quite a bit different than anyone else's in his graduating class. He's right. Manner spent almost two of his four years away from the UVic campus, studying and working overseas.
"I travelled for two years coming out of high school, backpacking around the world. I knew I needed to get to university, but still had that travel bug," says Manner. "For me, travelling is about culture and people and understanding how the world works. We live in a world of conflict and limited resources, and travelling has helped me understand the way the world is."
Manner says it was a combination of his will to do it and UVic's willingness to accommodate that enabled him to fulfill his dream of study and travel. After completing all business pre-requisites in year one, he spent year two in Sweden taking courses in sustainable development.
"I chose Sweden because of its progressive environmental movement and, since I wanted to go into business, I started focussing a lot of my efforts on that and social entrepreneurship."
On his return from exchange, for example, Manner helped to found and host the World Student Environmental Summit held at UVic in June 2009.
His work on the summit, plus a co-op work term spent in Indonesia, helped him decide that his focus for now will be on alternative energy generation. He hired on with a nonprofit organization in Jakarta that works in the field of rural and renewable energy, climate change and community business empowerment. There, his responsibilities included participating on a team that helped develop very small micro-hydro projects designed to capture enough energy to give 30 homes three light bulbs each.
"My favourite part was being in the villages and seeing the difference that having just a little electricity would make. We're talking just three tiny lights, just like Christmas lights, something that we wouldn't even notice." Manner found that even something that small can be life changing. "When they were spending up to $2 a day on kerosene and only earning $3 a day, those three bulbs made a huge difference."
Manner readily admits that his work term was very difficult, particularly the language barrier. Financing his education and travel was also challenging, but he benefited from scholarships and bursaries including a $5,000 Black Press Business Scholarship and the Marjorie and Lawrence Yeats Bursary.
Looking to the future, Manner plans to get involved with his local community in Nelson, finding ways to use technology in BC to generate sustainable energy. He believes that following his passion will lead to success.
Photos
In this story