UVic names top business co-op student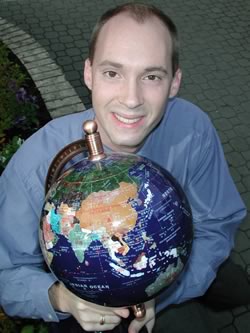 Cyril Elbers is truly an international man. At 24, he speaks five languages and has spent more time abroad than most diplomats. He is also a busy man, taking two concurrent degrees at UVic—a bachelor of commerce and a bachelor of arts in economics.
This year, UVic has named Elbers as the university's business co-op student of the year. "It is a great honour to win this award," says Elbers. "I found it very humbling to receive this, especially since I have so many excellent peers."
Elbers may have many outstanding peers, but his work certainly stands out. While enrolled in Camosun's hospitality program, Elbers completed co-op terms at a five-star Japanese hotel in Amsterdam and a ski resort in Japan. Most recently, during his 11-month stay in China, he worked for five months as a commercial assistant at the Canadian Embassy in Beijing.
During his time at the embassy, Elbers was responsible for developing the portfolio of Canadian trade and investment opportunities for the Beijing Olympics. "The most rewarding part of my experience at the embassy was the opportunity to help Canadian firms expand their businesses into China," says Elbers. "My experience at the embassy helped to clarify my career goals—to work in trade financing with a focus on emerging markets in Asia."
"His work was highly praised by both his supervisor and the ambassador at the embassy," says Norah McRae, the business co-op and career centre's program manager. "He was also an excellent ambassador for the centre and the faculty of business."
There were 55 students who were eligible for the position in 2002 and each was evaluated on their contributions to their co-op employers, UVic, the business co-op and career centre, and to the community. Each student also had excellent evaluations from their work term employers and had a cumulative GPA of at least 6.5. To be considered for the award, the candidates were then asked to compose a letter about their co-op experiences and how they promoted the faculty and the co-op program during their co-op work term. Twenty-four of the nominees wrote letters and Elbers' was chosen as the best.
As the award winner, Elbers will receive $500 from the TD Bank Financial Group on November 12. He says he plans to put his award towards his education.
-- 30 --
Photos
There are no images in this gallery.
Media contacts
Lironi (UVic Communications) at (250) 721-6139
In this story