Heavy snow, not light work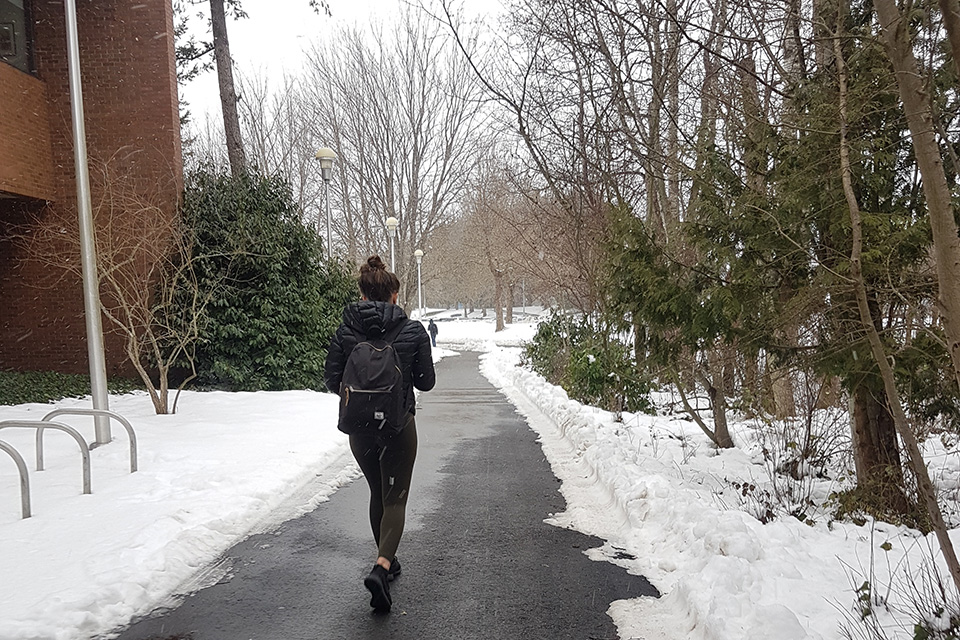 Mid-February's heavy snowfall was exceptional in more ways than one on campus.
Even while most people enjoyed a "snow day" when the campus was closed late afternoon Monday, Feb. 11 and the following day, there were those who walked, carefully drove or carpooled to work so that residence students got fed, roads were plowed, pathways were cleared and—with the campus closure happening when it did—that payroll got processed so 5,200 employees could get paid on time on Feb. 15.
When Colleen Korte got the call early Tuesday afternoon for any janitorial staff who could safely come to campus to help shovel snow, she didn't hesitate, despite living on a hill in Esquimalt on a road that hadn't been plowed. Born and raised in Victoria, Korte had never driven in deep snow. "I guess I'm one of those people who will always at least try."
The usual 20-minute drive to UVic took nearly two hours in her Jeep Liberty as she picked up two colleagues near Walmart in Saanich then another near Hillside Mall. Just under half of the usual number of janitorial staff made it to work to clear building entrances, stairways and pathways while Facilities Management staff continued their work clearing and salting roads as well as shoveling.
"It was hard work, the snow was wet and heavy, and it was cold but everyone pulled together to get the campus ready for the next day," said Korte.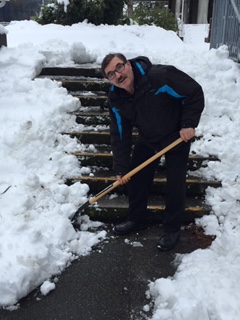 Facilities Management staff started snow clearing Sunday night and continued Monday as the university monitored conditions on campus, weather reports, transit service, regional road reports and any travel restrictions issued by police. At 1:15 p.m. on Monday, the university informed the campus community that classes were cancelled as of 3:30 p.m. and campus was closing at 4:30 p.m. so people could make their way home in an orderly and safe manner unlike the rush to leave campus in 2017. Many janitorial staff still showed up for their 5 p.m. shift to shovel entrances until snowfall became too heavy and Facilities Management crews kept working with the help of a contractor who worked into the early morning Tuesday. Grounds crews returned at 4 a.m. shoveling snow, spreading ice-melt and operating equipment including two bobcats, three tractors with front-end loaders, one snow plow and a backhoe. Some staff who started at 4 a.m. didn't leave until 10 p.m.
Over in Cadboro Commons, planning to feed 1,750 residence students started well in advance of the closure. Employees who felt they could get to campus safely on Tuesday set out early from their homes to be on site at 5 a.m. to start meal prep. Kitchen staff also helped feed the grounds crew who made it into work.
Every corner of the university has stories about employees who made the extra effort to get to campus or worked from home, covered for each other, or put in hours outside their usual shifts determined to help with essential services.
And while there are always lessons to be learned from our occasional encounter with winter conditions more common elsewhere in Canada to improve our readiness and response, we have also been reminded that we have exceptional people at UVic, including students who looked out for each other, who deserve our gratitude.
Photos
In this story