Indigenous youth shape new graphic novel
Social Sciences, Graduate Studies
- Anne MacLaurin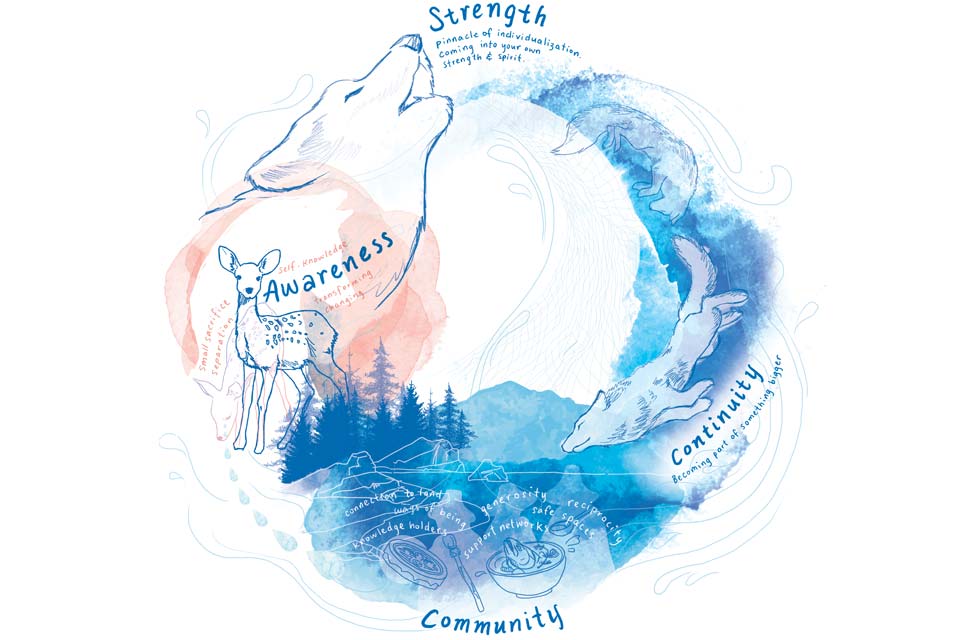 A visual storytelling project unites the voices of urban Indigenous youth in care, Knowledge Keepers, and Indigenous and non-Indigenous allies in Becoming Wolf, a graphic novel about coming of age.
Grounded in wisdom held by Indigenous Knowledge Keepers, coming of age teachings are shared through song, stories, ceremonies and traditional rites of passage with many urban Indigenous youth who grow up away from their ancestral territories and culture.
"Reconnecting with these teachings supports community healing, wellness and resilience and helps to prepare young people for their roles in carrying this wisdom forward in a good way," says Jennifer Chuckry, Executive Director of the delegated, urban Indigenous organization, Surrounded by Cedar Child and Family Services (SCCFS).
The project was led by urban Indigenous youth in care and employees of SCCFS along with UVic researchers Andrea Mellor—a recent PhD graduate in Social Dimensions of Health—and health geographer Denise Cloutier.
The opportunity to work on this project with Surrounded by Cedar Child and Family Services, and the Indigenous youth was deeply meaningful and inspiring for me as a community-engaged researcher but, most importantly, my wish is that this work—to explore what it means to come of age—will have benefit for Indigenous youth in supporting culture, identity and resilience."

—UVic health geographer Denise Cloutier
Urban Indigenous youth alongside Knowledge Keepers, workshopped coming of age teachings that guided comic book creator, Ken Steacy in the adaptation of the story to a graphic novel. (Steacy is a Canadian comics artist and writer best known for his work on the NOW Comics comic book series of Astro Boy).
The story of Deer—a young teen living away from home experiencing her first Moon Time—was created through the words shared by the urban Indigenous youth involved in the project.  The arts-based methodology used research storytelling to gather the wisdoms shared and learned from youth during interviews, sharing circles, and vision boarding into the story Becoming Wolf. The team then collaborated with Steacy to guide the visual storytelling of what culture and coming of age can mean for urban Indigenous youth.
"Despite Deer's changing identity, she remains connected to her childhood, her territory and her community, regardless of her physical distance from those elements," says Mellor.
The story of Deer, Becoming Wolf, inspired a watercolor infographic as well as the graphic novel. The infographic was created by designer, Luyi Wang, through her guidance in a series of activities with the youth to help develop a visual language reflective of their unique and diverse styles, imagery, and colour preferences. 
Wang then used their 'visual voice' to link the research findings to the cyclical coming of age journey of leaving one's childhood, cultivating the self-awareness that develops during adolescence, and building a sense of empowerment that leads one back to the community as an adult, mentor, and leader.
"Many Indigenous youth in care are disconnected from their cultural roots, so visual storytelling is a way to rewrite a narrative of strength and togetherness," says Chuckry.
The project closed with a community feast as a report-back opportunity to share the work and celebrate the many months during which the project members came together on the traditional territory of the lək̓ʷəŋən people. It also included a blanket ceremony honouring the young people and community members who contributed to, and supported this work. The work is being carried forward by SCCFS's youth advisory council who are considering how they wish to take Indigenous teachings into their lives as young adults. To access a copy of the graphic novel and support this good work, contact Surrounded by Cedar Child and Family Services.
The UVic community raises its hands to all who led and participated in this project—particularly Indigenous Knowledge Keepers Jessica Sault, Bradley Dick, May Sam and Skip Sam, many other urban Indigenous community members, the staff at SCCFS and the youth who participated in the workshops and blanket ceremony. The Coming of Age project is a collaboration between the SCCFS and UVic. This research was supported by the Social Sciences and Humanities Research Council, the Vancouver Island Health Authority and the BC SUPPORT Unit, Island Centre.
Photos
Videos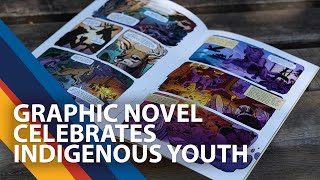 In this story
Keywords: sustainable partnerships, Indigenous, youth, art, research, graduate research, alumni
People: Andrea Mellor, Denise Cloutier, Jennifer Chuckry, Luyi Wang, Ken Steacy
Publication: The Ring