Infrastructure and construction projects drive engineering grad
- Anne Tolson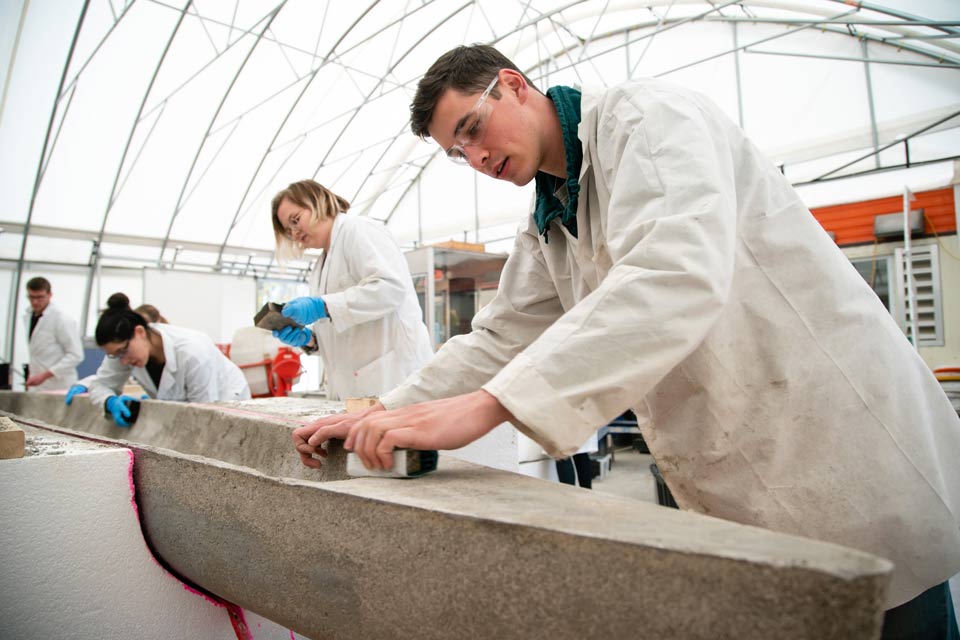 Growing up, Liam Sprangers spent long hours with friends constructing tree houses out of scrap lumber, building makeshift bike ramps and designing bridges to span nearby creeks.
Sprangers, who graduates this month with a Bachelor of Engineering, says he was drawn to civil engineering, in particular, by the prospect of being able to work in the construction industry.
My co-ops were all memorable, but the one that sticks out most was working with Hall Constructors—it was like living out a childhood dream getting to work on a construction site and seeing engineering in action. 

—Liam Sprangers, UVic class of 2021
He spent his last co-op term on multiple Hall construction sites, coordinating day-to-day activities on complex excavation projects for the company, which is based in his hometown of Langley.
"Gaining an understanding of how a large-scale infrastructure project gets completed was like getting a recipe for your favourite dessert," he says.
The experience and knowledge Sprangers gained at UVic—through four co-op terms, classroom work and his involvement with a student team—have helped prepare him for a job that starts in November. He'll be returning to Hall Constructors, this time on Vancouver Island, as a project coordinator.
Sprangers spent his first two co-ops at Metro Vancouver, working on water transmission and dam operations initiatives, where he helped coordinate construction and maintenance projects and worked in water-supply modeling. For his third co-op, he assisted a UVic Civil Engineering researcher's work in concrete repair by preparing samples, conducting tests and analyzing results.
During the last few years of his degree, Sprangers was a member of the UVic Concrete Canoe team, a civil-engineering-based student team that designs, constructs and paddles a concrete canoe as part of a national competition.
"I learned so much about concrete technology, as well as project management, communication, budgeting, design and problem solving," says Sprangers. "It was such an interesting project to tackle and, overall, a great experience."
Ultimately, he says, the best part of his time at UVic was meeting so many genuine, fun and like-minded people. It all started on his very first day on campus when, moving into residence, he met the three people who would later become his roommates throughout his degree.
"Every great experience I had at UVic comes back to the great people I met there—they turned long study sessions into fond memories and made tedious homework assignments simple," he says.
Still, like so many students, Sprangers found the repercussions of the COVID-19 pandemic difficult, including the transition to online learning, the curtailment of social activities, and the added stresses of day-to-day life.
Fortunately, whether in Victoria or back home on the mainland, Sprangers has been able to find a good measure of relief through fishing.
"There are a few lakes around Victoria I could go fly fishing at or, when there was a break from school, I'd go home to the Fraser River and some of its tributaries to fish for salmon and sturgeon," he says. "I don't know what it is about fishing that feels so therapeutic—could be the outdoors, the strategizing involved, or maybe just that most of the activity involves doing nothing for a while."
Having grown up fishing with his dad, he's noticed the steady decline in salmon runs over the years and is concerned about the impact to the area environmentally and economically. Now, similar to the way his early enthusiasm for construction helped guide his educational path, he hopes to eventually find a way to incorporate his passion for salmon and fisheries conservation into his future work.
"Over the long term, I hope to get more involved in construction projects that involve land rehabilitation, particularly involving wetlands and streams," he says. "Hopefully I can work on projects involving salmon habitat restoration. I want to create infrastructure that is more sustainable and works for both people and the environment."
Photos
In this story
Keywords: convocation, student life, co-op
People: Liam Sprangers
Publication: The Ring