Making relations across oceans of difference
- Philip Cox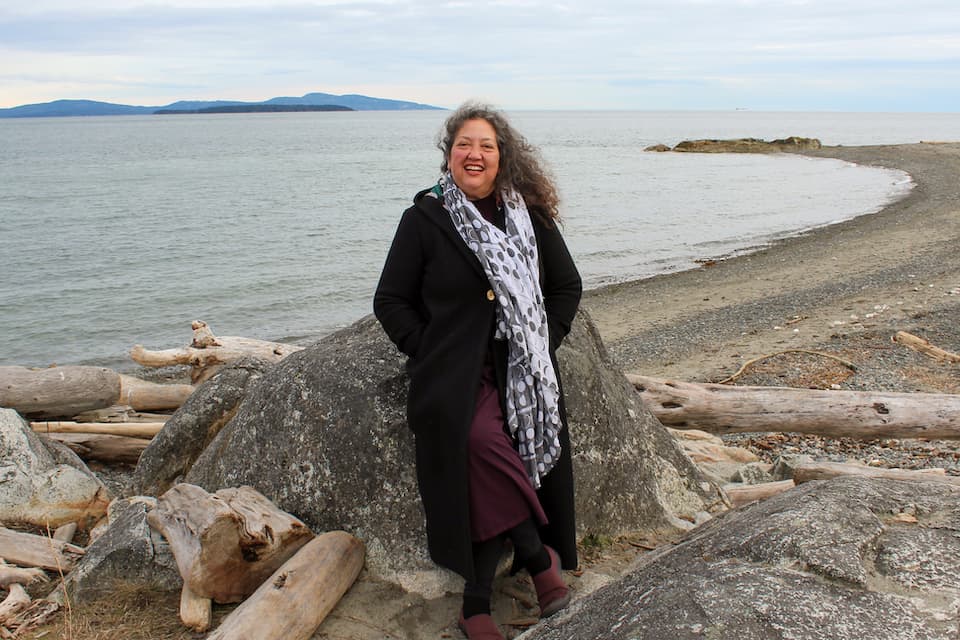 The first Kanaka Maoli woman known to have visited what is now called Vancouver Island, in the late 1700s, did not stay. Many of the men who arrived after her, through the voyages of the booming fur trade, did.
Leaving their homelands in Hawaiʻi behind, they settled as labourers and farmers and formed families with coastal Indigenous communities—including the lək̓ʷəŋən and W̱SÁNEĆ peoples on whose traditional territory the University of Victoria stands, and whose historical relationships with the land continue to this day.
This is why Lisa Kealohapaʻaokahaleole Hall—a Kanaka Maoli scholar—knew she could have kin on Vancouver Island when she was hired as director of the new Indigenous Studies (IS) major program at UVic in 2019. She just didn't know who they were.
"The knowledge that I could have ancestral relations in these territories is part of what attracted me to this job," Hall says. "But that still wouldn't give me any rights here. Just having relatives doesn't mean you aren't a visitor in their home. Recognizing this helps me focus on my responsibilities as an Indigenous settler in other peoples' homelands, and on the possibilities of making new connections in this place."
This recognition of the relationship between moʻokūʻauhau (genealogy), moʻolelo (story) and kuleana (responsibility/authority to act) is at the heart of Hall's teaching, research and the work she will do as one of the university's newest President's Chairs—the highest honour a faculty member can receive at UVic. 
"For Hawaiians and other Pacific Islanders, the ocean is a place of connection and interlinked histories through travel. In this view, it is Moana—the sea—that connects us, as a form of identity through relation, not sameness. Part of my work as President's Chair will be to bring people together and build spaces where the differences between and among us can generate new knowledges, understandings and relationships. This is an interdisciplinary vision made possible by the people and places connected to the university and their relationships across lands and waters."

— Lisa Kealohapaʻaokahaleole Hall, director of Indigenous Studies and 2023 President's Chair
New connections in the classroom and beyond
Hall's approach foregrounds oceans and seas as central to relationships across geographic spaces rather than as empty spaces between land. She emphasizes that relationships—which are always fluid, consensual and contextual—are foundational to the production of knowledge. As a President's Chair, one of her key goals is to foster sustainable, reciprocal relationships with local and global knowledge holders, starting in the classroom.
Launching this fall, "IS 100: Responsibilities and Reciprocities to the Place You Are Now" will offer students, staff, faculty and community members access to knowledge about what it means to be a good guest on Lekwungen and W̱SÁNEĆ territories by centering local lands and Coast Salish protocols. IS faculty members Mick Scow (Kwakwaka'wakw/Snuneymuxw) and Tracy Underwood (W̱SÁNEĆ) will weave together contributions shared by knowledge holders from both campus and local communities to highlight relationships of land, water and people in BC and Canada, and share histories of encroachment, resistance and revitalization.
An upper-year course that Hall is also designing will connect students to global networks through partnerships with community groups in Seattle, the San Francisco Bay Area, Aotearoa (New Zealand) and Hawaiʻi. Capped at 10 students per semester to create an intimate, personal setting for meaningful dialogue and instruction, the research- and practice-based course will support the development, education and training of Indigenous undergraduate students while providing transferable skills for community engagement.
"I believe in the transformative, life-changing potential of undergraduate education," Hall shares. "Many undergraduate students are figuring out their relationship to the people, places and knowledges that surround them—and therefore how to act in the world. These courses will help Indigenous and non-Indigenous students to understand these relations so they can take this knowledge and understanding with them in their voyage."
Since Hall was hired as director of the Indigenous Studies program in 2019, enrollment in IS courses has increased by 64%, while enrollment in the major program has tripled. Before arriving at UVic, she championed Indigenous initiatives at Wells College, Cornell University and Oberlin College.
David Aiona Chang, a renowned Kanaka Maoli historian and Distinguished McKnight Professor at the University of Minnesota, notes that "Hall's teaching and scholarship, which is profoundly influential in Critical Indigenous Studies, has always recognized that the ethical imperatives of Indigenous communities are at once deeply grounded in the specific contexts of their lands, waters and histories, and broadly connected to global struggles for decolonial justice."
The new courses Hall is developing for Indigenous Studies at UVic will advance the program's mandate to provide knowledge of the way Indigenous issues shape the past, present and future of both Indigenous and non-Indigenous peoples locally and across the globe.
"I raise my hands with the deepest of respect to Lisa Kealohapaʻaokahaleole Hall—huy'ch q'u Siem—thank you for taking on this critically important role. I have had the opportunity to witness Dr. Hall's passion and commitment to Indigenous studies and am very excited to see the transformative and innovative work that will emerge from the President's Chair."

— Qwul'sih'yah'maht Robina Thomas, associate vice-president Indigenous, University of Victoria
Making global connections locally
Outside of the classroom, Hall is equally committed to cultivating and deepening care-based, reciprocal relationships between Indigenous scholars.
On campus, this includes working to create a university-wide network of support, collaboration, mentorship and professional development for Indigenous faculty members that prioritizes their long-term success and well-being.
Looking further out to sea, Hall will also foster a cross-Pacific network that facilitates the creation and exchange of ocean-oriented knowledges, pedagogies and practices among Indigenous scholars and oceanic coastal communities, strengthening the university's position as a global leader in ocean-based research.
For both of these networks and in the courses she is developing, Hall notes that her focus is less on product and more on process—her work can be judged a success, she says, if she can connect those who seek to honour their responsibilities to both people and place, and build enduring relationships across the lands and waters that connect them.
"I am thrilled to appoint Dr. Lisa Kealohapaʻaokahaleole Hall as a President's Chair in the Faculty of Humanities. Her innovative approach to community engagement emphasizes the importance of reciprocal relationships between people and place, locally and globally. This visionary work promises to establish UVic as a pivotal site of trans-Pacific Indigenous scholarly connection and exchange."

— Kevin Hall, University of Victoria president & vice-chancellor
About the President's Chair
The President's Chair is the highest academic honour UVic can bestow on a faculty member. UVic's ten President's Chair positions recognize faculty who have:
achieved great distinction in research and research-inspired teaching
made substantial contributions to UVic and the wider community
are capable of championing excellence in research, teaching and community-university engagement
Photos
In this story
Keywords: administrative, Indigenous, teaching, community, reconciliation, award
People: Lisa Kealohapaʻaokahaleole Hall, Kevin Hall, Robina Thomas
Publication: The Ring