Promoting Victoria as destination for international students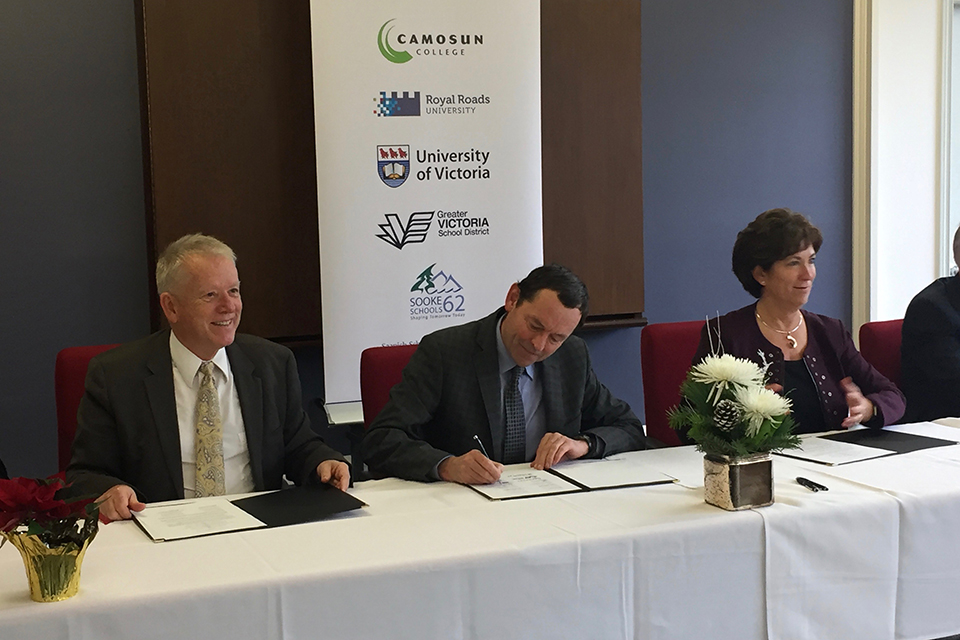 VICTORIA, BC – Three post-secondary institutions and three school districts in the greater Victoria region have signed a memorandum of understanding to work together to promote Victoria as an education destination for international students.
Camosun College, Royal Roads University, the University of Victoria, the Greater Victoria School District 61, Sooke School District 62, and Saanich School District 63 are now members of Education Victoria, a joint partnership to promote academic cooperation and student pathways for the benefit of students and the six institutions and school districts.
The five-year agreement involves joint marketing and recruitment activities in target international markets; shared coordination of activities such as agent familiarization visits, recruitment travel, conference presentations, advertising and promotion; and the exchange of data, documentation and research materials.
The Education Victoria partnership has been in the works since 2013, when Camosun College, Royal Roads University, Greater Victoria School District 61, and the University of Victoria came together to collaborate in recruiting international students to the region. The education providers understood that by working together, they could overcome the challenges of increased competition in international recruitment, as well as explore new ways of positioning Victoria as an education destination.
To date, Education Victoria has coordinated six visits to Vietnam and two visits to Korea for Victoria Day promotional fairs. The project has also presented at leading international education conferences in 2015 and 2016.
The long-term vision for Education Victoria is to position Victoria and the Vancouver Island region as a centre of excellence in education. This is based on Canada's and BC's strong global reputation for high-quality education, and Victoria's reputation as a safe and welcoming community that offers natural beauty and the mildest weather in Canada.
For more information about Education Victoria, visit learnvictoria.ca 
Quotes:
Sherri Bell, president, Camosun College
"Education Victoria is unique to the education world in Canada. No other regional grouping of post-secondary and secondary schools have come together to promote their region collectively as we have in southern Vancouver Island. It speaks to the members' clear understanding that education pathways are the key to success in international education."
Allan Cahoon, president and vice-chancellor, Royal Roads University
"Victoria is unique in that we have three complementary post-secondary institutions who collaborate together, offering a range of options and learning styles for students from BC, Canada and around the world. I look forward to working even more closely together as we promote the international educational experience the region offers."
Jamie Cassels, president and vice-chancellor, University of Victoria
"Positioning Victoria as an education destination of choice for international students from diverse countries and cultures is crucial to the success of the UVic International Plan. Education Victoria supports the plan by strengthening our collective global reputation as a city of choice for high achieving students. We look forward to continuing to welcome students to our extraordinary academic environment."
Dave Eberwein, superintendent of schools, Saanich School District 63
"Education Victoria is another wonderful example of the cooperation that currently exists between the Saanich School District and our other local school districts and post-secondary institutions. This marketing and promotional agreement provides our international student program with an even stronger presence in the competitive international student market. We look forward to working with our partners to promote our outstanding educational opportunities and beautiful community."
Piet Langstraat, superintendent, Greater Victoria School District 61
"The Greater Victoria School District truly values this agreement between key education providers in our region. This partnership provides students a clear pathway to achieve their goals and aspirations. We believe this agreement will support our community and allow students from around the world to access pathways to post-secondary education. It is our hope that international students in the Greater Victoria School District have the opportunity to remain in Victoria after high school graduation and continue contributing to our community."
-- 30 --
Photos
In this story
Keywords: international, Camosun College, Royal Roads University, education
People: Jamie Cassels