A letter from Stephen Hawking
- Lisa Abram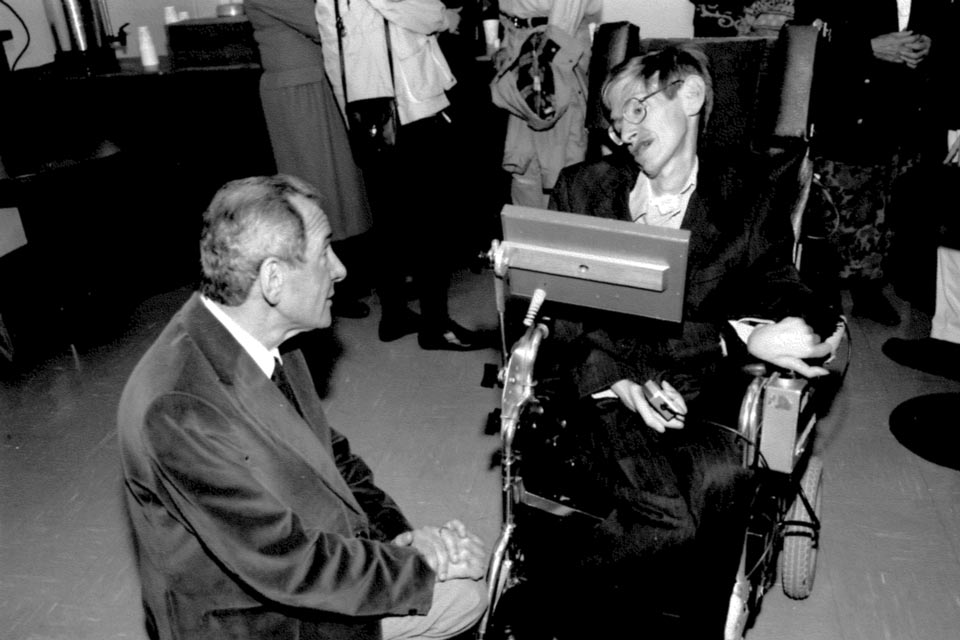 Historic personal letter hitches a ride into the archives  
When deciding to donate a portion of his library to UVic Libraries, Professor Emeritus Werner Israel included a 1973 first-edition copy of The large scale structure of space-timeby Stephen Hawking and G.F.R. Ellis. It was a fantastic gift to the library, as the book helped make Hawking a celebrity recognized far beyond the scientific community. But a personal letter tucked into Israel's copy is helping to deepen the story, illustrating the friendship between the two scientists and the regard Hawking held for Israel's work.  
Israel's gift of the books themselves is a substantial support to researchers*. "While some of the textbooks I donated are now over 30 years old," he says, "they contain basic material that will never be outdated. It is good to know that they will again see active use by the new generation at UVic," explains Israel, who retired in 2011 from the Department of Physics.
When examining the newly donated book, library staff discovered a signed letter from "Stephen" to Israel, dated February 6, 1981. Typed, the letter was tucked into the back dust jacket, along with two newspaper clippings about Hawking's latest accomplishment, and Israel's pencilled summary of important formulae on the flyleaf.
Informal and chatty in tone, the letter, likely long forgotten since it was received, reveals a close friendship between kindred spirits and accomplished physicists who collaborated on two titles, General Relativity: An Einstein Centenary Surveyand Three Hundred Years of Gravitation.
"Editing these books did not involve active research," Israel said. "So there was no need for daily consultation after the initial planning of topics and authors.  I undertook most of the routine work, which would have been a burden for Stephen. But it was, of course, Stephen's name and charisma which brought ready acceptances from all of the distinguished authors we invited."
An invitation leads to a fulfilling career and a half-century friendship
When Israel completed his PhD from Trinity College, Dublin in 1960, he could not have imagined his future—spreading the gospel of his mentor, the great Irish mathematician John Lighton Synge, and collaborating with Hawking, best-selling author of A Brief History of Time.  
In 1967, Israel caused general surprise when he presented a theorem indicating that black holes must actually be very simple objects, differing from each other only in their mass and spin. Confirmed and extended by Hawking (among others) in the early 1970s, Israel's theorem that "black holes have no hair" still forms the basis for all research on the subject today.
Their shared interest in black holes led Kip Thorne (co-winner of the 2017 Nobel Prize in Physics) to invite Hawking and Israel to spend the 1974-75 term at Caltech, thus deepening a 1972 friendship between the Israels and the Hawkings—cemented further when the two couples spent the following term together at Stephen's college in Cambridge.
"Notwithstanding his many problems, Stephen had the great kindness to take out our son Mark, to see the first Star Wars film, while Mark was alone in England, living in a Cambridge boarding school. And many years later, when Stephen learned that Mark was confined to a wheelchair and, like himself, unable to speak, he lost no time in writing to us with suggestions of how we might help Mark," said Israel's wife Inge.
Described as self-deprecating, enthusiastic, obsessive, and absent-minded with a wry sense of humour in a 2011 interview, Israel's personality complemented Hawking's overabundant curiosity, generous spirit, and playful nature. Throughout their half-century friendship, Hawking and Israel stayed in touch. In 1991, Hawking came to Banff to attend a conference in celebration of Israel's 60th birthday, and delivered a lecture to a packed auditorium in Edmonton.
Israel acknowledges that it was a special honour to be nominated for Fellowship of the Royal Society (FRS) by Roger Penrose and Hawking, the two leading gravitational theorists of his generation.
"On the day of my induction ceremony at the Royal Society headquarters in Burlington House, London (in 1986), Jane (Hawking) drove Stephen and me down from Cambridge, taking us as far as Piccadilly Circus," Israel said. "From there we were on our own. I never found out why Stephen's wheelchair always went at almost twice the walking speed, whether it was because it didn't have a low gear or because of his usual sense of mischief. In Cambridge this was less of a problem, but on the busy sidewalks of London he was a menace."
"Watch out for the wheelchair"
In her memoirs, Finding the Words,Inge says "Once Stephen and his wheelchair were deposited on the sidewalk, there was no holding him back. He chased along at such speed that Werner felt obliged to run ahead of him, waving his arms wildly and calling, 'Watch out for the wheelchair'."
"We have wonderful memories of delicious lunches at the Hawking's home on West Road, prepared single-handedly by Jane. At the table, after serving everyone, she would feed Stephen as if it were the most natural thing in the world, while carrying on a perfectly normal conversation. Then followed a game of croquet on the lawn or an afternoon of music, when Jane would sing and her father accompany her on the piano," Inge writes.  "I still see Stephen whizzing round the garden, giving the children rides on his wheelchair which he maneuvered with skill and great care for the children's sake."
Gifts that feed the archive 
Every year, UVic Libraries receives approximately 5,000 gifts-in-kind items from the community—each one assessed based on strict criteria that they should support the teaching, research, and learning activities of the libraries. A quarter of those end up in the circulating collection, with many others going to Special Collections & University Archives owing to their rarity and outstanding provenance, or association with a local author or artist.
Gifts-in-kind Coordinator Shelley Coulombe processes a wide range of contributions that include language books, popular fiction, and business-related topics. In addition, she says the library is interested in receiving books related to the world wars, Canadian history and literature (especially BC), Greek & Roman studies, education and children's books for the curriculum collection, and fine arts.
While not all items are selected for use in the library, Coulombe also sorts through an assortment of forgotten ephemera­­­­­ including airline boarding passes, bank statements, and even credit card bills. 
What catches her eye in particular are the mainstays that donors inserted long ago while enjoying a good read—fanciful bookmarks, trendy postcards, family archival photographs, and even foreign currency (most recently, for the British Armed Forces canteen).
"What surprises me most is what ends up in the books," says Coulombe—like Hawking's letter, tucked into Israel's copy of The large scale structure of space-time 
Following Hawking's passing in March 2018, receiving the gift of his letter and book at UVic Libraries is timely and poignant. "We feel very privileged to have known Stephen and especially to have numbered among his friends," says Inge Israel. "He was kind and incredibly brave. I was especially touched at his making the effort to come to my 80th surprise birthday party, organized by a mutual friend in Cambridge in 2007."
For Werner's part, the 87-year-old retired UVic professor enjoys volunteering and working with students in the ESL (English as Second Language) department, listening to his classical music collection, and enjoying life with his dear wife. 
Find out more
This very special letter can be viewed in Special Collections (QC173.59 S65H38), where readers can experience another dimension of the prolific genius of Stephen Hawking; and by holding a first-edition, signed volume in their hands at UVic Libraries.
Photos
In this story
Keywords: physics, library, history
People: Werner Israel, Stephen Hawking
Publication: The Ring