Star student
- Jenny Manzer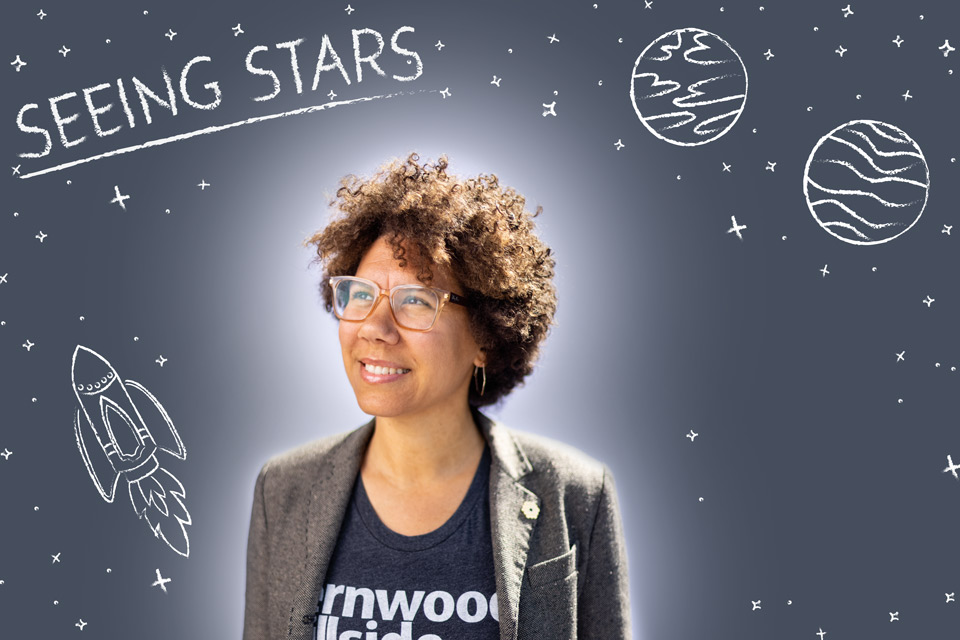 Astrophysicist Louise Edwards, BSc '01, was one of the first Black Canadians to earn a PhD in physics. She's an expert on the evolution of galaxies, her face has appeared on a Canadian stamp—and she's only getting started.
Louise Edwards fell in love with the skies as a girl, staring up at the stars on the back porch with her father. "I was born and raised in Victoria, and have real strong distinct memories of hanging out with my dad on our back porch with our telescope set up. I guess it was my grandfather's telescope," she says.
Later, she visited the Dominion Astrophysical Observatory with her science class at Reynolds Secondary School. "I saw Saturn with the ring for the first time with my own eyes through that telescope. I still remember that, viscerally."
Her parents were both high-school teachers—her father taught math and French; her mother taught biology and English. Academics and science were revered in their Quadra Village household. But Edwards' fascination with space was also fuelled by her love of science fiction and pondering how much of it could be true. 
She inhaled the works of Robert Heinlein, a novelist known for scientific accuracy in his fiction, and watched Star Trek: Next Generation. She wanted to know if phenomena like photon torpedoes or time travel could be real. "If you talk to most physicists, they probably love science fiction," she observes.
Edwards attended UVic after high school in part because she got a scholarship, was able to live at home and could afford to go. It was also a prime place to study the stars. "UVic just happened to be one of the best places to do astronomy," she recalls, noting the observatory was right up the road. Edwards earned a Bachelor of Science in physics and astronomy with a minor in mathematics from UVic in 2001. 
Her love of space then led her to Saint Mary's University in Halifax for a master's in astronomy, then onto Laval University in Quebec for a PhD in physics—she was in French immersion classes in Victoria, which allowed her to study at a French-speaking university. She is noted online as being the first Black Canadian to earn a PhD in astronomy, and while this is tricky to verify, she is most certainly among the first.
Edwards is currently an associate professor of physics at California Polytechnic State University in San Luis Obispo, a small city halfway between San Francisco and Los Angeles. Before joining Cal Poly in 2016, Edwards lectured in the astronomy department at Yale University and was an assistant professor of physics at Mount Allison University in Sackville, NB. 
While at UVic, she was part of the co-op program, which set her on a lifelong course of doing hands-on research. In fact, she started the groundwork of the research into galaxies that she continues today. UVic professors Ann Gower and Arif Babul were important influences and astronomer Dr. John Hutchings, an affliate of the National Research Council of Canada's Victoria-based Herzberg Astronomy and Astrophysics Research Centre, was an early mentor. They worked together at the Dominion Astrophysical Observatory for a co-op term.
"He was my first research mentor and had a huge influence. He was really great. He was so laid back," Edwards says. Hutchings and Edwards wrote a paper together, working on research involving galaxy clusters. Hutchings told her that astronomy was his hobby, his true passion in life—not just his job. "He had a wonderful outlook," she recalls.
Hutchings remembers Edwards as a star student. "She was very lively, very enthusiastic, hardworking. We wrote a paper together and she did a lot of the work. It was a good term," says Hutchings, a retired UVic adjunct professor of astronomy and physics, who has published more than 400 scientific articles.
You don't need to speak with Edwards long on a Zoom call to see that she's passionate and driven. Edwards is married to Mark Beasley-Murray, an English as a Second Language teacher, and they have a two-year-old son, Skyler, and a five-year-old daughter, Willow. Edwards, as a working parent with young children, seems as if her sci-fi books imparted a secret to super-human energy. But the real reason is far more simple.
"I love my job, OK?" she says, leaning forward and clasping her hands. "I love it."
Edwards also loves her hometown of Victoria—and returns to visit whenever she can. Her father, whose family roots are in Trinidad and Tobago, has passed away, but her mother still lives in Quadra Village. Edwards has three accomplished siblings, who live in different parts of Canada. Victoria was "super not diverse" when she was growing up, Edwards recalls—though she says that is changing. 
There are still very few people of colour working in astrophysics. At every stage of her journey, Edwards has worked to engage and mentor students to help improve diversity in her field, including through advocacy groups. She is also involved in a summer program with Yale professor Meg Urry that includes diversity and inclusivity training for students alongside astrophysics—so they better understand the barriers and how to overcome them.
Meanwhile, Canada's physics field is still largely male and white, a 2021 survey shows. CanPhysCounts led a national equity and inclusion survey of 3,000 people, including undergraduate and graduate students, post-doctoral researchers, faculty, members of research institutes, and industry and govern¬ment workers. Preliminary data from the study, released in March 2021, showed only one per cent of respondents identified as Black.
Edwards stresses that while having an instructor who looks like you can be encouraging, any educator can help support students of colour. A National Science Foundation study suggested it's most important that educators be willing to mentor students effectively and to care about them. Educators can also research organizations and be prepared to help connect students of colour with them—for example, the US-based National Society for Black Physicists. 
"First of all, it is important that there's space for women and people of colour in STEM. Get to know the societies, so that you can mention them to your classes or to your research students in general and get the word out, so people who can use those connections know about them."
Edwards is an expert in the formation and evolution of Brightest Cluster Galaxies. A galaxy is a collection of stars, dust, gas and dark matter. Brightest Cluster Galaxies are particularly lacking in gas and dust—they basically have only old stars. "Sometimes we call them 'old, red and dead,'" says Edwards, noting that stars redden as they age. The age of old stars can help determine the age of the universe—and if researchers see red ones, they've found something really old. Astronomers want to know—if these galaxies are old, were they the first galaxies? Studying how galaxies evolve, and galaxy clusters, can help determine the properties of the universe.
Edwards is poised to embark on an exciting new project in northern Chile. She's part of a team of researchers testing new technology at the Vera C. Rubin Observatory. For the Legacy Survey of Space and Time, an 8.4-metre telescope with a novel three-mirror design will be positioned on a mountain top to take pictures of the sky every few minutes. The 10-year project will produce a massive amount of astronomical data and result in the deepest, widest image of the universe to date. It is expected to produce 500 petabytes of data, the estimated equivalent of 10 billion filing cabinets of information.
Edwards has been selected as one of the first 300 people to test the platform using simulated data, which will help her form a research project to work on, so she can jump right in when the telescope is live in two years. Since she is part of commissioning team, she will travel to Chile in the coming months to make sure everything works. Her whole family will go along for the trip. Fortunately, her husband, Beasley-Murray, whom she met while at Yale, is fluent in Spanish. He also does the bulk of the daily child care, allowing her the space to pursue her passions of research and teaching. 
Her days as an astronomer are full and busy. She savours the sunny weather in San Luis Obispo, a place Oprah referred to as "America's Happiest City." Edwards and her young family live just outside the Cal Poly campus in faculty housing. She still enjoys science-fiction books and films when she can. (She gives the movie Interstellar two thumbs up. "It's so well done!") But for now, her life is sharply focused on two themes. "All of my time is work and family—and that's perfect right now," says Edwards. "It's the perfect balance."
Photos
In this story
Keywords: alumni, astronomy, co-op
People: Louise Edwards
Publication: The Torch