National Indigenous History Month and Indigenous Peoples Day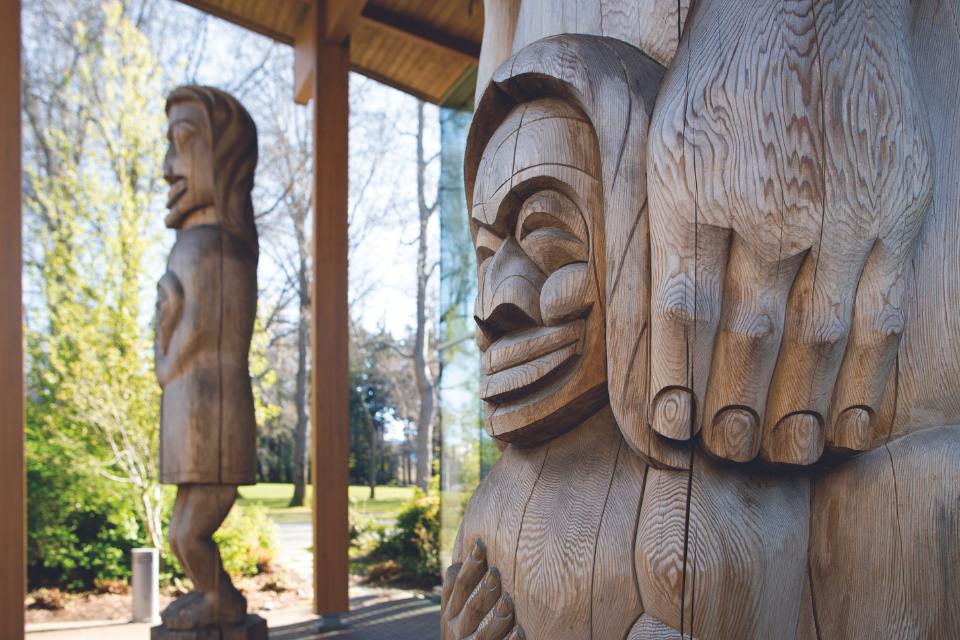 Statement from President Kevin Hall
June is National Indigenous History Month in Canada, a time to recognize, learn about and celebrate the rich history, heritage, resilience and diversity of First Nations, Inuit and Métis Peoples.
It is also a time that calls us to face the realities of Canada's history and present - a time for truth, and committing to decolonization, reconciliation and redressing the ongoing and systemic barriers faced by Indigenous Peoples in Canada.
We are grateful for and deeply honour our place on Coast Salish territory and take seriously the responsibilities that come with living and working on these beautiful lands. We are committed to the lək̓ʷəŋən peoples—the Songhees and Esquimalt Nations—who have continuing relationships with and inherent rights to the land on which UVic stands, and to the neighbouring W̱SÁNEĆ Nations and territories.
We honour the Elders who are the foundation of Indigenous communities. They are the keepers of sacred stories, songs, language, culture and traditions. They are pivotal in protecting Indigenous ways of knowing and being that have been passed down for countless generations. The Elders' cultural wisdom guides and informs how Indigenous people live today, and much of the work that we do at UVic.
At UVic, we acknowledge the historical impacts that educational institutions have had on Indigenous peoples. UVic is committed to acting on the recommendations from the Declaration on the Rights of Indigenous Peoples Act (DRIPA) Action Plan and the Truth and Reconciliation Commission's Final Report.  We are taking steps to work together with Indigenous communities on this journey of decolonization, honouring their self-determination.
We are removing barriers for Indigenous peoples to access education—through scholarships and bursaries and increased academic, cultural and wellness supports—so students can be successful while they are here, without forgetting where they come from. The university actively engages in research partnerships with Indigenous communities. This collaboration ensures that Indigenous voices and perspectives are at the forefront of research and decision-making processes. We are working to ensure that UVic is a more welcoming and inclusive place to study and work.
In partnership with Indigenous Elders and communities, UVic strives to integrate Indigenous perspectives, knowledge and teachings into its educational curriculum across various programs and disciplines such as the Joint Degree Program in Canadian Common Law and Indigenous Legal Orders (JD/JID) and the National Centre for Indigenous Laws that align with Indigenous laws and values. We are also working together to create meaningful connections and provide solutions to big issues such as climate impact.
The university's new Strategic Plan includes a Pledge, a non-negotiable commitment to supporting and honouring Indigenous rights:
We pledge to hold ourselves accountable to ʔetal nəwəl | ÁTOL,NEUEL by respecting the rights of one another, being in right relationship with all things, and by upholding the rights of Indigenous Peoples.

This teaching was provided by Elders Seniemten, Dr. Elmer George (Songhees Nation, lək̓ ʷəŋən) and J,SIṈTEN, Dr. John Elliott (W̱JOȽEȽP First Nation, SENĆOŦEN).
This Pledge, along with the new Indigenous Plan (currently in development), will guide UVic's future actions. It is our commitment and hope that these actions will create a better future for Indigenous Peoples, communities and our institution.
This month, and ahead of Indigenous Peoples Day on June 21, we invite you to take the opportunity to learn more about the history of Indigenous Peoples through the many resources, stories and events listed below. 
Kevin Hall, PhD
President and Vice-Chancellor
Events and exhibits
George Clutesi (1905-1988) exhibit
On until Saturday, Sept. 2
Alberni Valley Museum 
A powerful new exhibit of more than 51 original and reproduction works by a c̓išaaʔatḥ (Tseshaht) artist, scholar/educator, activist and actor, George Clutesi (1905-1988). The exhibit features contributions from UVic faculty and scholars as artists and curators.
Read more about UVic faculty members' participation in the exhibit
Bones of Crows (film)
Premiers in theatres on June 2 
Cree code talker Aline Spears survives her traumatic past in Canada's residential school system to continue her family's generational fight against systemic starvation, racism and sexual abuse.
Tsunami 11th Relative
Documentary screening
Wednesday, June 7 at 7 p.m.
Vic Theatre
Learn about the rich history of tsunami resilience on the Pacific West Coast, and how combining traditional Indigenous Knowledge with ocean science can better prepare communities for the next "big one." This Ocean Networks Canada (ONC) supported documentary shares Indigenous Knowledge of past 'great saltwater floods' that reached northwest Vancouver Island, told through a tapestry of stories set against the backdrop of the rich, natural beauty of the island.
Treaty Talk: Book Launch and Panel
Friday, June 16 from 5:30-6:30 p.m.
Royal BC Museum
A Conversation on Contemporary Interpretations of Treaty Relations Across Institutions
Attend the launch of Sarah Wiebe's "Life Against States of Emergency: Revitalizing Treaty Relations from Attawapiskat." Panelists include UVic's Sarah Wiebe, Carey Newman and Rob Lapper, as well as Royal BC Museum's Janet Hanuse and Yuxwelupton Qwal' qaxala (Bradley Dick), who will discuss what it means to be in a treaty relationship today.
National Indigenous Peoples Day celebrations
Wednesday, June 21 from 10:00a.m.-3:00p.m.
Royal Roads University
A warm invitation for a day of fun and community relations on the lands of the Lekwungen (Songhees) and Xwsepsum (Esquimalt) ancestors and families.
Indigenous Artist Market
Wednesday, June 21 from 10:00a.m.-4:00p.m.
Royal BC Museum
Pacific Discovery Tank exhibit
Canadian Museum of Nature
Ottawa, ON
Permanent exhibition 
If you happen to find yourself in Ottawa, take the opportunity to discover Pacific Ocean life in the Canadian Museum of Nature. This new permanent exhibition showcases sea creatures that thrive in west coast tide-pool environments and their connection to coastal Indigenous peoples. The Pacific Discovery Tank is the result of a partnership between Ocean Networks Canada, the Canadian Museum of Nature and the Nuu-chah-nulth Tribal Council. The exhibition incorporates work from Nuu-chah-nulth Ocean Knowledge Cards, a cross-cultural learning tool that combines western ocean science and Indigenous Knowledge to better understand sea life along the Vancouver Island coast. New W̱SÁNEĆ Ocean Knowledge Cards are in development and will be available soon.
Find out more and plan your visit 
Programs
UVic has a number of undergraduate Indigenous programs and programs with Indigenous content.
UVic offers the first and only Joint Degree Program in Canadian Common Law and Indigenous Legal Orders (JD/JID) and is the process of building the National Centre for Indigenous Laws. 
Projects
Indigenous building names
UVic recently held a celebration and naming ceremony for the new student housing and dining buildings. The first of the new student housing and dining buildings, completed in 2022, is called Čeqʷəŋín ʔéʔləŋ (Cheko'nien House), the name given to the territory that is now Oak Bay, and the peoples who lived there. The second building, which will be completed by September 2023, is called Sŋéqə ʔéʔləŋ (Sngequ House) after a village in what is now known as Cadboro Bay. By reclaiming these place names, we are honouring the history of the lands that the university stands on, helping to revitalize the language and paying respect to the original caretakers.  
Read more and hear the pronunciation of the names
Campus Greenway project
Indigenous design elements and art, including banners, are included throughout the UVic campus as part of the Campus Greenway project, which is creating a vibrant hub connecting buildings and public spaces on campus. 
Partnerships
Accelerating Community Energy Transformation (ACET)
ACET is a multi-partner research initiative, led by UVic, that is helping small- to-mid-sized communities achieve their unique clean-energy systems goals. Funding recently announced from the Canada First Research Excellence Fund for ACET will support the work of more than 40 partners from First Nations, academia, private, public and philanthropic organizations. From harvesting offshore wind, tidal and solar energy, to innovative low-carbon financing and governance models, ACET is integrating breakthrough renewable energy technologies and solutions that will help Canada get to net-zero emissions—one community at a time.
Coastal Hazard Assessment framework
Ocean Networks Canada (ONC) is developing a coastal hazard assessment framework that utilizes a two-eyed seeing approach, interweaving Indigenous knowledge with its tsunami and flood hazard modelling services. Results from these assessments—which include the estimated arrival times and flooding extent of earthquake-induced tsunamis on the British Columbia (BC) coast—are being used to support emergency planning for coastal communities.
Decolonizing data 
Oceans Network Canada is working with Indigenous communities and other partners to explore best approaches for supporting Indigenous Peoples' sovereignty over their own ocean data as part of a broader drive towards the decolonization of data acquisition and ownership. Last month, ONC and the Canadian Integrated Ocean Observing System (CIOOS) launched a year-long pilot program to introduce and explore a new tool to support Indigenous data governance in Canada. Developed by global initiative Local Contexts, the tool includes a suite of customizable labels that can be applied to data to reinforce Indigenous sovereignty over that data set. 
Learning resources at UVic Libraries
Taapwaywin
This podcast series explores the intersections between truth, memory, power and human rights. Hosted by Associate University Librarian – Reconciliation Ry Moran, Taapwaywin features conversations with Elders, Knowledge Keepers, Survivors, academics, artists, activists and community leaders about the role truth-telling can play in societal healing.
Find out more and listen to podcast
McPherson Library window display
In honour of Orange Shirt Day and the National Day for Truth and Reconciliation, a window installation shares learnings about the impact of residential schools within Canada, and specifically those on what we now call Vancouver Island.
Take a moment to visit the new installation and learn more about the history of residential schools. 
Research guides
UVic librarians offer a curated list of resources on Indigenous studies and Indigenous Approaches to Holistic Wellness
Related stories
Making relations across oceans of difference
New plaques cut across generations
In conversation with Coast Salish artist Temoseng Elliott
Indigenous youth shape new graphic novel
Indigenous language revitalization
Reflections on National Indigenous Languages Day lay path of learning into the future
Photos
In this story
Keywords: Administrative, climate, colonialism, community, environment, education, human rights, Indigenous, languages and linguistics, reconciliation
People: Robina Thomas, Kevin Hall, Andrea Walsh