Day in the Life: Shauna Underwood
- Kate Hildebrandt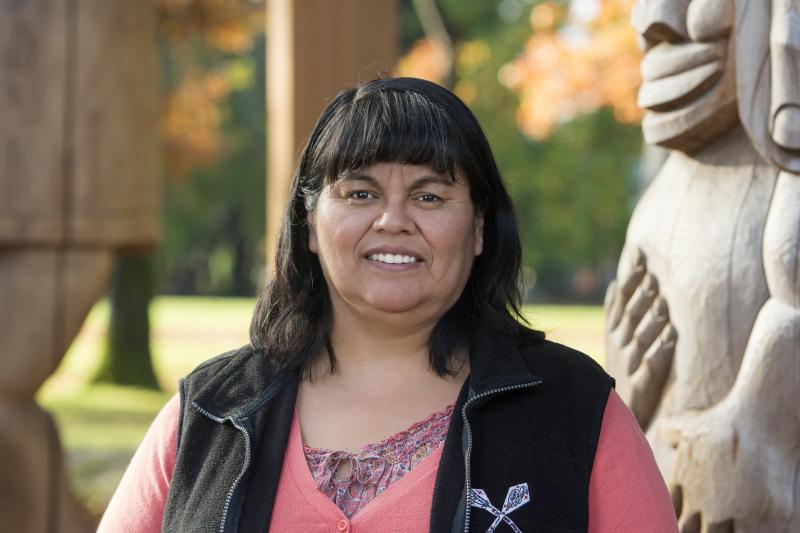 The university's heart is its students—and Shauna Underwood finds both meaning and joy contributing to their success as an Indigenous student advisor in the Faculty of Human and Social Development (HSD). Underwood sees herself as a traditional person; valuing her Coast Salish culture, she is from the Tsawout Band in W̱SÁNEĆ (Saanich), is a member of the Samish Tribe in Washington, and has traced her roots to the Nez Perce Tribe in Idaho. 
At HSD's Indigenous Student Support Centre (ISSC), Underwood works within the only faculty-based centre of its kind on campus with a large Indigenous student cohort, faculty and relevant programs. A day in her life is a mix of the routine and the unexpected. "I never know what's going to come up," she says—and that's okay with her.
At the beginning of each school term, Underwood emails her vast network to connect with school directors and to welcome their Indigenous students and explain the centre's services. She and her fellow ISSC team members work with students to support both their studies and their personal lives.
Centre activities have ramped up since ISSC opened last September, and the ISSC team has established trust, says Underwood. There are meetings, planning sessions, and assorted events to host including advocacy work, traditional ceremonies, a talking circle, and a monthly soup day to help students connect with one another. More are attending, exploring the services on offer, and asking for help.
"When I wanted to quit, she was my motivator to keep going," recalls Mavis David, a student at UVic's School of Child and Youth Care (CYC). Her relationship with Underwood was invaluable. "She would say to me, 'Don't give up. You're almost there.'"
David's father struggled to survive his years following residential school and was simply unavailable to his daughter during her formative years. Those memories, along with academic expectations, were getting in the way of David's learning and so she reached out to Underwood.
"If a student thinks they can't manage, I support their decisions," says Underwood. "I also encourage them to keep believing they can find a way to make this work."
Underwood, also a CYC grad, had walked a similar path herself a few years prior.  "It was tough!" she recalls—on many different fronts.
As a single mom and sole provider for three children, Underwood felt pulled to meet their needs above her own, and to honour her strong ties to her community—let alone endure the added financial pressures of paying tuition on limited income. Underwood had to return to work in order to provide.
"I tried to do it all without having to borrow money," she says, so it took more time to complete her Bachelor degree in Child and Youth Care (BCYC). "But I completed," she says. "So many Indigenous students don't."
"When Shauna assists a student, she's also assisting that student's family and community," says Jeannine Carriere, faculty lead for ISSC and professor with the School of Social Work. "Everyone benefits, even more so when that student graduates and goes on to be successful within their chosen profession."
"We're learning," says Tricia Marck, HSD Dean, "and the Calls to Action from the Truth and Reconciliation Commission require all of us to do more." Emphasizing UVic's longstanding work in supporting Indigenous students, she points out the LE,NONET project has shown that teams like the ISSC staff "can make a real difference in reducing the cultural, economic and other undue hardships that so many of our Indigenous students endure as they work to realize their academic goals."
Marking life events and seasonal transitions are a prime example where awareness is needed, says Carriere. "Some profs see these events as time-consuming obligations that take Indigenous students away from their studies when, in fact, they are an honour and a privilege that enhance their learning."
"In our community," says Carriere, "you cannot say to your grandmother that you won't be attending your grandfather's death ceremony in his transition to the spirit world." It's our responsibility as educators to accommodate these students, says Carriere, and to respect their choices.
"I have seen the impact of colonization here and in the US," says Underwood. "I know what it does to Indigenous families." Happy now in her own life, Underwood wants more than ever to help heal those displaced children and broken families, to help bring back the traditions and forgotten languages.   
On November 9, 2015, Underwood will get a glimpse of that healing when Mavis David formally accepts her BCYC at the fall convocation ceremony and "stands strong on that stage." 
Photos
In this story
Keywords: administrative, staff, Day in the Life, Indigenous, student life
People: Shauna Underwood