A full circle moment for co-op coordinator
- Katy DeCoste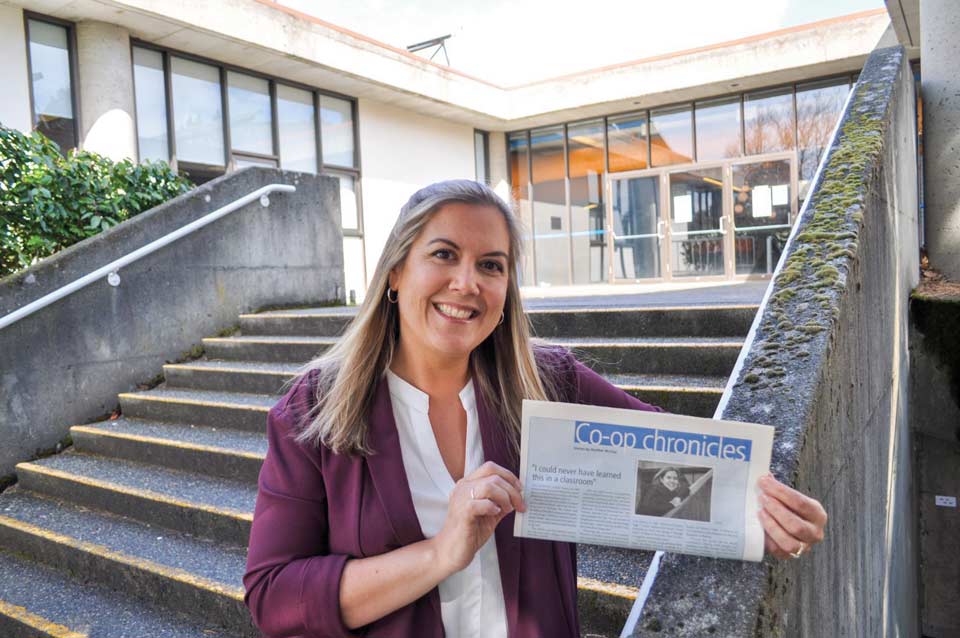 Day in the life: Natalie Haddow
Just over two decades ago, Natalie Haddow travelled to Ballarat, Australia as a co-op student in UVic's Leisure Service Administration program (now known as Recreation and Health Education), where she spent the next four months planning events for the city. Now, 20 years later, with a graduate degree and a few career pivots under her belt, Natalie returned to Ballarat, this time as the new co-op coordinator for UVic's School of Exercise Science, Physical and Health Education. 
"I spent 20 years developing my career and, in that time, I was fortunate to be a co-op employer myself," says Natalie. "When the opportunity to join the co-op team presented itself, it felt like the right move. I've always considered this job to be my dream job!" 
Before returning to UVic, Natalie spent seven years with the Canadian Morale and Welfare Services, where she hired UVic co-op students from UVic to plan recreation events and programs for military members and their families. As a co-op alumna, she understood the value of empowering the students she supervised to trust their own abilities. Now, she brings that mentorship experience to work every day. 
"Preparing students for their future doesn't just mean training them in how to apply for a job," she explains. "It's about building their confidence in their abilities, coaching them to reflect on what they've learned and teaching them to tackle problems with creativity."
Natalie manages co-op student experiences in recreation and health education (her undergraduate program), kinesiology, coaching studies, leadership studies (her graduate program), curriculum studies, and educational psychology. With such a diverse portfolio, every day looks different, from meetings to discuss students' goals for their time in the program and the skills and experience they want to develop, to providing direct feedback on job application material, to visiting students during their work terms. 
Having completed an international work term herself, Natalie encourages students to take the plunge, too. 
I truly love conversations where I can encourage my students to dream big. I love creating international opportunities because I know how impactful my international co-op was on me and my learning."

—UVic co-op coordinator Natalie Haddow
When she's not spending time with co-op students, Natalie connects with potential co-op employers to help create job opportunities as exciting as the ones she participated in when she was a student. 
After a career in health and recreation and, later, as a professional in employment readiness for people with disabilities, the opportunity to return to UVic brought Natalie's academic and professional experience full-circle. When she joined the co-op team, Natalie was returning to the workforce after becoming a parent. 
"When I was at UVic as an undergraduate, I was learning about myself. When I returned to complete my master's degree ten years later, UVic became about my quest for deeper knowledge, leadership and understanding social injustice." Now, as a co-op coordinator, it's about nurturing a passion for learning and problem solving in the upcoming generation.
As she gets to know students and employers, Natalie is building long-lasting relationships and empowering students to discover what they love through co-op: "My students' time at UVic should be fun! I remember being a student and how impactful and supportive my co-op coordinator, Nancy Reed, was. I only hope I can do the same for my students."
Photos
In this story
Keywords: co-op, staff, day in the life, alumni, health, employment
People: Natalie Haddow
Publication: The Ring