Resetting climate narratives
- Richard Dal Monte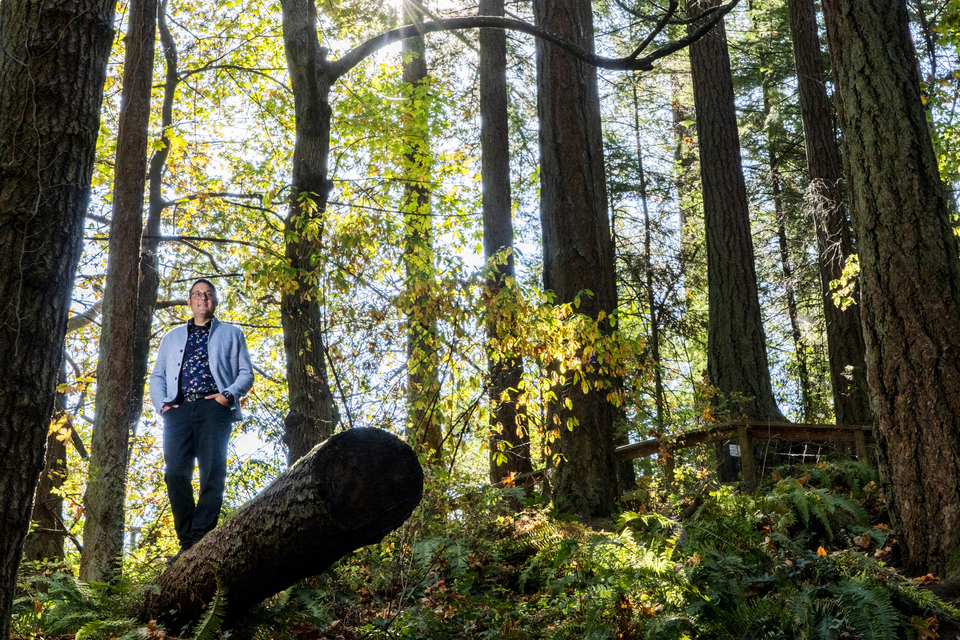 Canada's leading climate solutions institute has new leadership —and a refreshed appreciation for how the power of narratives and collaborative science can coalesce to drive change. BC's Pacific Institute for Climate Solutions (PICS), hosted and led by the University of Victoria in collaboration with UBC, SFU and UNBC, has named climate researcher and filmmaker Ian Mauro as its new executive director.
The story of Mauro's journey from a landlocked Manitoba childhood to the leadership of an environmental organization on an island in the Pacific Ocean can be told as an adventure in three episodes.
In the first, he is a nine-year-old boy on a fishing trip with his grandparents out of Port Hardy, BC, marvelling at the power of the ocean while the boat rolls in swells off northern Vancouver Island.
In the second, he is a teenager celebrating his high school graduation by cycling from Victoria, BC to San Francisco. While pedalling through the old-growth forests, Mauro decides to study environmental science.
In the third, he is an adult in the Canadian Arctic. Having earned his PhD, Mauro has been teaching on a university travel-study course in the Inuit community of Pangnirtung on Baffin Island.
"I was up there with Inuit elders, hunters and leaders, watching climate change take place first-hand," recalls Mauro. "It was in the early 2000s and the acceleration of climate change in the Arctic was very, very visible."
The first trip "opened my eyes to the power and importance of the environment," he says, and the second taught him about the human relationship with nature. The third, however, underscored the urgency of battling climate change, which became the focus of his research, creativity and career.
Now, Mauro will continue that work at PICS, with a view to the province, across Canada and globally. His position at PICS starts on Nov. 1, following in the steps of Sybil Seitzinger, who has led the institute for the last seven years.
Beyond Mauro's role at PICS, he will also join the University of Victoria as a professor of environmental studies, where he also served as a postdoctoral fellow near the beginning of his career.
Mauro brings considerable expertise to PICS and UVic as a researcher, as well as experience as co-founder and executive director of the Prairie Climate Centre at the University of Winnipeg. He also plans to continue his work as a filmmaker and multimedia creator, bringing his climate communications and knowledge mobilization skills to support PICS-funded projects. Mauro's research explores climate science, society and sustainability, and the vital role of local and Indigenous knowledges.
Mauro has written, produced and directed dozens of films and media projects, including Qapirangajuq: Inuit Knowledge and Climate Change—filmed entirely in Inuktitut—which he co-directed with acclaimed Inuk filmmaker Zacharias Kunuk. He also directed Beyond Climate with David Suzuki, and led the development of the Climate Atlas of Canada.
Storytelling and communication play an essential role in the fight against climate change, Mauro says. Early in his scientific career, he explains, "I realized that science alone wasn't going to solve the problems, and the importance of communication was paramount.
"We're often telling ourselves a really dire narrative," he adds, "and if we box ourselves into a sense that it is not possible to achieve climate goals or critical windows of time have completely escaped us and it's not worth trying anymore, that's what we'll end up with."
The story he wants to tell about PICS can be found in its name and in its partnerships, not only with member universities but, also, with collaborators around the world.
"PICS is already a leader at co-producing knowledge with diverse partners, and helping to shape the next phase of this work is an honour," says Mauro.
"We need to be driving that solution narrative," he says. "And it's not just a narrative switch, it's narrative followed by concrete action. It shows people that investments in climate solutions are the only way to get us out of this mess."
Mauro's focus dovetails neatly with UVic's support and work to advance the United Nations Sustainable Development Goals (SDGs). The university recently placed second in the world among universities for climate action as ranked against the SDGs by the Times Higher Education Impact Rankings.
Mauro says he appreciates the big-picture view of climate solutions at PICS and UVic. 
"British Columbia is a real leader in climate research and it's humbling to contribute to this knowledge ecosystem and associated climate action," he says. "There is a huge opportunity in BC to address these existential issues and demonstrate to the world how we solve these challenges.
"We are in the game of changing the world—we have to be."
Photos
In this story
Keywords: climate action, sustainable impact, community, sustainability, administrative, faculty and staff, climate, environment, partnerships, research, PICS
People: Ian Mauro, Sybil Seitzinger