Testing her design chops at a San Francisco start-up
- Suzanne Ahearne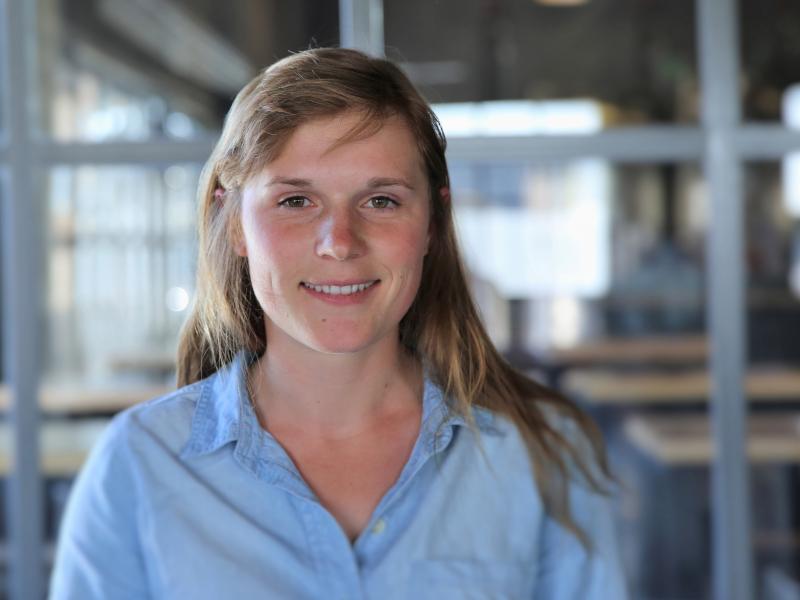 From her office at a five-person San Francisco startup, Kailey Allan is designing sleek kettles, coffee pour-over systems, and other home brewing equipment for the boiling-hot kitchen accessory market.
Working as product design engineer at the edge of Silicon Valley, she's a long way from the project that won the mechanical engineering grad a Jamie Cassels Undergrad Research Award for her research into the effects of environmental weathering of the rammed earth walls at UVic's First Peoples House.
But for the 24-year-old Victoria native, it's not such a leap. It's feeding her desire to stretch herself creatively and, through her co-op placements, to experience as many of the kinds of industries as she could.
Allan chose the rammed earth research for her fourth-year self-guided engineering design course, wanting more experience in her fields of interest in civil engineering and architecture—her end goal. She'd loved the beauty and aesthetics of the modern rammed earth building at the Nk'Mip Desert Cultural Centre in Osoyoos and was interested in the technique from a sustainability angle. The seven-year-old rammed earth walls at the First Peoples House provided the perfect opportunity for local, hands-on research.
The ancient building technique used in structures such as the Great Wall of China uses compacted local earth mixed with stone and gravel. Today's rammed earth construction—undergoing a building revival since the 1990s—is reinforced with steel and strengthened with concrete, making it a competitive building material in today's market.
The modern technique is praised as a green construction method because of its insulating properties, reduced use of concrete (a major contributor of carbon globally) and because the earth is usually taken right from the building excavation site, it eliminates further carbon emissions in transportation.
But, despite its popularity in various geographical and climactic zones, there's very little literature available about it.
"The longevity of ancient rammed earth is substantial," Allan says, "but no one knows how long modern rammed earth will last because it's so new." Working with Rishi Gupta—an expert in innovative concrete materials research—she saw an opportunity to provide the public with information that will benefit the development of future modern rammed earth technology. Using non-destructive testing, she measured the effects of the elements on surface deterioration, compressive strength, and the walls' thermal performance envelope.
"The amazing thing about engineering is that it's so diverse. And a Canadian engineering degree is very well respected," she said. With that knowledge and a final co-op term to complete, she went to San Francisco in January to try her hand at something entirely different.
She spent her previous co-op terms on massive, multi-year-long natural resource and energy projects with companies like Peter Kiewit & Sons. But this time, she looked for an opportunity that would provide her with a tangible creative outlet and one where she could try out her design engineering chops in an industry where you can go from sketchpad to product in six months. Allan was hired at the end of her co-op term in April. When four of her projects hit the market by the end of summer, she'll be there to reap the personal rewards.
Photos
In this story
Keywords: mechanical engineering, convocation, alumni, student life, co-op
People: Kailey Allan